The Honda BR-V for all intents and purposes – literally, is one of the most recommended do-it-all vehicles in its segment. It has many key points that make it one of the most capable machines compared to others in its class, less an expensive price tag.
Think about it this way, you pay for one car, but get the utility of an SUV, with the comfort of a sedan. It's essentially a 2-in-1 deal.
Storage
When you use a car on a daily basis, storage space inside the cabin comes at a premium. You can try to keep it nice and tidy, but eventually, you'll chuck your wallet, phone, keys, and even a few actual cups in the cup holders. It's a good thing Honda has designed many spaces into its cabin.
Not only do you get all those spaces, but you also get huge amounts of space. With 7 seats, that are all foldable so you can maximize cargo volume, the BR-V can pretty much fit it all, from 7 occupants to large items, the BR-V has got you covered, and also, for the price you pay, there are other options in the market that cost just as much, but only feature 5 seats.
Comfort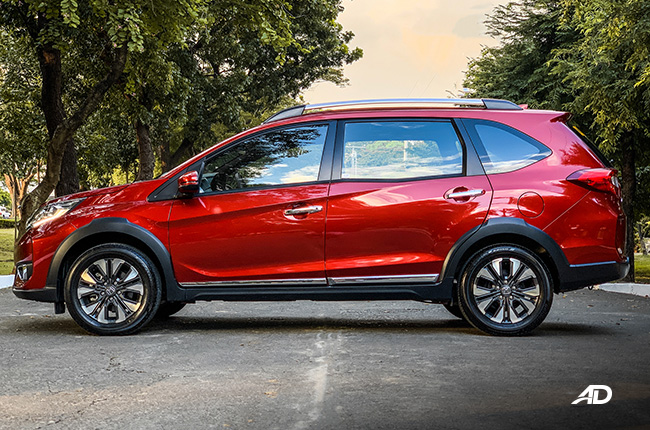 If you have a family that you need to bring to work or school or a family outing, it wouldn't be beneficial if you have a car that made them all car sick. Thankfully, the BR-V has a unibody chassis that features a ride that is more car-like with added ground clearance so you don't need to worry about scraping your undercarriage on potholes and humps so much.
You can also kick back and relax without a worry in the world in the back seats, thanks to Honda's magic when it comes to cabin space. Even as a relatively compact car, the BR-V still has space that can go toe-to-toe with larger crossovers and SUVs. Even within Honda's stable, the BR-V is comparable with the brand's larger 7-seater, the CR-V.
Muscle
Now, having all that weight would take a toll on your engine, but it is a good thing Honda has the most powerful engine among the 1.5-liter motors currently out in the class. With 118 hp and 145 Nm of torque, the BR-V stands out in the market, handily beating its rivals based on horsepower alone. The power can be attributed to Honda's i-VTEC engine, which gives it more efficiency at lower RPMs while having a lot more power up top.
Modern
One of our chief complaints when talking about this segment is the lackluster head units found in other cars. Honda has heard these complaints are fielding a head unit that allows you to pair your smartphone with Android Auto and Apple CarPlay.
Arguably one of the more sought-after features by the team at AutoDeal, having a capable head unit is definitely a dealmaker for us in this day and age. Connecting to your phone, navigating with Waze or Maps will be so much easier thanks to the integration, and you won't have to buy a phone holder or keep your phone's screen on while you drive.
Priced VERY reasonably
Starting at P1,035,000 and topping off at just P1,115,000, the Honda BR-V is definitely one of the most capable bargains out in the market today. Other options wouldn't be as powerful, but the BR-V stands on top, but isn't even overpriced, at least in our opinion. It's one of the more affordable and capable machines in the market today, so as an option that carries a lot of value, it makes sense.
___________________________________________________________
Produced in partnership with Honda Cars Philippines, Inc.
Latest Features
Battery banks that can jump-start your car. Here are the top five best we've seen available online.

We list down the most fuel-efficient sedans for city drives in the Philippines, ranging from small to mid-size models.

When it comes to all-electric crossovers, BYD knows their stuff. They know what it takes to make electric great.
View More Articles