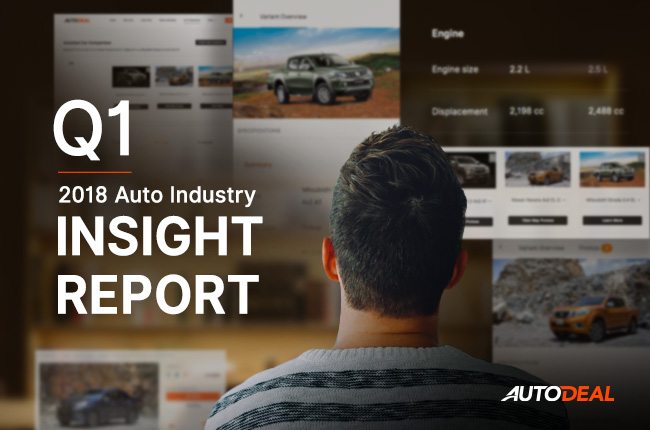 The Philippine automotive industry experienced a slow start to 2018 with negative year-on-year growth for the first quarter compared to the same time period last year. The result did not surprise most brands that claimed to have anticipated the slow start to the year because of the natural 'pull-back' that occurred when buyers became aware that the Tax Reform for Acceleration and Inclusion Program (TRAIN) could increase the suggested retail price of vehicles in most market segments.
Given AutoDeal's unique ability to track car buying patterns, our data affirms the brands' expectations and strongly suggests an end-of-year 'sales rush' due to a significantly decreased lead-to-sale conversion time and huge spike in sales transactions made by AutoDeal Partner dealers.
Following the release of our Q1 Auto Industry Insights report, more evidence has presented itself that further corroborates the 'pull-back' theory. The most notable of which could be drawn from the volume of mid-size SUV vehicles that were sold across the AutoDeal platform in 2017. As many of you will be aware, mid-size SUV's were hinted early on to be one of the most at risk market segments from TRAIN.
From Q2 2017 to Q4 2017, the sales of mid-size SUV's significantly increased on AutoDeal; growing from 16.43% of all transactions to as high as 36.75%. In Q1 2018, these figures have since dropped to account for only 14.4% of all transactions, suggesting what looks to be something of a market correction.
Further insights driven from the report also indicate that consumers might be doing more research or "buying their time" for a little longer ahead of making a purchase. This indicated by the consumers stated buying period, which is captured on every inquiry made on the AutoDeal platform.
Since the beginning of 2018, the volume of buyers stating that they were looking to purchase within 0-3 months has dropped from a high of 65.8% in December 2017 to 43.7% in January 2018. Likewise, the volume of buyers claiming to complete a purchasing with 6-12 months grew from 9.3% to 15.3% while buyers looking to purchase in 1-2 years increased from 3.7% to 7.4%.
Regardless of this, consumer interest does not yet look to have been completely extinguished as the volume of car-buying inquiries on AutoDeal saw little change (<1%) from Q4 2017 to Q1 2018.
With this in mind, brands and dealers may need to adjust their strategy to convert prospects to sales over much longer periods than what they are currently use to. This will include (but is not limited to) improved lead-funnel management with particular focus on re-marketing and a solid prospect engagement schedule.
Foreseeing a more competitive environment and an increased need for a deeper prospect drill down, AutoDeal has included a prospect lead-funnel into its new analytics dashboard which provides dealers with the ability to segment prospects based on what stage of the buying process they've reached.
Latest Features
We compare the Suzuki XL7 against the Honda BR-V. Which will fare better in a comparo?

Here are a few things to consider before you buy a diesel-powered vehicle as your everyday commuter.

Owning a car comes with responsibilities in order to keep it in pristine condition. One of those duties is maintaining its windshield and the windows. However, you might be unaware of the th...
View More Articles