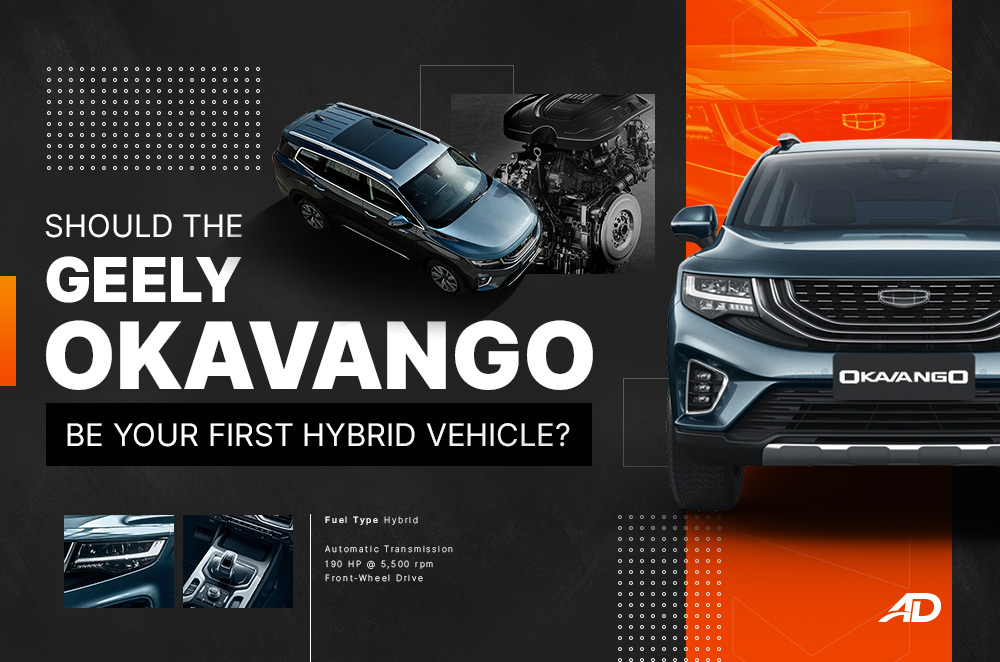 The Geely Okavango is currently the biggest offering of the brand, and in just less than a year after its local launch, the MPV has already captured the hearts of many Filipinos. Notably, it is one of the most affordable hybrid vehicles in the local market today, and despite its affordable price range, you actually get a lot for what you're paying for. So if you're already open to transitioning to a hybrid vehicle, should the Geely Okavango be your first then? Let us help you answer that question.
Head-turning looks
On the outside, the Geely Okavango features a clean and modern design. Upfront, you'll immediately notice the Expanding Cosmos grille along with its all-LED lighting. Its front bumper, on the other hand, gets black cladding accentuated with a faux skid plate for a bit of ruggedness.
Going over the side, its boxy dimensions are treated with well-planted character lines for that sleek look. There's also a generous application of black cladding and chrome accents. As for the shoes, Urban and Urban Plus variants get a set of larger, two-tone 18-inch alloys, while the entry-level Comfort variant features smaller 17-inch wheels. Other highlights include roof rails, blinkers on each side mirror, and the 48V EMS badging.
As for the rear, it also features an all-LED affair on its taillights along with black cladding and a faux skid plate. Overall, the Geely Okavango's exterior will turn heads. Not only titos or titas will appreciate its looks, but perhaps even younger buyers will also be attracted to its clean and modern design.
It's got loads of tech
Like the Coolray and Azkarra, the Geely Okavango also sets the bar high when it comes to tech. Standard across the range is a 10.25-inch infotainment system that features various multimedia functions including FM/AM, Bluetooth, and USB. While you don't get Apple CarPlay and Android Auto, Geely still has provided its touchscreen with a screen mirroring app called QDLink. It is also where the available 360-degree camera is projected, making maneuvering and going through tight spaces easier than usual.
Both the mid-tier and range-topping trim comes with an 8-speaker audio system while the entry-level variant gets 4-speakers. Other convenience features include a push-start button along with smart keyless entry, steering wheel audio controls, 3-zone automatic climate control, power-adjustable seats, an electronic gear shifter, and an electronic parking brake with auto-hold function. A more customizable digital gauge cluster and ADB Matrix LED headlamps are both exclusive on the Okavango Urban Plus.
You get a proper 7-seat layout
Both front and middle-row occupants get ample space. The Okavango's individual-seating layout on the second row does allow it to accommodate three passengers comfortably. The third row, on the other hand, did surprise us given its usable space for medium-sized adults. Notably, even someone 5 foot 11 in height won't mind spending a bit of time on the Okavango's rear-most seats. It's seriously colossal for its segment, plus, in the economy market, you don't usually find hybrid vehicles with 7 seats, currently, this is the only one available so far.
Cargo space is also generous
Cargo space is also impressive on the Geely Okavango. With all the seats in place, you have 257-liters of space, fold the third row and it'll expand to 1,200-liters. Drop the second row and its cargo figures will be maximized to over 2,000-liters of space.
Ride and comfort are superb
Crossing through bumps and potholes won't be much of a chore for the Okavango all thanks to its fully independent front and rear suspension. NVH is good as well, as road, wind, and engine noise was kept to a minimum.
A powerful and thrifty engine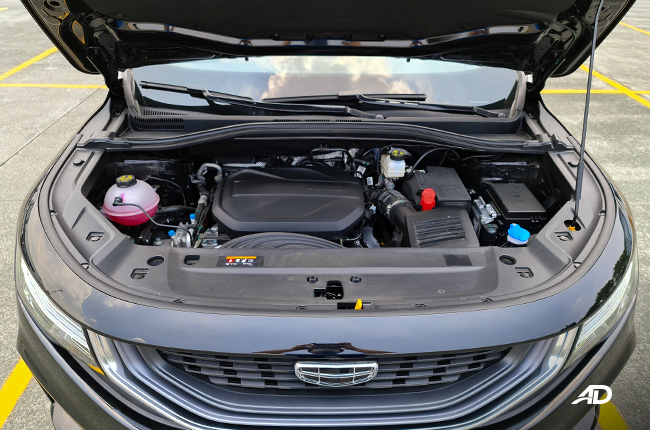 The entire Geely Okavango range shares the same powerplant with the Azkarra Luxury, with it being run by a 1.5-liter 3-cylinder engine combined with a 48-Volt electric motor. This combo is able to churn out a healthy 190 hp and 300 Nm of torque mated to a 7-speed wet DCT. It's not as spirited as the Coolray or Azkarra, but the power it packs is more than enough to carry the heavier body of the Okavango. It even gets 3 distinct driving modes, namely normal, eco, and sport.
Aside from its powerful mill, the Okavango is also known for being fuel-efficient. During recent testings, this mild-hybrid MPV did 8 km/L during stop-and-go traffic. Once the road cleared up a bit, city figures went up to 12 km/L. Out on the highway, it registered 17 km/L while speeding at 80 km/h.
It's insanely affordable
The Geely Okavango starts at only P1,208,000 for the Comfort variant. Opt for the mid-grade Urban and the price will climb up to P1,328,000. Lastly, the fully-loaded Urban Plus retails at P1,478,000.
So should the Geely Okavango be your first hybrid vehicle?
Without a doubt, the Geely Okavango does shine in terms of value for money. Aside from its good looks and a generous amount of standard features, the MPV also rewards its buyers with superb ride and comfort, a spacious cabin for 7 people, and a mild-hybrid powertrain that's both powerful and economical. All of these can be yours at an affordable price tag. So if you're already open to owning a hybrid vehicle, then we highly suggest that you give Geely Okavango a go. Notably, the Urban Plus variant is such an absolute treat, you get a number of notable additions that make Geely Okavango even more wonderfully distinct, including that panoramic sunroof which does sweeten up the deal.
If you're already decided on getting this mild-hybrid MPV, then, don't hesitate to click on the 'Get Quote' button—it's absolutely free. You could even request a test drive so you would know what you'll like about them, first hand.
Get the best deal - Choose multiple dealerships to compare offers!
You can compare quotations simultaneously from multiple Geely dealerships. Select your preferred dealers from the list below.

Compare quotations from multiple dealerships in minutes.
Check vehicle and color availability.
Find info on special offers and promotions.
100% Hassle-free with no obligation to purchase.
Latest Features
Make sure to signal and do a quick shoulder check before merging to know where you are and where the traffic is around you before you transfer over into a different lane.

We get dealers to bid on your car, all you have to do is choose the best offer.

Unsure about the Number Coding scheme in the Philippines? Our complete guide provides comprehensive details on everything from coding days to window hours in all locations affected by the Nu...
View More Articles