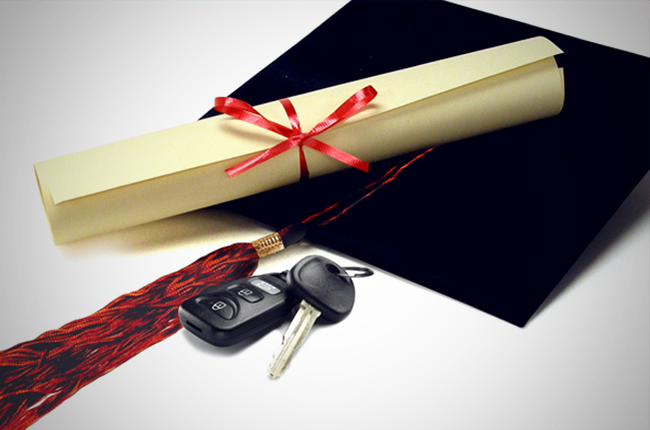 Isn't it a heart-warming experience to see your young ones finish their school? All the years of hardship paid off, and you tell yourself, "I made it," with a follow up of "my baby made it." You might be wondering how it feels like to watch your kid as he/she walks toward the auditorium stage with a toga on.
The graduation day is fast approaching and we know you want to reward your young one a gift for all the hard work; for the days when staying up late to review were nothing but a must. Then, you came up with one of the best things that could put a smile on your newly-grad's face – a car.
Problem is, the several choices in the Philippine market can be overwhelming. Well, let us help you with that. Don't panic-buy, here's a guideline in getting a car that's perfect for your newly-grad.
Secretly know your newly-grad's preference.
One of the easiest ways to know what car to buy for your graduate is to know what type of car they like. However, you don't want to blow the surprise; you want to go undercover-sneaky to know their choice of car. There are tons of ways like stalking them on social media, watching their eyes glimmer on the road, or observing what car turns their heads the most.
When you find out what type of car they want and you're quite not convinced, start looking at other rival brands. Factors like price, brand, and features will compromise this choice so carefully research about the car. Compare models from across the segment – are you looking for a subcompact hatch, compact sedan, or a crossover?
Review your budget if you must.
Not everyone can afford everything lavish in life. It's best to be a little more inclined to the practical side of things and avoid impulsive buying to part from future regrets. The car you're about to buy would be your graduate's first personal car, so things could turn out unpredictably. The next step would be simple: get real based on your budget.
We know you want what's best for your young professional and we're sure you'd do everything to provide that. However, that doesn't mean you need to bankrupt yourself just for an expensive and irrelevant car. You would want something that's good enough without ripping off your pockets. There are great deals and promos in the market that you could choose from, it's just a matter of searching.
New or used, it's the thought that really counts.
At this point, you might be torn on buying a car for your fresh grad, whether it should be a new one or used. There are pros and cons of buying a new car, as well as in purchasing a used car. So, which is better: a brand new new or a second hand car?
In buying a new car, you'd enjoy a warranty coverage, updated technology, standard safety features that passed regulations, and free maintenance for certain mileage. You may also avail for varying promos that includes free registration or a chattel mortgage.
Buying a quality used car, on the other hand, will cut down the budget. The beauty of it is like giving him/her room to explore and grow more. Buying a secondhand car graduation gift would encourage him/here to work hard enough to buy a personally-bought new car.
While used cars may sound practical enough due to being less expensive, you might think it's the best deal for your fresh grad. But, is it really wiser? Used cars won't guarantee you free warranty services and often than not, they come with compromised performance. Meanwhile, the disadvantage of buying a new car is that it's undeniably more expensive than pre-loved ones, especially now that we are in the blankets of heavier excise tax.
Choose the most practical variant.
It doesn't end in knowing what model to buy as graduation gift, the process continues to comparing different variants and trims of the car. There will be the base model, which is the most inexpensive and the one lacking with most features; and there would be the top-of-the-line variant in the opposite end. Again, the budget will play a part here, as well as your parent instinct of not putting your child at risk.
You also need to choose between an automatic and a manual variant, then comes certain features that you want your son or daughter's car to have, and most importantly, safety. It would be best to compare variants from base model to the top range for you to see which suits the gift box perfectly – a large gift box to be exact.
Test drive the car yourself.
It's natural to be protective as a parent. The safety of your young ones is more important than your own. When it comes to cars, you know you want the best set of wheels, both in terms of performance and safety. Test-driving the car yourself will ensure you that the car can do the job of transporting him or her to the destination as safe as possible.
Not to mention, the comfort and driving experience are among the things any drivers look forward to, so might as well provide that to your graduate. After all, that car's going to bring him to multiple job interviews and business meeting so investing for comfort and safety should be more than enough.
Talk about practicality, securing a car insurance is among your best bets.
If it's practicality you're after, the first thing you need to spend on is car insurance. Car insurances vary from what kind of insurance you're going to get. Off note, some car insurance may include bodily injuries, property loss, and third-party death, while some don't. Having a car insurance would minimize future expenses that are result of inevitable circumstances.
In the Philippines, purchasing a Compulsory Third Party Liability is a requirement mandated by the government. Comprehensive car insurances could be purchased in addition to the CTPL if you opt to, as it is not required. One more thing, if you're planning to get a used car and want to apply for a car insurance, you better pay attention to the car's year model because some insurances only cover certain year make.
There you have it, follow these guidelines if you wish to buy a car as graduation gift. Don't forget to plan a little surprise as you hand him/her the keys – and congratulations to the newly-graduates!
Latest Features
These are the cars with AWD to consider from all the most popular brands in the Philippines.

The new Triton has shed its old name and donned a new face. It's no longer the Strada that we used to know.

Midsize SUVs in the Philippines are best sellers because of their high ground clearance, frugal diesel engines, and space for seven or a lot of cargo.
View More Articles