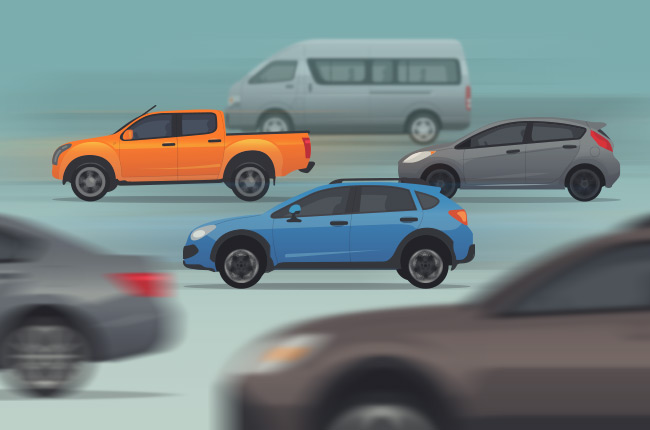 Before, cars were merely just motorized carriages with steering wheels, pedals, and seats. As years went by, they've evolved into many kinds such as sedans, coupes, and SUVs. With that said, here are some of the most common types of cars on the market today.
Convertible
The convertible is characterized by a retractable soft or hard roof panel that can be stowed in the trunk. This feature allows its occupants to enjoy a good view of the surrounding and feel the breeze along the open road. Some convertibles like the Mazda MX-5 and the Porsche Boxter are also called roadsters due to their 2-seater configurations.
Coupe (pronounced as "koo-pay")
A coupe is a 2-door car with a lowered ride height, a longer hood, and a roof line that slopes down to the rear. One example of this is the Hyundai Genesis Coupe. Interestingly, some coupes do have 4 doors. The best example of which is the BMW 4-Series Gran Coupe.
Sedan
A sedan typically has 4 doors and seats for 4 to 5 people. It also has a rear cargo area that's separated from the cabin and is covered with a trunk lid. The local market has a variety of sedans from many carmakers. These include the Mazda 2 subcompact sedan, the Nissan Sylphy compact sedan, the Subaru Legacy midsize sedan, and the Lexus LS large sedan.
Hatchback
This car is called as such due to its rear hatch that serves as its trunk lid. Its rear compartment is also within reach from inside the cabin, so occupants can access items more easily. The Kia Picanto is one of the many hatchbacks available in the local market nowadays.
There's also what's called a Station Wagon, basically a longer version of the hatchback. Two models that fall in this category are the Mazda 6 Sport Wagon and the Volvo V60.
Crossover
A crossover offers both passenger car features and SUV capabilities. That said, occupants of these vehicles can enjoy a comfortable ride while traveling to places with less paved roads. This segment is made popular by models like the Ford EcoSport subcompact crossover and the Subaru XV compact crossover.
SUV
An SUV (Sport Utility Vehicle) is a step above the crossover in such a way that its body and chassis are built like a small truck. As such, it can drive on tougher terrains, seat 5 to 7 people, and carry more luggage at the back. To give you an example, check out the Mitsubishi Montero Sport.
AUV
Smaller than SUVs in terms of body dimension, AUVs or Asian Utility Vehicles are made and sold for the Asian Market. They're used for taking people around the city, but they can also be driven on some rough, provincial roads. Two of such models are the Mitsubishi Adventure and the Isuzu Crosswind.
Pickup truck
The characteristics of a pickup truck are its big rear cargo deck, sturdy chassis, and off-road capable powertrain. It can carry many items ranging from sand bags to camping gears, and even a pair of mountain bikes for outdoor activities. To give you an idea, take a look at the Nissan Navara.
MPV
Multi-purpose vehicles or MPVs can also carry a variety of items for work or play; although they're not meant to go off-road. However, they can seat 5 to 8 people, thus making them a good choice for traveling with family and friends. The Toyota Innova and the Suzuki Ertiga are 2 best examples of MPVs in the Philippines nowadays.
Minivan
A minivan is characterized by a sleeker and bigger MPV-like exterior. It's designed to offer passenger comfort, convenience, and entertainment, especially on long journeys. One such example of this is the Honda Odyssey.
Van
A van is a larger vehicle which can seat 10 to 12 passengers, or more. It can also be used to carry many different items, which makes it a good delivery vehicle for business companies. 2 of today's popular van choices are the Hyundai Grand Starex and the Toyota Hiace.
These are the common types of vehicles available in the market today. Through years of meeting customer satisfaction, carmakers have turned the simple automobile into a diverse machine of many kinds and purposes. We hope that this simple guide can help you in choosing the vehicle that fits you best.
Latest Features
The Suzuki Vitara and Hyundai Kona go head to head, and spec for spec in this comparison to find out which subcompact will come out on top.

The Mitsubishi Xpander is a hot-seller for the Japanese brand here in the Philippines and the rest of Southeast Asia.

The Toyota plant in Santa Rosa, Laguna manufactures the Vios and Innova for the Philippine market, here's an insider-look at the facility.