The covers are off of Audi's all-new 2019 Q8. Launched at Audi Brand Summit in Shenzhen, China, this five-passenger SUV is set to offer advanced connectivity, infotainment, driver assistance systems, and capable driving dynamics to set a new standard as the flagship SUV model from the Audi brand.
The striking new design of the singleframe grille and large contoured air inlets emphasize the size and presence of the Q8 on the road. The coupe-like design touches such as a sloping roofline and inclined pillars, combined with wide wheel arches, create a unique look. Think coupe meets SUV and a touch of Audi Quattro details, such as a black surface that lies underneath the one piece rear LED tailight.
The Audi Q8 was designed to be bigger than the Q7, creating generous seating and cargo capacity. The interior also features a new central element - the all-new MMI touch response display. Almost indiscernible from the rest of the dashboard, the screen dissolves into a large, black inlay when switched off. This new infotainment system using haptic and acoustic feedback and promises to be as intuitive as a smartphone.
The system can be personalized using configurable and movable "favorites" buttons. Through voice commands, drivers can simply make requests such as, "I'm hungry" to which the Q8 will suggest nearby restaurants.The Audi Q8 also features Audi phone box, enabling wireless charging for compatible smartphones. Sound and music is played through the new Bang & Olufsen 3D Advanced Sound System.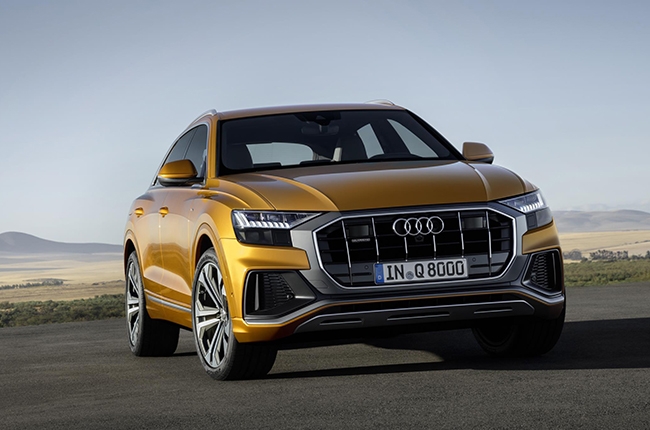 Performance and engine specifications have yet to be released, but the Audi Q8 does get quattro all-wheel drive with a mechanical differential. Standard adaptive suspension and an optional adaptive air suspension enable the various suspension and damping combinations that are programmed by Audi drive select modes and can make the Audi Q8 a capable off-roader.
No news on a local launch yet, but what we do know is that the 2019 Audi Q8 launches in the United States in the 4th quarter of this year, 2018. Fingers crossed that we get our local allocation by then. We will keep you posted on new updates as well as specifications as we get them.
Latest News
It's longer than most of its competitors.

The following units are intended to service their client, Japan Tobacco Incorporated.

The police agency reiterates that only official emergency vehicles such as ambulances, fire, and police are allowed to use these accessories.
View More Articles