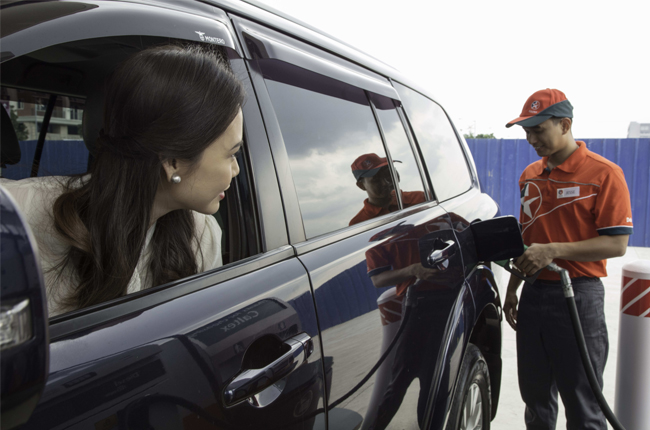 With the rising fuel prices, wouldn't it be nice to get free gas or some sort of rebate/discount for once? Good thing Caltex is giving out free fuel with its latest 'Swipe and Be Rewarded' promo that lasts until July 15, 2018.
Customers can get P100 worth of Caltex with Techron fuels (Silver, Gold, Platinum, and Diesel with Techron) from over 150 participating stations nationwide. Motorists must present any PNB Mastercard personal single charge receipt worth P2,500 to avail of the offer.
Simply present the PNB Mastercard to Customer Service Representative (CSR) in the station, and cardholders may redeem the free gas until September 16, 2018.
We always give our customers the joy in fueling up with Caltex. Through our partnership with PNB, we give more customers access to quality fuel which is Caltex with Techron. This gives car engines the best cleaning power so cars can stay at its optimal performance. More motorists can have a smoother drive and a more enjoyable journey – a truly rewarding experience.
Don't be sad if your card isn't included in the promo. Remember that Caltex is also running its Fuel Your School program that aims to help underprivileged schools get the materials they need to provide better education granted that you gas up in specific participating stations.
Caltex has opened a total of 20 new branches in the last six months in an effort to secure its foothold as the number one oil company. The numerous gas stations can be easily located using the brand's locator app that's available on the Google Play Store or App Store. Customers can also use the official website to plot their trip and see the nearest branch along the way.
Latest News
The LTO passed memorandum no. JMT-2023-2399. Engine and chassis stenciling for registration renewal are no longer needed.

SMC Asia Car Distributors Corp has unveiled the BMW 3 Series Touring in three different variants for the Philippines.

The OMODA 5 EV will be coming to the Philippines in the fourth quarter of 2023 along with the OMODA and JAECOO brands.
View More Articles