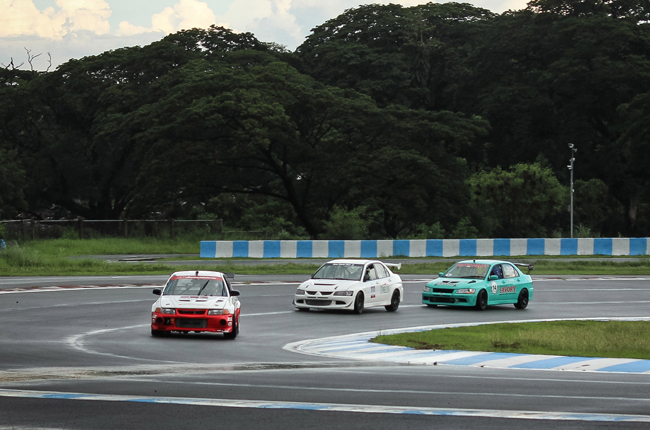 The full 4.2 km long Clark International Speedway (CIS) in Pampanga saw an exhilarating wheel-to-wheel action last June 4, 2016 as Round 4 of the GT Radial FlatOut Race Series went off on a high note under heavy downpour.
A total of 110 drivers lined up the grid for the Time Trials and Grid Races of the country's premier grassroots motorsports event. Despite the wet condition in the afternoon, the drivers still pressed on to battle it out for the win. Round 4 also witnessed a fitting send-off for FORS Co-founder Racing Director Marc Pete Thomann as he attended the event for the final time before moving to Germany.
Time Trial
Eduardo Suiza achieved the fastest lap time in Bracket A at 2:11.591. Trailing him was Niño Garcia with a time of 2:12.281. Coming in 3rd fastest was Rafael La'O who clocked in at 2:13.427. Bracket B, on the other hand, was dominated by the top 3 fastest drivers; Gabby Sohu, Ed Christian Go, and Sydney Sarmiento who crossed the line at 2:16.569, 2:16.760, and 2:17.072., respectively.
In Bracket C, Paolo Lofamia stopped the clock at 2:21.065, which earned him the top spot on the podium. Coming in 2nd place was Joey Howard at 2:21.402 and James Santiago who finished 3rd fastest with a time of 2:22.148. Meanwhile in Bracket D, 12 drivers fought hard for the win. But it was Sherwin Bargos who proved the fastest, followed by Miggy Sohu in 2nd and Nico Canete in 3rd.
Down in Bracket E, it was Raymond de Pano who clinched 1st place, trailed by Lloyd Nicolo Puno in 2nd and Rommel Guevarra in 3rd. On the other hand, Bracket F concluded with Lars Alonzo's 1st place-winning 2:36.154 lap time. Romualdo Vasquez took home 2nd and Anthony Richard Lanting won 3rd.
As for Bracket G, Leo Candava crossed the line and won 1st place. He was followed by Mark Nikolai Paras and Robert Tan who clinched 2nd and 3rd places, respectively. Meanwhile in Bracket R, Suiza, Garcia, and La'O went atop the podium in that order, thus repeating their Bracket A victories.
Finally, John Boban and Greg Suing went home with victories in The Perfect Lap and Grupo Toyota support races, respectively.
Grid Race
The afternoon's Grid Races events were green-lighted with strong rains and slippery track surfaces. But these didn't stop the Grids A, B, and C drivers on their bid to with championship points in their combined 10-lap race.
In fact, Eduardo Pujol managed to cross the line ahead of Rafael La'O in GT Radial Grid A race. Niňo Garcia had it going with a fighting chance to take the lead, but due to his contact with the drivers up front, he was marked with a one place penalty, which resulted to his 3rd place finish.
In the Smart Fuels Grid B race, Sidney Sarmiento ended the day with a 1st place podium finish. With him were Ed Christian Go and Dominique Bon who finished 2nd and 3rd places, respectively. Meanwhile in the Competition Clutch Grid C race, it was Joey Howard who clinched 1st place with Paolo Lofamia claiming 2nd and Aaron Lao settling for 3rd.
The 8-lap Buddyclub Grid D race, on the other hand, saw a stellar performance by Polo Bautista who started 3rd and dashed for the lead at the first corner of the opening lap. All things were just as intense for Sherwin Bargos and Jonnie Pineda, but because they broke out of their bracket, the race stewards deemed Adrian Lampano and Alex Perez as the 2nd and 3rd place winners, respectively.
Lastly, the Works Bell Grid E race was highlighted with a 15-car grid – the day's largest turnout of competitors. As the checkered flag was waved, it was Anthony Richard Lanting who took command with a 1st place finish. Coming in close in 2nd place was Jack Saquilayan with Patrick Manapat earning the 3rd spot on the podium.
The excitement continues on July 2, 2016 as the GT Radial FlatOut Race Series returns to the Batangas Racing Circuit (BRC) for Round 5.
The 2016 FlatOut Race Series (FORS) is sponsored by GT Radial – Philippines, Smartfuels, Competition Clutch, Staging Lanes, Buddyclub, Works Bell, Tuason Racing School, BMC Air Filters, and Recaro. FORS is also supported by Gamotek Tarpauline Machine, Stoner Car Care & Glass Detailing, Tropicana Scents Car Freshener, Ninja Performance, MDU Coilovers, Target Motorsports, Aguila Auto Glass, Walter Lights and Sounds, A1 Advertising, Aeromed. Philgerma Mfg. Inc. Media partners include LGT Manila, Time Attack Manila, AutoIndustriya.com, Wheels Philippines, Sportline Magazine, C! Magazine, JDM Underground, 2ner Magazine, and AutoDeal.com.ph.
Latest News
Mazda is working on launching a new CX-5 in 2025. The most popular crossover in the lineup is also going hybrid.

A new Toyota Gazoo Racing motorsport car is set to be unveiled during the 24 Hours of Le Mans on June 10, 2023.

Hyundai is serious about putting the N Vision 74 into production according to Chief creative officer Luc Donckerwolke.
View More Articles