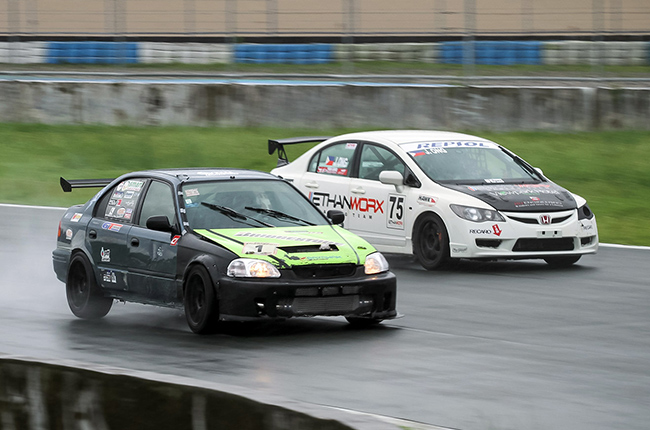 A rainy and gloomy weather covered the Clark International Speedway as the FlatOut Race Series (FORS) held its 8th and final round last October 14. Despite the torrential rain, all 93 entries were unstoppable in competing to be the best in their respective categories for this year's championship.
A key highlight of this round is the tight showdown between Eduardo Suiza of W-Autosport / Staging Lanes and Rafael la O' of Team Auto Magic. However, the last round also witnessed new names and fresh faces leading in other categories. Meanwhile, Ralph Tan, Armand Marcaida, and Andre Makkina Tan prevailed in their respective classes.
Time Attack
An impressive 2:11.963 set by Suiza, who was driving the #200 Honda Civic led the Bracket A. This was followed by la O', who managed to clock in 2:12.807, earning him the 2nd place. However, these weren't the fastest record as Dominique Bon was able to punch 2:09.129 on the timesheets, making him the fastest driver in the round and 1st in Bracket R.
Bon's performance continued to Bracket B and secured the 1st spot as he ran 2:15.470 on the records. Running in 2nd was the multiple Slalom Series Championship driver Milo Rivera, who made a rare appearance, while Andrew de Asis of Blanche Racing came in 3rd.
Bracket C had Paul Santos clocking in at 2:26.117, snatching the win from Kathy Villar and Kunihiro Iwatsuki who were 2nd and 3rd, respectively. On the other hand, a 2:26.506 lap time secured Ralph Tan in the 1st place for Bracket D. He was tailed by AAP Motorsport Development Program's (MSDP) finalist Paolo Santos and Philippine GT driver Dindo de Jesus.
For Bracket E, another MSDP graduate, Armand Marcaida, stood on the highest podium who snatched 1st place. Robert Tan followed him in the KYB Toyota Yaris, while Andre Makkina Tan was able to finish 3rd. Adrian Agcamaran topped the Bracket F, followed by Sherwin Bargos in 2nd and Noel Delos Reyes on 3rd.
Finally, Miguel Narciso prevailed to be the fastest in Bracket G, as he outrun Felix Chua and another MSDP finalist Hazel Ramirez.
Grid Race
An exciting head-to-head showdown went down at the season's last round for the GT Grid A race. Eduardo Suiza and Rafael la O' tightly competed for the win as Suiza held most of the 10-lap race. Suiza's performance was silenced by the late charge from la O', allowing Team Auto Magic grab the 1st position until the checkered flag.
Aaron Lao got another win in the KYB Grid B race as he crossed the finish line with an advantage of 1.957 seconds over Francis Roger Telan. The 3rd place was secured by another Blanche Racing driver Andrew de Asis. The Smart Fuels Grid C was dominated by Paolo Santos who maintained his pace throughout the race. This gave him a full lap advantage from Ethanworx Racing Team's Jonmark Ong and Carmudi Racing's Polo Bautista.
The drifter-turned-racer Ralph Tan bested 21 cars in the combined Recaro Grid D and Worksbell Grid E. He was followed by Paolo Santos with only 4.675 seconds behind, while Patrick Manapat snatched the 3rd. Grid E had Andre Makkina Tan at 1st after defending his lead from Felix Chua for 8 laps. Chua was then followed by Steve Travers on the 3rd place.
With the 2017 season in the books, the FlatOut Race Series now turns its focus on the country's longest endurance race. The GT Radial Philippine Endurance Challenge (PEC) will return to the Clark International Speedway for the 8 Oras ng Pilipinas on December 2 or 3.
The 2017 Flat Out Race Series (FORS) is sponsored by GT Radial – Philippines, KYB, EPPCO, RECARO, Staging Lanes, Competition Clutch, SmartFuels, Seiken Brake Parts, Works Bell, 602PTG, Brodeth Motorsports, Tuason Racing School, OMP, Angeli Jewelry, Driftmob Works Pilipinas, and Pro Simulation Karera.
It's supported by Walter Lights and Sounds, Aeromed, Ninja Performance, Totem Bikes, CTR Suspension Parts, Tes Advertising, and 2ndGen Insurance. Media partners include 2NER Magazine, ABS-CBN Sports and Action, AutoCar Philippines, AutoDeal.com.ph, AutoIndustriya.com, C! Magazine, CarGuide.Ph, Carmudi.com.ph, Ignition.PH, JamesDeakin.Ph, JDM Underground, Manila Bulletin Drive, Pit Talk Asia, Ride and Drive Philippines, The Score, and Time Attack Manila.
Latest News
The OMODA 5 EV will be coming to the Philippines in the fourth quarter of 2023 along with the OMODA and JAECOO brands.

Hyundai Mobis has developed new high-tech headlights capable of projecting road signs in an effort to make roads safer.

According to a report, local Corolla Cross models are not affected by the electronic parking brake recall in Australia.
View More Articles