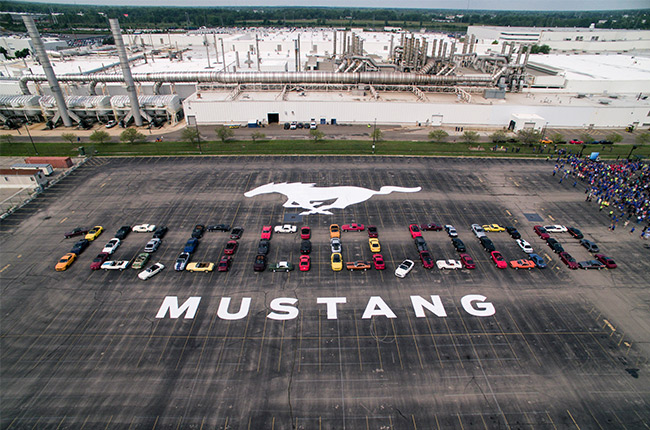 We can't count how many times we've mentioned that the Mustang is an icon (actually, twice in both of our reviews), and we're willing to bring that claim with us on our deathbeds. Now, to solidify that claim, Ford shared a news that could blow your mind off: it has built 10-million units of the pony car since its inception.
To celebrate the milestone, employee of its Dearborn headquarters and its Flat Rock Assembly Plant attended the event, as well as flyovers from three WWII-era P-51 Mustang fighter planes. A parade of the Mustangs produced for more than five decades also happened from Dearborn to Flat Rock – the facility where the iconic American muscle car is currently produced.
Mustang is the heart and soul of this company and a favorite around the world. I get the same thrill seeing a Mustang roll down a street in Detroit, London or Beijing that I felt when I bought my first car – a 1966 Mustang coupe that I drove across the country as a teenager. Mustang is a smile-maker in any language.
In its 54-year production history, Mustang was also built in San Jose, California; Metuchen, New Jersey; and the original Mustang production facility in Dearborn, Michigan.
The 10-millionth Mustang is a 460-hp 5.0 GT Convertible (the same model that I recently reviewed) in Wimbledon White. Coincidentally, this is the same color of the first serialized Mustang (VIN 001) in 1964.
With this milestone, the Mustang remains to be America's best-selling sports car of the last 50 years and the world's best-selling sports car three years straight.
Want to find out more about the Ford Mustang
Find out more info, request a brochure, or request a quote by sending an inquiry below
Latest News
One of the most exciting nameplates in Hyundai Philippines' lineup.

The South Korean marques' new Separate Sound Zone tech is music-lover's delight.

There's big growth in the SUV segment and, surprisingly, very little in the compact cars.