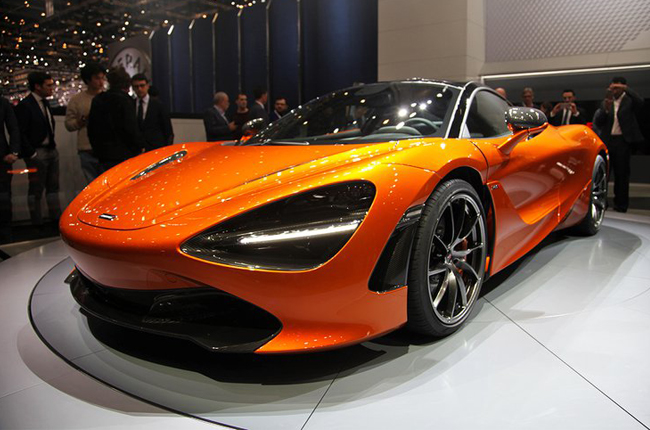 McLaren has introduced its replacement for the 650S at the 2017 Geneva International Motor Show. Given the name 720S, the 2nd generation supercar is said to be lighter, stronger, and faster compared to its predecessor.
According to McLaren, the overall design of the 720S is based from a Great White Shark. The British brand says it gives the supercar its sleek curves that help reduce drag and let air flow smoothly to its rear-mounted engine. The 720S also comes with the iconic gull-wing dihedral doors that sweep forward and up, making boarding effortless without sacrificing style.
The British brand also boasts that the 720S has a driver-focused interior thanks to its large LCD instrument cluster and the variety of knobs on the console. Moreover, a tablet-sized touchscreen headunit routed to a choice of a 4-speaker or a Bower & Wilkins 12-speaker setup can be seen for its entertainment system.
On the other hand, the 720S is powered by the new 4.0L twin-turbocharged V8 engine capable of producing a gut-wrenching 720 hp (hence the name) and 770 Nm of torque. When paired with its 7-speed SSG slushbox (a.k.a automatic transmission), the McLaren 720S can launch from 0 to 100 km/h in 2.9 seconds and reach a top speed of 341 km/h. Furthermore, its carbon ceramic brakes and rear wing that doubles as an air brake help it grind to a halt from 100 km/h in 2.8 seconds.
The McLaren 720S is also loaded with a bunch of tech such as proactive chassis control and power-assisted, electro-hydraulic steering, which help keep the car on the road especially during turns.
Despite all these, the 720S weighs-in 18.2kg lighter than its predecessor at 1,283 kg. This can be attributed to the McLaren P1's carbon fiber monocage chassis, which the 720S is built on.
Latest News
Isuzu Dasmariñas joins Isuzu Philippines Corp.'s expanding dealership network strengthening the brand's reach in the south.

The Mazda CX-90 is the most advanced model in the lineup and is now here to cater to customers in the Philippines.

The Department of Energy says that public EV charging stations are now authorized to start implementing charging fees.
View More Articles