The MG HS is now on sale in the Philippines. It's among the latest models MG has released in the country, but it's certainly not the first compact crossover. That honor belongs to the RX5, a top-selling model holding steady since its local launch in 2018.
By all indications, the HS will not take the place of the RX5 in MG's lineup. So, it looks as if both compact crossovers will be available to purchase—for now, at least. With both models carrying a similar price tag, which one should you go for if you're in the market for an MG crossover?
Exterior
Being both from MG, the HS and RX5 feature distinctly European-inspired styling. Let's begin with the older brother, the RX5. Its boxy form suggests an overall exterior design of a more mature sensibility. It features a four-slat chrome finished grille flanked by LED headlights and daytime running lights (DRLs). You also get LED turn signals, taillights, and a high-mount stop lamp. Other notable exterior features include roof rails, skid plates for the front and rear, and 18-inch two-tone alloy wheels.
Meanwhile, the HS benefits from MG's latest design philosophy. The new compact crossover features a sleeker build with more curves, evoking a youthful and sporty design. The HS gets a dotted pattern grille with sequential LED headlights on either side. Below that, we find fog lamps wrapped in black and chrome trim, a motif present throughout the vehicle. The rear continues the sporty theme with an integrated spoiler, sequential LED taillights, a twin-exhaust setup, and 18-inch alloy wheels.
Despite the HS being the newer model, we don't think the RX5's design is significantly outdated. Sure, its looks are getting a little long in the tooth, but that doesn't mean it looks terrible. Quite the contrary, as the RX5 has aged well and could continue to entice buyers for years to come. Although many will go for the younger-looking HS, it ultimately comes down to taste and preference. The RX5 attracts the more mature and sophisticated crowd, while the HS could appeal more to a more adventurous demographic. For these reasons, we feel this category is a tie.
Winner: Tie
Interior and Technology
The cabins of each MG compact crossover are where you'll be seeing much of the differences. The RX5's higher models feature a mostly beige leather interior with some black and chrome trims. Material quality is up to par, with the dashboard and door inserts being particularly of note. There's also a leather-style steering wheel with controls for the 8-inch touchscreen infotainment system. It features Apple CarPlay, but Android users make do with Bluetooth connectivity.
Standard tech features on the RX5 include a 3.5-inch driver's display, a USB port, remote keyless entry, follow-me-home headlights, remote trunk unlock, and an electronic parking brake. The higher-spec models take things further with cruise control, smart key passive entry, push-button start, and an eco-driving mode. The top-spec Alpha variant tops it all off with a panoramic sunroof.
Stepping inside the HS, you'll see a more modern interior with plenty of sporty touches. The cabin looks stunning in black leather and suede, complemented by red and silver trim. The bucket-type front seats and flat-bottom steering wheel emphasize the sportiness of the HS. There's also a massive 12.3-inch all-digital driver's display and an equally impressive 10-inch infotainment unit with Apple CarPlay and Android Auto. Finally, the MG HS gets goodies like cruise control, a panoramic sunroof, ambient lighting, power front seats, dual-zone climate control, an electronic parking brake, and a power tailgate.
The RX5 features an elegant cabin, but we think its overall interior design would benefit from an overhaul to fit in with more modern offerings. Its tiny digital gauge cluster and modest 8-inch touchscreen pale in comparison with the massive screens on the HS. The lack of Android Auto support could also turn quite a few buyers off. The HS, meanwhile, with its sporty seats, youthful cabin, and abundant tech, feels much more deserving of the win.
Winner: MG HS
Safety
The MG HS and RX5 come with their own attractive safety feature sets. MG equipped the RX5 with driver and passenger airbags, with side airbags available on the higher models. It also gets an anti-lock braking system (ABS) with electronic brakeforce distribution (EBD). Other standard features include a reverse camera, rear parking sensor, automatic door locks, an alarm system, and an engine immobilizer. The higher trim levels get additional features like cornering brake control, electronic stability control, hill-hold control, hill descent control, auto brake hold, and tire pressure monitoring.
On the other hand, the HS comes standard with six airbags, ABS with EBD, electronic stability control, hill-hold control, hill descent control, rear parking sensors, a reverse camera, and a tire pressure monitoring system. The top-spec Trophy variant ups its game with blind-spot monitoring, lane change assist, rear cross-traffic alert, and rear driver monitoring.
The RX5 and HS don't seem that far apart when it comes to safety features. However, the HS does come with more standard features, and the advanced active safety tech it's equipped with puts it just a hair ahead of the RX5.
Winner: MG HS
Power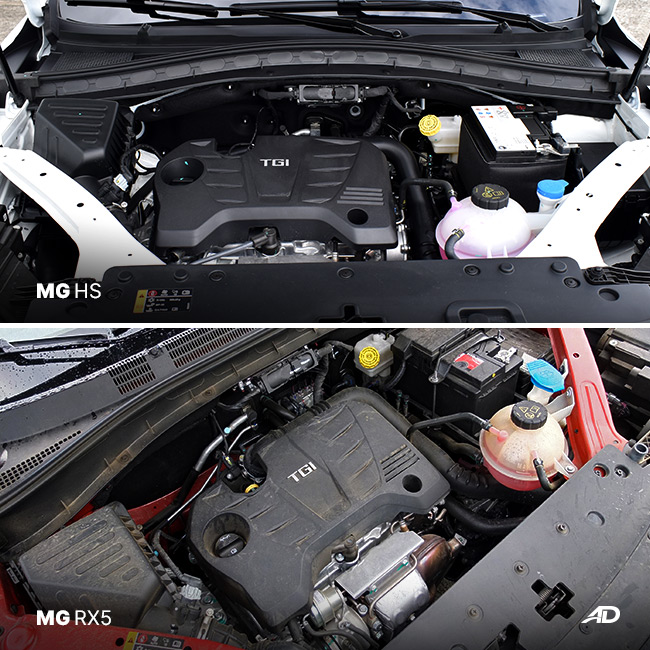 The MG RX5 packs a 1.5-liter, four-cylinder, turbocharged direct-injection gasoline engine that delivers 167 hp at 5,600 RPM and 250 Nm of torque at 4,400 RPM. The available gearbox options include a six-speed manual and a seven-speed wet dual-clutch transmission that MG calls the Twin-Clutch Sportronic Transmission (TST). The latter also features a manual Tiptronic function.
The MG HS packs virtually the same engine as the RX5, a 1.5-liter, four-cylinder, turbocharged, direct-injection gasoline power plant making 167 hp at 5,600 RPM and 250 Nm of torque between 1,700 and 4,400 RPM. A manual gearbox is noticeably absent here, as the only choice is a seven-speed TST. There are paddle shifters on the Trophy variant, however. Both the RX5 and HS are front-wheel-drive (FWD) only.
With identical powertrains in tow, it's challenging to decide which of these crossovers jump ahead of the other. MG presumably improved its 1.5-liter turbo engine since it first appeared on the RX5, but we can't be too sure. The presence of a manual transmission option on the RX5 keeps it competitive as well. So, without a clear winner, it's a tie.
Winner: Tie
Price
As the HS and RX5 compete in the same segment, one would have thought that only one of these crossovers would be available at one time. MG believes otherwise, and we can't blame the company for wanting to market these two models simultaneously.
As for pricing, the RX5 starts at P1,058,888 for the Core MT Variant. The top-spec Alpha AT model will set you back P1,298,888. Meanwhile, the base model HS 1.5T Alpha is available for P1,158,888. The specced-out 1.5T Trophy model sells for P1,208,888.
We commend MG for selling the manual version RX5 at just over a million pesos, but the top-of-the-line model seems slightly too expensive at its current price. While the HS has a higher starting price, you do get a newer design and more standard features. The top-trim model is also P90,000 cheaper than its RX5 equivalent and comes with more tech and advanced safety features. That's not bad at all, and it's why we give the point here to the MG HS.
Winner: MG HS
Verdict
Here we are—concluding this edition of Sibling Rivalry. Which among the MG HS and MG RX5 deserve your hard-earned money? The RX5 seemingly caters to a more mature audience with refined looks and no-fuss features. On the contrary, the HS evokes a more youthful vibe with a bolder design, sporty interior, and modern tech features.
Plus, we can't forget that both crossovers pack essentially the same engine under the hood. Manual transmission lovers would certainly feel at home with the RX5. If you want the latest and greatest, though, it seems the HS is the top choice. Whichever way you swing, it's clear that you can't go wrong with either of these MG compact crossovers. There's a winner here, and it's the new MG HS.
Latest News
Hyundai Motor Philippines Inc. is introducing a wider range of payment options for customers with "Hyundai Finance."

Toyota Motor Thailand has launched the Hilux Champ, the brand's simpler and more affordable alternative to the Hilux.

Toyota confirms it will mass-produce its advanced solid-state EV batteries in 2023 but only enough to power 10,000 EVs.
View More Articles