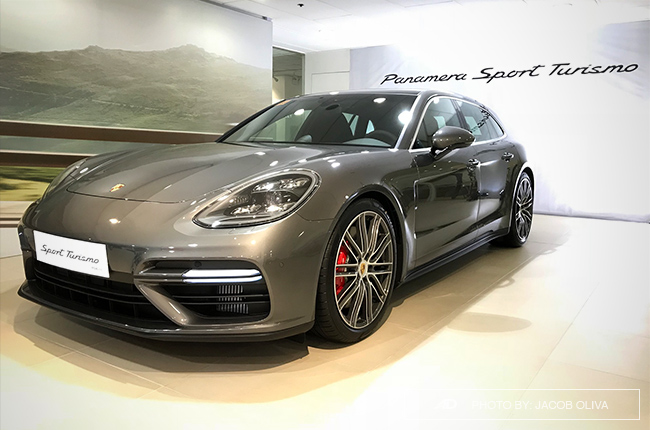 Porsche Philippines welcomes the Year of the Dog with a bang by bringing in the estate version of the Panamera luxury sedan. Named the Panamera Sport Turismo, it comes with two exciting variants — the V6 Panamera 4 and the more exhilarating twin turbo V8 Panamera Turbo.
One of the highlights of the Panamera Sport Turismo is its 4+1 seating configuration, with an option to add one extra seat between the individual rear seats. Sure, it won't be as comfortable as the other four, but it's better than nothing.
Another highlight is its immense 520L trunk space, which can be maximized to around 570L with the rear seats folded down — that's enough space to accommodate two month's worth of groceries, more or less.
Aside from that, the Panamera Sport Turismo features a plush interior that ensures comfort and pleasure for the driver and passengers. To put icing on the cake, the good-looking Porsche Communication Management is standard on all models.
What's great about it is that the rear seats will also have its own touchscreen interface, which somehow looks like it's taken straight from a sci-fi movie. Cool beans.
Aesthetically, there are only a few differences between the two variants. Aside from their individual badges, the Panamera 4 Sport Turismo (in Carrera White) has blacked-out headlamps, less chrome, and a set of slightly smaller 19-inch wheels.
The Panamera Turbo Sport Turismo (in Agate Grey), on the other hand, gets 20-inch rims, adaptive four-way adjustable rear spoiler, panoramic sunroof, thermally insulated glass, and red brake calipers as standard equipment.
The main differences between the two variants are their power plants. The Panamera 4 Sport Turismo has a 3.0L V6 turbocharged mill under the hood, capable of producing 330 hp and 450 Nm of torque.
Alternatively, the Panamera Turbo Sport Turismo is equipped with a massive 4.0L V8 twin turbo engine that can produce 550 hp and 770 Nm of torque. With this amount of output, it can reach a maximum speed of 304 km/h and can go from standstill to 100 km/h in just 3.8 seconds. It also comes standard with adaptive air suspension with Porsche Active Suspension.
The launch of the Panamera Sport Turismo models here in Philippines is only a sneak preview of what Porsche has in store for this year. I am excited to bring this iconic German brand to greater heights as it continues on its path to success this 2018.
Latest News
Hyundai presents Night Of Lights, now open to the public with an immersive audio-visual drive-through.

This new variant of the Ranger slots over the Wiltrack and just under the Raptor in terms of features and power.

Class 1 vehicles are expected to pay P35, class 2 vehicles are expected to pay P69, and class 3 vehicles are expected to pay P104.
View More Articles