Last year on December 29, 2020, Skyway Stage 3 opened up to the public to use for free for a month. The newest road to open up under the operation of the San Miguel Corporation (SMC) brought with it the promise of cutting down travel time between SLEX and NLEX. So far it has delivered on the promise with motorists stating improved travel times of between 20 to 30mins from varied locations. An overall improvement from the previously normal commute that would take hours.
It is important to note that the new Skyway Stage 3 isn't fully operational yet, while it is already open to the public to use not all entrances and exits are operational. Here is a list of entry and exit points that are currently up and running. These access points will be open for the public to use until further notice:
1. Buendia (Zobel) Northbound On-Ramp
2. Buendia (Zobel) Southbound Off-Ramp
3. Plaza Dilao Southbound On-Ramp
4. Quezon Avenue Northbound and Southbound On-Ramp
5. Quezon Avenue Northbound and Southbound Off-Ramp
6. Balintawak Northbound Off-Ramp
7. Balintawak Southbound On-Ramp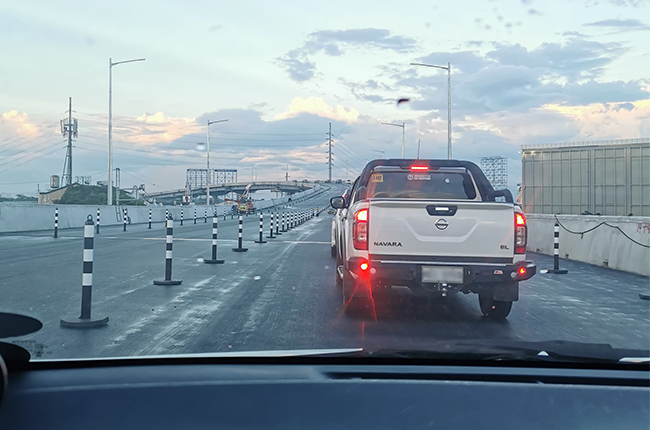 Originally meant to open much earlier last year, Skyway Stage 3 was met with many delays with several aspects of the project. It was met with inclement weather along with the pandemic that delayed the curing time of the concrete and the preparation time for the laying of asphalt for the expressway. Furthermore, other factors plagued the project such as a massive fire in February of 2020 in Pandacan that caused a section of the road to collapse. That section of the road was fully repaired and replaced come September of 2020.
While not yet fully operational, SMC has stated that it is pushing forward with the construction of other ramps for Skyway Stage 3 with plans of fully opening the expressway by January 14, 2021. This will also go in tandem with another new section of Skyway that will now extend the road to Susana Heights. With the opening of the new ramps and the new section of road that further extends Skyway to the south, it is hoped that traffic along EDSA and C-5 will be reduced along with other smaller roads inside Metro Manila.
Latest News
Customers will have to wait for the new Honda HR-V due to production delays, according to Honda Philippines.

Watch this early walkaround video of the 2024 Santa Fe, now with a boxy design.

Looking to get a 7-seater vehicle? Heres a quick list to get your search started
View More Articles