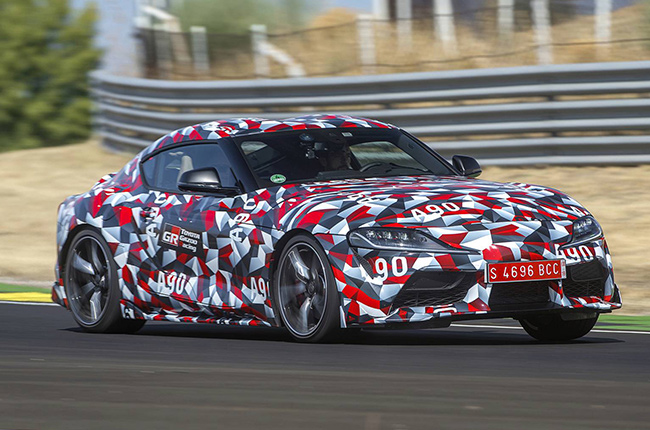 When you talk about Toyota sports cars, it's almost impossible to not mention the Supra. With its first production model A50 rolling out in the 1970s, it was among the most exciting cars of the carmaker, until Toyota decided to end its life in 2002. It was a dark era, and the world is left but with one Toyota sports car – the 86.
Sparks of hope came flying this year, though, as Toyota announced the fifth-generation Supra. It's essentially an evolution of the FT-1 concept that we all saw at the 2016 Philippine International Motor Show (PIMS). Now, it isn't a concept anymore, but a reality wrapped up in a geometrical camouflage aptly marked A90.
But the Supra stayed under the wraps for too long. It's actually confusing. It's like the car wanted attention from the world with its reveal at Goodwood, media test drive events in Australia, and videos spread over the internet, and yet it wants to hide by not completely revealing the real deal. Toyota even teased the world by saying that it could have a manual transmission variant, but didn't officially confirm.
It's a good strategy, we reckon, as it leaves us car nuts wanting more of something we can't have. It's like a present waiting to be unwrapped but you just can't. At least not yet.
Toyota Germany, on its official Facebook page, confirmed that the full reveal of the fifth-generation A90 Supra will be at the 2019 North American International Auto Show in Detroit, which is scheduled to happen from January 14 to 27, 2019. While the confirmation sounds so sweet, it isn't really so if you're among those who have been eagerly waiting for the sports coupe. Like us, you might want to wait a little longer.
Right now, we only know a few things about the Supra: it shares the same platform with the BMW Z4; it's powered by either four- or six-cylinder turbocharged engines, and coupled to a ZF automatic gearbox; it can produce more than 300 hp; its engine is mounted up front but it's rear-wheel drivel; it has a perfect 50:50 weight distribution and a curb weight of just 3,298 pounds (1,496 kilograms); and those in Europe can already reserve theirs.
The rest of the details will unveil when the time comes. Remember, patience is a virtue.
Source: Supra MKV via Motor1.com
Just One More Step To Get Your Quote
Find out more info, request a brochure, or request a quote by sending an inquiry below
Latest News
The Kia Seltos is being offered by Kia Philippines with a pre-launch reservation discount of P50,000 for orders made before the model's November 6, 2019.

Kia Philippines sent some photos of its newest crossover that could possibly come with some turbocharged goodness and prime looks and features.

If you're in the market for a Vios substitute, then this article can help you find the right alternative to the popular Japanese sedan.