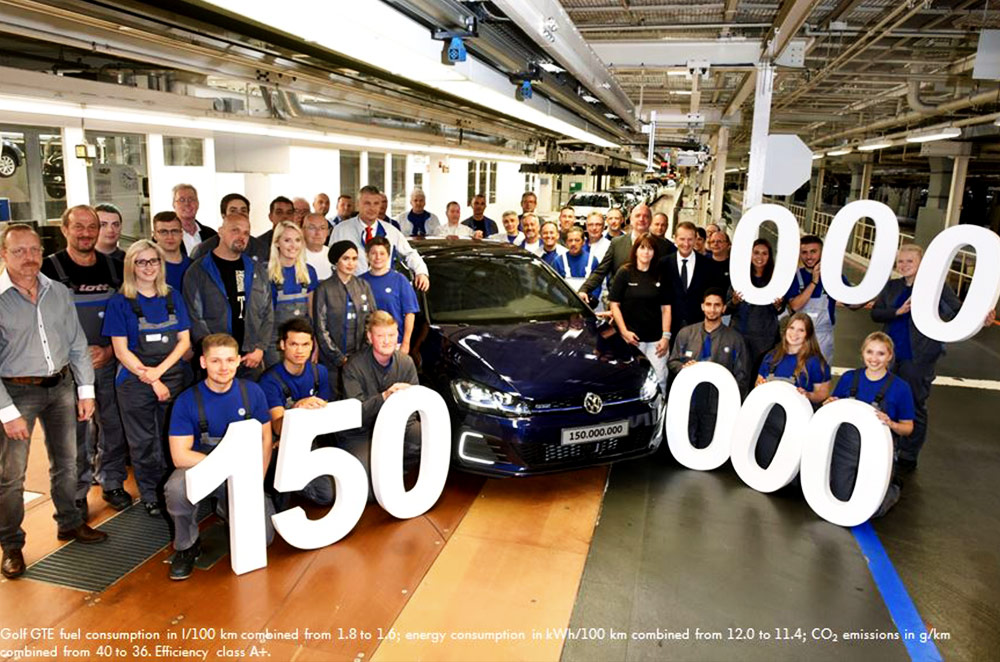 Volkswagen is one of the staple names in the automotive industry. Since the first day they kicked-off 80 years ago, they have already produced 150 million vehicles across the globe.
Based on VW's current brand portfolio, they have produced more than 60 models up to date. Aside from the best-selling Golf and the iconic Beetle, more than 20 million Passats, about 19.5 million Jettas, and close to 17 million Polos has already gone through the German marque's assembly line.
In celebration of their milestone, their anniversary car—blue Golf GTE—led the assembly line in Wolfsburg last August 24, 2017. It is said that the plug-in hybrid is a symbol of the future of mobility and a living testimony of VW's powerful team performance.
"150 million vehicles – that means we have made the dream of owning a car come true 150 million times for customers all over the world. You and your day-to-day work are the basis for this success. My colleagues on the Board of Management join me in thanking all Volkswagen employees – at all our sites. This anniversary would not have been possible without your commitment."
This year alone, the German automaker plans to launch over 10 new models nationwide. They are also planning to release 19 new SUVs in total by 2020.
In addition, with the help of advanced technology, automakers find ways to step up in a competitive world of innovation. In fact, 1 million electric Volkswagens are expected to conquer the road by 2025 and Electrification Toolkit (MEB) is also currently being developed by the German brand.
Latest News
With a turbo motor, a character-filled interior, and a smart look, the Tharu lands in the Philippines breaking new ground for VW Philippines.

Subaru is producing a special edition of the WRX called the WRX TR which is set to be unveiled next month on October 7, 2023.

A report suggests that Mazda has greenlit rear-wheel drive, inline-six sedan, thanks to the CX-60 and CX-90 sales.
View More Articles