It looks like Volkswagen Philippines is ready to tackle a wide range of markets with their introduction of five new models for 2018. What's interesting to note, however, is that these models have been specifically designed and tailored to fit the Asian and Philippine market. What does that mean? Volkswagen now offers attractive new vehicles that are specced just right and priced even better, making their new models a choice to definitely consider when shopping around.
With an emphasis on returning to the core values of Volkswagen being the "People's Car", Volkswagen Philippines aims to bring the brand closer to home, with products that cater to a wide range of needs and price ranges. Let's take a look at what Volkswagen Philippines has to offer.
Santana
A top seller in China in 2017, at the heart of the Santana is a 1.4-liter gasoline engine mated to a 5-speed manual transmission and is rated at 89 hp and 132 Nm of torque. This compact sedan features electronic power steering, anti-lock braking system (ABS), an immobilizer, and ISOFIX anchor points for child seats. And here's the kicker, the Santana starts at just P686,000, making it a contender for a compact sedan worthy of your garage.
Santana GTS
Those looking for an estate/station wagon with the mix of accessibility and practicality will want to take a look at the Santana GTS. Powered by a 1.5-liter gasoline engine with a 6-speed automatic transmission, this is the only B-segment station wagon on the market today, making it an attractive proposition for families. No pricing has been announced for this model yet, however.
Tiguan
A crossover that has been slightly tweaked courtesy of a longer wheelbase, the Tiguan is powered by a turbocharged 1.4-liter gasoline engine via a 6-speed dual clutch transmission. With 148 hp and 250 Nm on tap, the Tiguan also features leather seats, a panoramic sunroof, 8 speakers, and power adjustable driver seat. The Tiguan starts at P1,648,000.
Lamando
The Lamando is a more upscale sedan that features a panoramic sunroof and a turbocharged 1.4-liter gasoline engine and 6-speed dual clutch automatic transmission similar to the Tiguan. We'll have more information on specs and pricing very soon, but we expect to see the Lamando to be attractively priced and equipped.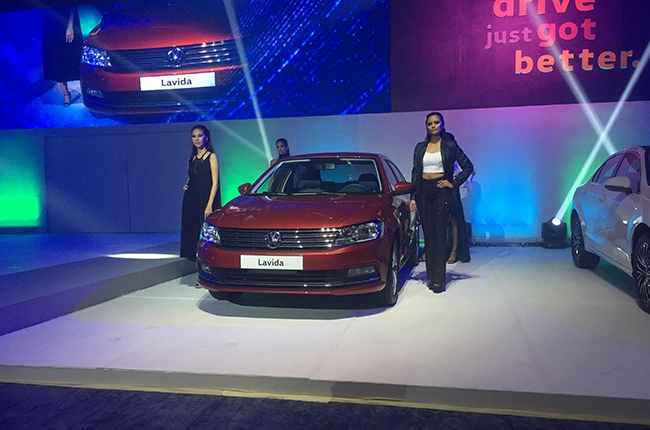 Lavida
The Lavida has the distinction of being the best selling sedan and second best-selling model for the entire Chinese car market. Powered by a 1.4-liter turbocharged gasoline engine capable of 128 hp and 225 Nm of torque, it is mated to a 7-speed dual clutch automatic transmission. The Lavida features cruise control, leather seats, a sunroof, and automatic climate control. The alphabet safety soup is present here in the form of electronic stability program (ESP), anti-lock braking system (ABS), electronic differential lock and anti slip regulation (ASR), hill hold control, front and rear parking sensors, and ISOFIX mounting points. The Lavida starts at P1,171,000.
Volkswagen Philippines has also announced that the Santana, Lavida, and Tiguan, will be available at dealerships by May 19 of 2018, with the Lamando and Santana GTS to follow in November.
Latest News
In 2024, the Suzuki Swift will get an update, and the concept image was leaked ahead of its official unveiling.

Hyundai Accelerate, in partnership with Pasig City, has admitted four lucky scholars to Don Bosco Makati for training.

Embracing the rugged persona of the Mitsubishi Xpander Cross, the Outdoor Edition has added enhancements for adventure.
View More Articles