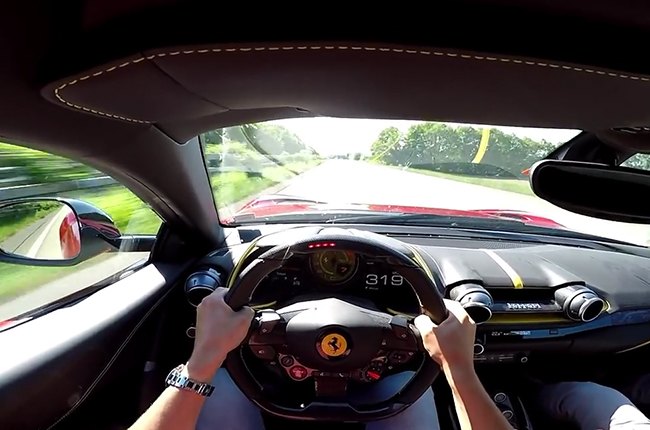 You all remember the Ferrari 812 Superfast that was recently launched in the country about a month ago? Well, it seems that this 800-hp monster, which also happens to be the fastest and most powerful Ferrari yet, was in the hands of YouTuber hartvoorautosNL during one of its high speed runs. By high speed we mean just shy of 320 km/h – on a public road.
Now, before you get your pitchforks out and call for the video to be taken down and the proper authorities to bust in his house and ban him from driving for life, the high speed run was taken on a stretch of the German Autobahn with no maximum speed limit. That's right, aside from racetracks and drag strips, the Autobahn is the only public road where cars can be permitted to go flat out. It also helps that vehicles keep right after overtaking, and drivers are always aware of faster vehicles. In this case, a speeding missile in the form of the 812 Superfast.
During this run, the 812 Superfast and its amazingly eargasmic V12 was unable to reach its claimed top speed of 340 km/h, but it was pretty darn close. Factor in the other vehicles that can range from motorcycles, passenger cars, trucks, and even other high performance cars, and we can only imagine the heart-pounding feeling once you break that 200 km/h mark. It's one thing to experience it on a track, and a totally different experience on an unrestricted highway with so many variables. Good thing German drivers are disciplined.
Sadly, those who aren't lucky enough to experience the Autobahn, let alone a Ferrari, will have to settle for our local race tracks for their speed fix. And the dreams of an unrestricted highway in the Philippines are probably never going to happen. We can't even keep right after overtaking.
Get the best deal - Choose multiple dealerships to compare offers!
You can compare quotations simultaneously from multiple Ferrari dealerships. Select your preferred dealers from the list below.
Compare quotations from multiple dealerships in minutes.
Check vehicle and color availability.
Find info on special offers and promotions.
100% Hassle-free with no obligation to purchase.
Latest News
A report suggests that Mazda has greenlit rear-wheel drive, inline-six sedan, thanks to the CX-60 and CX-90 sales.

The LTO reports that the 13-million vehicle plate backlog could be addressed by as early as 2025 or as late as 2026.

Isuzu Philippines Corporation has just previewed an upcoming limited edition of the D-MAX on their social media pages.
View More Articles