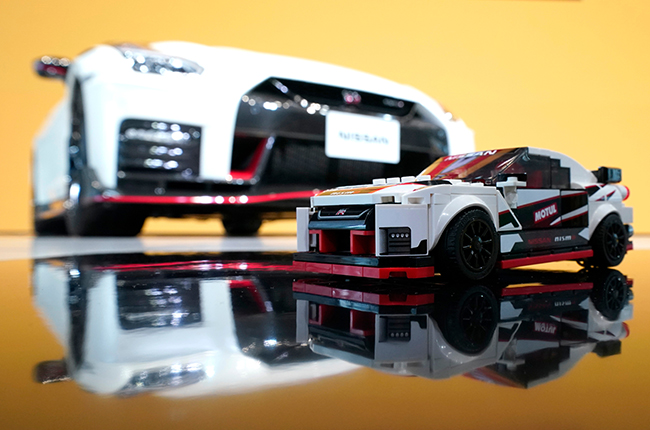 The Lego Group, yes the group responsible for making those plastic bricks that have become a household name, have partnered up with Nissan for something special. This partnership has revealed a new brick model that pays tribute to the legendary Nissan GT-R Nismo. The performance car takes on a smaller and blockier appearance complete with Nissan, Nismo, and Motul decals. The brack scale model represents the first-ever partnership of Lego and a Japanese automaker.
In addition to offering a wonderful and fun building and play experience, we hope the model will also inspire children to learn more about engineering and how to create things in real life. Just as engineers across decades have improved the design and performance of this car, children build, unbuild and rebuild during play – stimulating and developing crucial skills, such as creativity, resilience, problem-solving and critical thinking. Inspiring them to become the builders of tomorrow is our mission.
Asako Hoshino the executive vice president of Nissan, on the other hand, states that the Nissan GT-R and Lego brands are both renowned and loved by fans all over the world and by all ages. She further adds that the Japanese auto manufacturer is honored to be the first Japanese manufacturer to partner up with the Lego group. She believes that many of the Nissan customers can trace their automotive passions back to Lego models they used to build when they were kids.
The introduction of the new brick model comes with the added benefit of everyone becoming a "Takumi" or a specialized craftsman that builds the GT-R. This lets everyone become part of the GT-R experience. On top of this, the Lego model also serves as a celebration for the performance car's 50th anniversary which just so happens to be in 2019. The model will not only share the GT-R with Nissan but also with Lego fans around the world.
Latest News
Nissan unveils the 20-23 concept along with a declaration that it is counting down to an all-electric lineup in Europe.

Nissan Australia in collaboration with Premcar, has recently unveiled the seriously hardcore 2023 Nissan Patrol Warrior.

The Mazda2 and CX-3 now get a revamped 8.8-inch infotainment display to replace its current aging displays.
View More Articles