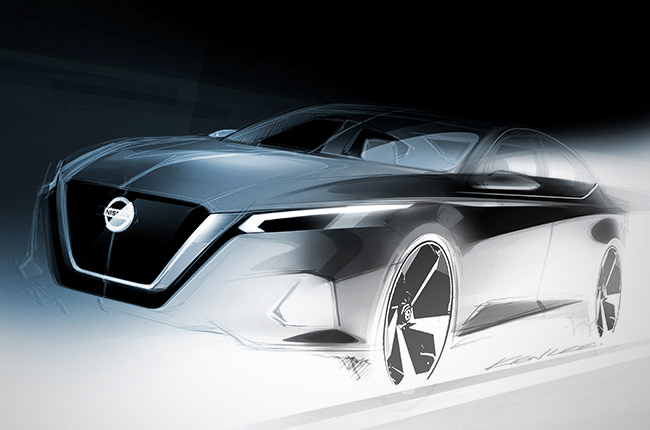 Wait a minute, give us a moment to catch our breath and tell you exactly what you're looking at. You have just laid eyes on the sixth-generation Altima – yeah, we know it's already in the title, we just had to say it again because it looks completely rad.
If you were able to catch our past article about the Nissan Vmotion concept car at last year's North American International Auto Show, you'd probably recognized the sketch. And although it debuted at the 2017 NAIAS in metal, seeing it bear the Altima nameplate feels so right. By the way, it won the 2017 EyesOn Design Award for Best Concept Vehicle at NAIAS.
Vmotion is Nissan's modern approach in its vehicle design. It is evident in their latest models, distinguishable with a 'V-shaped' grille. The large air vents, which is clearly a trend nowadays, adds intimidating sporty looks. Lastly, what's sleeker and more aggressive than a pair of sharp slim LED headlamps that peer at you when viewed face to face?
Well, good luck finding yourself getting tailed by this car. It looks as if it would make you want to get out and leave your vehicle in the middle of the road...and run far away.
The 2019 Altima will debut at the 2018 New York International Auto Show (NYIAS) by the end of this month towards the first week of April. Just like you, we wish we could see it up-close and personal. Engine, performance, and tech information will be available during the event and we'll keep you posted once we get our hands on it.
Latest News
The Mazda2 and CX-3 now get a revamped 8.8-inch infotainment display to replace its current aging displays.

The Hyundai Custo/Custin is a seven-seater minivan that has made its debut in the ASEAN through Vietnam.

The Subaru BRZ STI Sport is a Japan-only model that features performance and cosmetic enhancements, along with EyeSight.
View More Articles