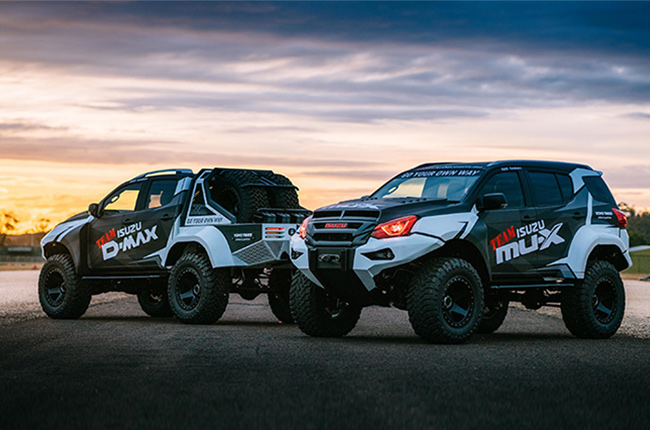 Australia is known for its extremes, like unusual weather conditions, southern lights, and venomous animals. Aside from those, it has also given us the coolest things on Earth, like Nicole Kidman, Hugh Jackman, and The Ozzy Reviews. You know what other Australian thing is cool? The Isuzu Concept X utility vehicles made by the independent workshop and professional driving outfit, Team D-Max and EMG.
The Concept X utility vehicles are D-Max and mu-X that are pumped-up, dressed-up, and made ready for just about anything. Just take a good look at these photos below:
These monster utes were revealed at the National 4x4 Outdoors, Fishing & Boating Expo in Melbourne, Australia. The original idea was to just fit a huge 38-inch Toyo Open Country Mud Terrain tires onto the cars. However, too much is never enough because after 12 months, these cars were born. We can actually imagine them breaking out from monster-sized eggs like wild reptiles. They look like they can eat a Ranger Raptor alive, and it won't even complain.
Aside from the Toyo tires, the Isuzu Concept X is fitted with custom-fabricated steel fenders and bonnet, alloy bull bar, alloy tray and sports bar, and 10,000-lb WARN Zeon 10-S Platinum winches (front and rear).
The suspensions were also lifted by seven inches, giving both mu-X and D-Max a whopping 370mm ground clearance, as well as 49.7° approach angle and 38.5° departure angle. If you think about it, these upgrade just made these 4x4 utes ready to take on any terrain. And we mean any.
The Interior and engine remain the same as the LS-T variants of both vehicles. The latter in Australia is the Isuzu 4JJ1 Hi-Power Euro 5 3.0L turbo diesel power plant, coupled to a six-speed Aisin AWR6B45II automatic transmission. Brakes are improved, though, as both front and rear wheels are given 390mm and 350mm full-floating discs, respectively.
Watch the video below to see these cars in action:
Latest News
Ford recently released a video of a prototype F-150 towing more than a million pounds of weight.

Batch 2 of Hyundai's Dream Centre recently graduated and are now on their way to a better future

Without a doubt, after-sales service does play a significant role among car buyers of today.