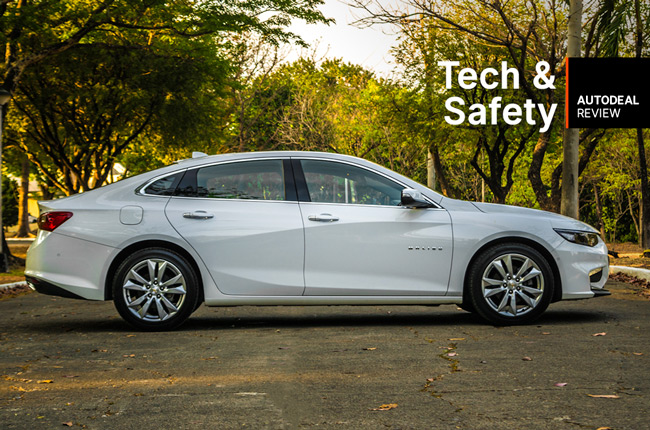 In my full review of the Chevrolet Malibu, I regarded this car as an underrated midsize sedan mainly because of three things: solid driving dynamics, plenty of tech features, and notable ride comfort.
Now, there's more to the Malibu's tech features than just numbers – they are practical and you will actually use them. Simply put, you spent your money on things that you'll actually use and that's a good thing. Here's a closer look.
Technology: Practical & Useful
The Malibu will let you experience its tech features even before you enter the vehicle. It has a remote engine start, which you can engage by holding the circular arrow on the key fob. This way, you'll be able to cool down the cabin if you've parked your car under the sun. If that's not your thing, you can manually do so via the push button. The seats have a cooling function, too.
Adjustments on the driver's seat are via buttons and switches on the sides, which includes adjustments for the lumbar support. Even better, the car has two slots for memory function so you won't have to re-do your adjustments every time you hit the valet. The side mirrors are power-adjustable, too, plus they automatically angle towards the curb when you put the car in reverse. These features seem pretty unnecessary at first but once you've driven the car on a daily basis, you'll definitely miss them in other cars.
As expected, lights and rain wipers are automatic but what I love about them is that they're not too sensitive. The Malibu also has an 8-inch MyLink touchscreen infotainment, which works seamlessly by itself. Even better, it has Apple CarPlay. You won't be able to use this, however, if you opt to use the car's wireless charging system. Lastly, the car has a self-parking system – it can't detect motorcycles and tricycles, though.
One qualm with all these awesomeness inside the Malibu – the lack of brake hold function. The car already has an electronic parking brake. Chevrolet could have chosen to cross the finish line by adding brake hold, which is a very convenient function in bumper-to-bumper situations.
Safety: Best in class
The tech features of the Malibu aren't exclusive to convenience and, well, coolness. Safety is one of Chevrolet's priority in its midsize sedan, giving it more than a handful of passive and active safety toys.
While driving, you have all these tech features on standby, ready to strike whenever needed: lane keep assist, forward collision warning, hill start assist, blind spot monitors, rear cross traffic alert, tire pressure monitoring, emergency braking, and pedestrian warning. You'll feel the emergency brakes working during tight situations, charging the brake pedal as needed.
The Malibu also has adaptive cruise control, which, in contrast with regular cruise controls, makes the car brake by itself and maintain a set distance to the car in front. It's pretty handy when cruising on the highway but it needs a little bit of refinement as it sometimes makes the car accelerate harshly.
The intelligent features are just on top of these passive ones: standard eight airbags, automatic door locks, ABS with EBD, ISOFIX child seat tethers, and seatbelts for all passengers with front audible seatbelt reminders. With these things intact, you know that Chevrolet has done its homework, making sure that you'll get your P2,131,888 of money's worth.
Latest Review
Here's an exclusive look at the JAECOO 7, a compact crossover with a tough but elegant exterior, and a capable powertrain.

Going for the middle variant is almost always a good choice. Does that hold true with the V variant of the BR-V?

3.9

/

5

The 2023 Ford Ranger Raptor, based on the T6.2 platform, is here in this first impressions review.
View More Articles