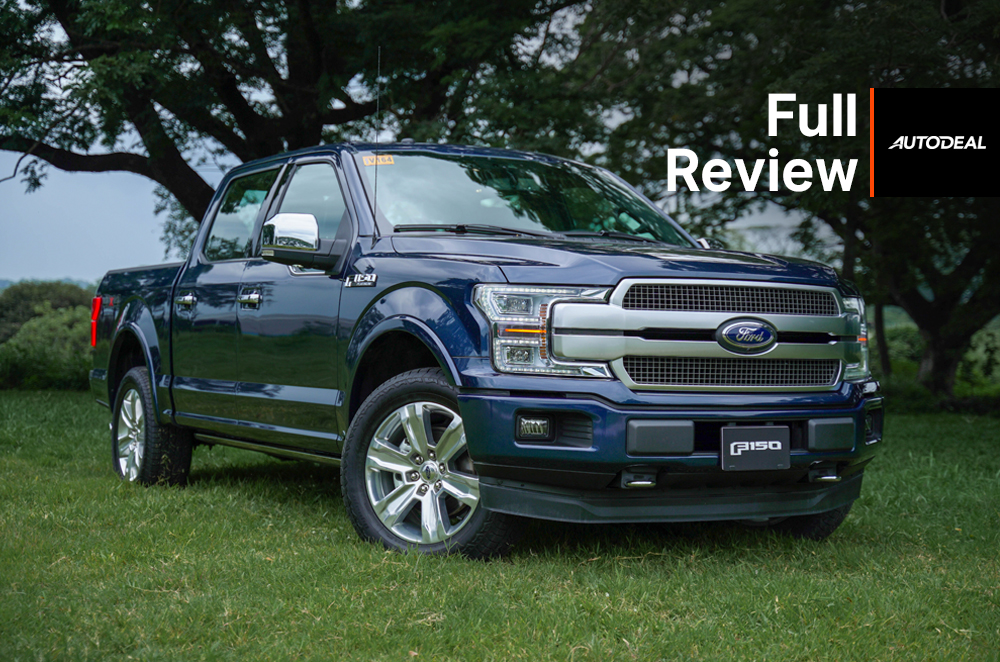 There is a problem here, not with the Ford F-150, but with the Philippines. Tight roads, small parking spaces, and traffic make the F-150 just too much pickup for the country. We're not saying that Ford doesn't have a winner on their hands either since this is their best-selling pickup truck. Ford pretty much knows how to make a good hauler whether it's the midsize Ranger and the beefed-up Ranger Raptor, or this mammoth of a unit that is undeniably impressive and way more than you actually need.
The question of is there such a thing as too much of a good thing will be answered in our review of the 2020 Ford F-150 in its 4x4 Platinum trim.
2020 Ford F-150 Platinum Review
Performance
Engine Output (HP), Acceleration, Transmission, Handling 4.5/5
Design
Exterior & Interior Design, Quality, Fit and Finish, Ergonomics 4.5/5
Ride Comfort
Cabin Comfort, Suspension, NVH Insulation 4.5/5
Safety and Technology
Convenience Technologies, Active and Passive Safety Features 5.0/5
Value for Money
Amount of the vehicle you get for the price, Fuel Efficiency 4.5/5
What You Will Like
Amazing ride comfort for its class
Overloaded with features
Overachieving performance
Road presence
What You Won't Like
May be too large to handle comfortably
Fuel economy might make you shudder
How We Do Our Reviews
Exterior
It's an attractively-styled mass of metal is what this truck is. The first time you walk up to it, you're overwhelmed with just the sheer size of it. The length, width, and height of this absolute unit is impressive. The great thing about the F-150 is that it has both form and function in its bodywork.
LED lights can be found all over. The headlights, taillights and even down to the repeaters on the side mirror. This thing is decked out in light emitting diodes. The headlights alone are very impressive, and can illuminate a dark road with ease. The grille is also massive. We're glad that Ford didn't put much chrome on this pickup truck, instead opting to go with more matte surfaces, which is also indicative of the F-150's ruggedness.
It's not even that rugged-looking to begin with though. You can see that Ford made an effort to make the F-150 a handsome piece of heavy machinery. It doesn't look overly-styled or too futuristic. We are aware that there is a new F-150 that was unveiled around the same time this model was launched in the Philippines, but that doesn't stop this generation from looking so dang good. Just worry about where you are going to park it in order for it to sit pretty without getting in anyone else's way.
The bed of the F-150 also is quite large at about 1,500 L in space with a maximum carrying capacity of about 1,400 kg. You can strap a motorcycle or two on here or many sacks of rice or concrete, and thanks to the engine, which we will touch upon later, no need to worry about slowing down so much. Oh, and another neat party trick is the pull-out step board at the rear that also comes with an integrated handle. Plus the rear tailgate only needs a double click from the keyfob or one press in the rear handle to open. We would have wished that the tailgate would also close electronically because it is so heavy, but that's something you'll get used to in a pinch. Oh but fully automated are the motorized step boards that deploy whenever a door is opened, which is a great convenience feature especially for a truck this tall with 239 mm of ground clearance thanks to 20-inch wheels that look small thanks to the size of the truck.
Interior
The bigness continues to the interior of the F-150. It is absolutely spacious. It got us thinking about the Ford Expedition once again. Since the pickup truck shares the same foundation as the SUV, it's only natural that the F-150 gets the same amount of impressive space that the Expedition has. Legroom in the rear is immense. More than what you get with midsize SUVs, definitely. The rear seat experience in the F-150 is, dare we say, almost executive thanks to the space, width, and height of the cabin. Three people can fit here no problem and there are even air vents and provisions for you to charge your phone or even power a laptop. Plus for a rainy day, you get heated seats. If you won't be using these seats, however, you can just fold them up and use the rear area as cargo space. Considering the legroom in the rear, it's about much as a midsize SUV's rear cargo area.
The cabin experience gets better also because of the panoramic sunroof which allows you to let in massive amounts of light, if the large panes of glass weren't enough already. Oh and, also we just covered the rear, if you want to feel like a king, sit on one of the thrones in the front – yes we're referring to the front seats as thrones because they seem quite deserving of that title. For the driver, you get motorized everything, seat adjustment, steering wheel, and even the pedals adjust with the press of a button. The front passenger also gets the motorized treatment minus the steering wheel of course, you get the added benefit of ventilated seats on top of the heated feature found only in the rear. Also, the front passenger gets a 12-volt socket and a power outlet. If the rear is considered economy-plus, the front is straight-up business class.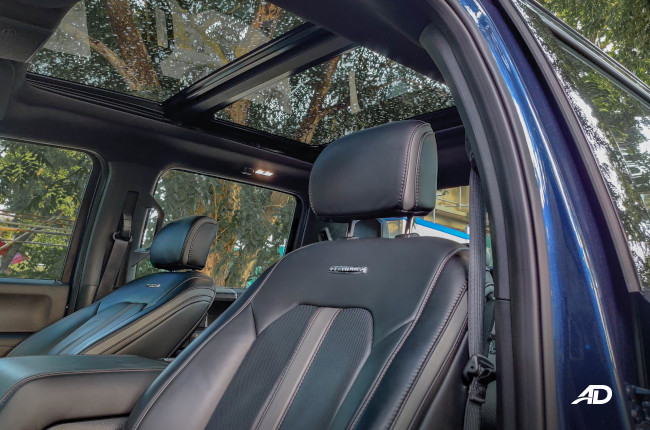 Oh and to top it all off, you get massage seats for the driver and passenger. Really, we weren't joking when we said these two seats are more aptly called thrones.
The dashboard itself isn't a luxurious piece, instead it is a very utilitarian and robust-feeling panel that looks as strong as it feels. Creaks are minimal and the only complaint that we managed to find is very shallow, it's that you cannot change the color of the ambient lights like in the Ford Mustang. Wasted opportunity, but then we'll just relax in the massage chairs instead.
Comfort
Here's another mind-boggling aspect of the F-150. While it rides on leaf springs, you expect it to be bumpy, but surprisingly, going over bumps on EDSA at a bit of speed is stable. You don't feel the bumps. That could be because of the large wheels and tires, or the fact that the thing is so massive and heavy that nothing really phases it. Either way, it was a great ride whether in the city or the highway.
NVH insulation is also superb and hands down the best we have seen in the segment, which is expected since this rig was meant to go on highways on long distances, so it is definitely comfortable enough at speed and even within the city. In fact, if you're the type to play no music while you drive, things can get pretty lonely. That is unless you have some company with you.
Now, this is still a pickup truck, and by no means is it a ride that is smooth as silk. Instead, think of it like some high-grade motor oil. Slick and gets the job done.
Technology
Like most Fords, and apart from the things we mentioned earlier for the interior, the F-150 is equipped to the gills with technology. You will find no shortage of toys on the inside, but there are a few standout features that we feel deserve the spotlight in this portion of the review, starting with the 8-inch Sync 3 infotainment system with Apple CarPlay and Android Auto that is mated to a Bang and Olufsen sound system, which makes almost any track you play from your phone, a joy to listen to. Couple that with the NVH insulation, and you have yourself a great soundstage. Your gauge cluster is also straight out of an Expedition, which is no surprise since they are platform-mates.
Another standout feature that we love and we can't live without in the F-150 is the 360-degree camera system. Let's face it, with a rig this big, you will need some help getting around. We managed to use this feature quite often whenever we would go into parking lots or drive-thrus, and it was an indispensable tool that got the job done. Speaking of, you also get several drive modes that include sport, normal, eco, snow, and even a towing mode. Apart from that, you get a push-start system with remote start, which is useful for things like cooling down the cabin after being parked in the sun.
If we listed all of the features that the F-150 had, this article will drag on forever, but we'll say it this way, it's more equipped than even some luxury cars that are almost double this truck's price.
Safety
It's already a given that the Ford F-150 will be decked out with safety equipment considering the tech that it already comes with. That being said, expect dual front airbags, front-seat side airbags, side-curtain airbags, inflatable rear seatbelts, safety canopy system, rollover sensors, inflatable rear seatbelts, ABS with EBD, an individual tire pressure monitoring system, AdvanceTrac with Roll Stability Control, a Passive Anti-theft system, a perimeter alarm, front and rear parking sensors, remote start, trailer sway control, automatic emergency braking, adaptive cruise control, forward collision warning, dynamic brake support, blindspot monitoring, active park assist, curve control, SOS post-crash alert system, and ISOFIX Tethers.
I think we don't have any critiques here. On top of everything, the National Highway Traffic Safety Administration awarded the F-150 with a 5-star crash test rating in all categories.
Driving and Handling
Like we detailed in a previous feature article, the Ford F-150 is just an immense piece of machinery that is a handful to pilot in the Philippines. If you are dead-set on buying this truck for any use inside the city, be prepared to check your mirrors constantly, go to the mall early for good parking slots, and all that power on tap thanks to that glorious 3.5-liter V6 of an engine. The EcoBoost motor has two turbos that help bring the motor's performance figures up to 375 hp and 637 Nm of torque, which is enough to make this pickup's wheels spin almost anywhere. It's also able to propel this 2.5-ton beast to 100 km in just about 6 seconds, which is almost at the level of the EcoBoost Mustang, and that is saying something. This pickup is also just as fast as any other car on the road at least in the Philippines. Just for context, many road cars get up to 100 km/h in about 10 seconds, which makes the hulking F-150 a freak of nature in comparison. Also, that 10-speed automatic will always allow the engine to perform in its optimal rev range so when you step on it and give it some juice, you'll be able to go as soon as that transmission downshifts.
Handling is as expected from something that weighs over 2,500 kg. Just don't expect it to turn sharply in corners. Though, we have to hand it to Ford for creating a chassis that is so composed even at speed. Changing lanes on the highway is effortless, and steering this land yacht isn't like captaining Titanic. Safe to say that if there was an iceberg on the road, you'll be able to steer fast enough to get clear. It is heavy though, so drive accordingly and you will feel a lot of body roll. Remember, this truck, out of the dealer, only has normal road tires and not sport tires. Couple that with the weight of it, and we definitely do not advise you take this truck out on the race track, though you can try. It would make for an interesting scene if we are being honest.
Fuel Economy
We'd have to say, the F-150 is chalked full of high points. We honestly had a hard time finding something wrong with it. There is, however, the issue of fuel. In soul-sucking Manila traffic, expect only 4 km/L, and on good days, up to 6 km/L. On the highway, you get up to 11 km/L. All of these figures were taken with at least 1 or 2 individuals with a few items. The truck may be impressive, but then the fuel efficiency sure isn't, but that's expected if you're piloting something so huge. Also, consider that if this guy had a naturally-aspirated V8, then your fuel economy would be even worse. It's got the consumption rate of a naturally-aspirated V6 which is impressive considering all its weight.
Verdict
It really seems that the F-150 is almost the perfect truck. After all, it is one of Ford's best-sellers. People who have purchased the F-150 know that it is one of the best and most capable models in the market. Only a few trucks come close to the feature-set of the F-150, and knowing that it is also US-made is a huge point in its favor.
Then the entire deal gets sweeter as you get to the price. Considering everything that this pickup can do, the experience that it gives you, and just the sheer mass of the thing, the price tag of P2,998,000 is a steal. Yes, you are getting a model that isn't the most current anymore that much is given, but it is even more equipped than some luxury cars. To get all that kit inside a premium brand's model will cost you nearly double, and at the same time, it might not be as capable as the F-150.
That being said, not just anyone can house something as big as this. Parking is definitely an issue, not to mention the overall size of the vehicle is something that we don't recommend to people who've never driven anything smaller than a midsize SUV, pickup, or full-size van. So if we're trying to say anything, it's that the only thing that is holding this back is the country it is being sold in, but that's besides the fact. If you want it, you know what you're getting into, get it by all means.
Exterior Photo Gallery
Interior Photo Gallery
---
Specifications
Performance
375 hp @ 5,000 rpm
---
Summary

| | |
| --- | --- |
| Name | Ford F-150 4x4 Platinum SuperCrew |
| Body Type | Pickup Truck |
| Price | ₱2,998,000 |
| Transmission Category | Automatic |

Engine

| | |
| --- | --- |
| Engine Size | 3.5 L |
| Displacement | 3,498 cc |
| Number of Cylinders | 6 |
| Number of Valves | n/a |
| Transmission Type | 10-speed Automatic with SelectShift |

Performance

Drivetrain
Four-Wheel Drive
Max Output (HP)
375 hp @ 5,000 rpm
Max Torque (nm)
637 Nm @ 3,500 rpm
*Acceleration Rate (0-100 km/h)
n/a
Top Speed
n/a
*estimated

Economy & Environment

Fuel Type
Gasoline
CO2 Emission
n/a
Fuel Capacity
90 L
*Fuel Consumption
13.0 L/100 km
*Range
n/a
*estimated

Dimensions

| | |
| --- | --- |
| Length | 5,890 mm |
| Width | 2,029 mm |
| Height | 1,961 mm |
| Wheelbase | 3,683 mm |
| Turning Circle | n/a |
| Ground Clearance | 239 mm |
| Wading Depth | n/a |
| Trunk Capacity | n/a |
| Max Cargo | n/a |
| Number of Doors | 5 |
| Number of Seats | 5 |

Safety & Security

Driver's Airbag
Front Passenger's Airbag
Side Airbags
Curtain Airbags
Knee Airbag
Auto Brake System
Electronic Brake Distribution
Anti-lock Brake System (ABS)

Anti-lock brake system with electronic brake force distribution.

Immobilizer
Security Alarm
Stability Control
Electronic Door Locks
Speed Sensing Door Locks
ISOFIX
Lane Departure Warning System
Blind-Spot Detection System

Features

| | |
| --- | --- |
| Cruise Control | |
| Front Parking Sensors | |
| Rear Parking Sensors | |
| Leather Upholstery | |
| Push Start Button | |
| Wheel Size | 20 in |
| Wheels Metal Type | Aluminum Alloy |
| Airconditioning System | Automatic Climate Control |
| Entertainment System | 8-inch LCD Capacitive Touchscreen with a 10 speaker B&O sound system |
| Connectivity | Sync3, AppLink, Apple CarPlay, Android Auto, and USB |
| Navigation Ready | |
| Warranty | 5 Years (150,000 km) |
| Keyless Entry | |
| Roof Rack | |
| Sunroof | |
| Electric Adjustable Seats | |
| Power Steering | |
| Power Windows | |
| Power Outlet | |
| Steering Wheel Audio Control | |

Technology

| | |
| --- | --- |
| Active Park Assist | |
| Hill Start Assist | |
| AWD Modes | Normal, Comfort, and Sport mode |
| Tire Pressure Monitoring | |
| Heads-up Display | |
| Power Liftgate | |
| Start-stop System | |
---
Get the best deal - Choose multiple dealerships to compare offers!
You can compare quotations simultaneously from multiple Ford dealerships. Select your preferred dealers from the list below.

Compare quotations from multiple dealerships in minutes.
Check vehicle and color availability.
Find info on special offers and promotions.
100% Hassle-free with no obligation to purchase.
Latest Review
Volkswagen Philippines launched the Tharu into a new price bracket leading to more expectations with this model.

The GAC GS8 in both 2WD and 4WD variants is a spacious and luxurious SUV that commands everybody's attention.

Competence can only do so much so does the Creta have an X-factor that can help it compete?

3.9

/

5
View More Articles