The pickup truck segment in the Philippines has evolved to be more than your tough off-roader and occasional commercial vehicle. These trucks have transitioned into being lifestyle-oriented vehicles, which is to say that they are strong enough to put in the hard work of hauling cargo around but stylish enough to show up in a coat and tie and not look bad stepping out. Now, one such vehicle that has evolved into one of these lifestyle pickup trucks is the Mazda BT-50, find out what it has to offer with our review.
2022 Mazda BT-50 4x4 AT Review
Performance
Engine Output (HP), Acceleration, Transmission, Handling 4.5/5
Design
Exterior & Interior Design, Quality, Fit and Finish, Ergonomics 4.0/5
Ride Comfort
Cabin Comfort, Suspension, NVH Insulation 4.0/5
Safety and Technology
Convenience Technologies, Active and Passive Safety Features 4.5/5
Value for Money
Amount of the vehicle you get for the price, Fuel Efficiency 4.0/5
What You Will Like
Premium interior
Plenty of soft-touch materials
Great selection of safety features
What You Won't Like
A bit of a bouncy ride
Heavy steering
Sensitive safety sensors
How We Do Our Reviews
Exterior
Right off the bat, the first thing that you see when it comes to the Mazda BT-50 is the automaker's distinctive Kodo design language. This is predominantly seen in the front of the vehicle where it sports a familiar face similar to what you would see on the likes of the Mazda CX-8 and Mazda CX-5. You get a pair of sleek headlights which flank a large grille with the Mazda logo on it as well as subtle but distinct character lines found on the hood and front bumper. Altogether, these accents give the pickup truck an imposing look which is great for those who want a little more subtle in their vehicle. These changes together make the front of the vehicle as unique as possible to its mechanical twin the Isuzu D-MAX.
Moving onto the side of the pickup truck the similarities between it and its twin continue as they both share the same character lines. One thing we noticed, is that the 18-inch wheels found on the BT-50 are similar in design to what the vehicle had in its previous generation. It's a nice callback to the older version of the pickup truck, but we prefer the wheels on the lower variant of the vehicle instead.
At the back, the Mazda pickup truck still carries the typical design for a vehicle of its type. You get a squared-off look, a large tailgate, and a set of rectangular taillights. There is a small crease at the top and the bottom of the tailgate but aside from that not much else in the way of design.
As this is a pickup truck, you are probably wondering about its bed, it measures 1,495 mm in length, 1,524 mm in width, 490 mm in height, and has a total cargo space of 1,120 liters. This puts it right in the middle of its competitors when it comes to how much it can carry along with the space that it has.
Overall the BT-50 does well to fit into the Mazda vehicle lineup with its stylish looks while still being able to maintain a tough side with its more subtle muscular lines on the sides and at the back of the vehicle.
Interior
Entering the Mazda BT-50, you a greeted by a gorgeous dashboard and front cabin. Unlike its mechanical twin, the dashboard in the BT-50 is much flatter giving you a better view of the road ahead as it also adds to the vehicle's more premium look and feel. There are plenty of soft-touch materials found inside the cabin especially in high-touch areas, such as on the dashboard, door cards, on the seats, and the armrests as well.
This premium feel continues with the dual-zone automatic climate controls along with the power-adjustable driver's seat. When it comes to the switches, they have a nice reassuring click to them and you can tell that someone at Mazda did their work when it comes to the noise and tactile feel that they give whenever you switch them on or off.
There are still a couple of hard plastics that you can find inside the cabin of the BT-50, however, these lean more towards the durable side and are located in areas where they would be well used. Nevertheless, these blend in well with the pickup truck and continue its premium feel. One downside we have to address is that there are still a couple of piano black plastics found inside the vehicle that are in high-traffic areas.
In the second row, you are met with standard equipment for a pickup truck. Ingress and egress are made easy with their wide doors and the comfort inside the cabin is great thanks to the plushness of materials used. You do get a couple of toys at the back in the form of a couple of bottle holders on either door and cup holders found in the center armrest. Rear passengers also get access to a couple of air vents and a USB charging point as well. There are also hidden storage compartments found beneath the second-row seats of the BT-50 in case you want to store something more valuable at the back in a discrete manner.
Comfort
The ride of the Mazda BT-50 is what you would expect from a pickup truck. Despite its lean towards more lifestyle-oriented motoring, the vehicle still has to do pickup truck things like haul cargo and go off-roading. This is why its ride comfort leans more towards the bumpier side. It's still very pliant on-road and behaves itself, but a few road imperfections do make their way into the cabin.
Its better ride comfort compared to its mechanical twin can also be attributed to the softer materials that were used and the better padding that can be found with the seats. Even the rear passengers won't have a hard time with the ride as the seats have been designed in such a way that they help support your thighs especially in the second row so that you won't feel fatigued as much even with a more upright seating position.
When it comes to NVH insulation, it is just about average for the pickup truck. Vibration is one thing because of the chassis, but the road noise that creeps into the cabin at around 90 km/h is not that apparent. Engine noise and wind noise do tend to be on the louder side as per our testing.
Tech
Inside the Mazda BT-50, you get a massive 9-inch touchscreen that gives you access to wireless Apple CarPlay and Android Auto, which also pumps sound through an 8-speaker sound system. This large screen also doubles as your reverse camera giving you a great view of what's directly behind the pickup truck. With all of these high-tech features, the only downside is that the head unit does take some time to boot, but aside from that there isn't much else to complain about because everything works smoothly after that.
Safety
In terms of its safety equipment, the Mazda BT-50 comes well equipped with a full suite of seven airbags, which include dual front, curtain, side, and knee airbags. Aside from this it also gets ABS with EBD, electronic stability control, brake assist, brake override system.
Similar to its D-MAX twin, the BT-50 also comes with an Advanced Driver Assist System (ADAS), which gives the pickup truck Forward collision warning, autonomous emergency braking, turn to assist, misapplication mitigation, adaptive cruise control, manual speed limiter, auto high beam, among others. While these features are great, the sensors lean more towards the sensitive side and may end up scaring newer drivers. Nevertheless, these features are still great additions to the vehicle especially for those who want a safe pickup truck.
Driving and handling
Driving the Mazda BT-50 is what you would expect from a pickup truck as it leans more towards the bumpier side of things. It is, however, a vast improvement from the previous generation as the suspension is still confident in what it does. Body roll is kept to a minimum and the steering feel is communicative enough for common driving tasks.
When you want to give the pickup truck the beans, torque comes in fast even at partial throttle, so there isn't a need to put the pedal to the metal. It will push you back into your seat but not in a violent manner as it may even leave a smile on your face once you feel the wave of torque kick in.
Handling-wise the steering is a bit on the heavy side which can be a bit of a workout if you are maneuvering around the city. On the highway, on the other hand, it is a different story as the steering wheel feels well weighted and it gives you the confidence that the pickup truck will always track straight and give you a stable ride.
Fuel economy
Powering the Mazda BT-50 is a 3.0-liter turbo diesel engine that produces 187 hp and 450 Nm of torque. It sends power to all four wheels via a 6-speed automatic transmission. Shifting is smooth and there isn't any violence when you want to drop and gear and accelerate.
Even with big power under its hood, the BT-50 still manages to be very economical. During our testing, the pickup truck was able to do 8.5 km/L in the city. In the mixed city and highway conditions, it was able to eke out 11.5 km/L. On the highway, at a speed of about 90 km/h, it was able to push out 17km/L which puts it on par with the rest of its pickup truck competitors.
Verdict and Price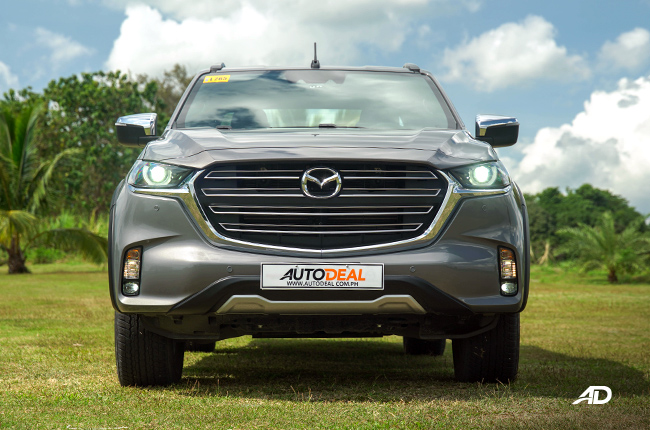 The Mazda BT-50 presents itself as a very capable lifestyle-oriented pickup truck. If you want a capable on-road vehicle that looks good but is subtly tough then this is the one to get. It's a capable workhorse that you can take to the farm and off-road then show up to a fancy event after a car wash of course.
In terms of its pricing, the BT-50 undercuts its mechanical twin the Isuzu D-MAX when it comes to its 3.0-liter models. It's about P35,000 or so cheaper depending on the variant. This means that if you are after a capable 3.0-liter pickup truck then this is the one to get. Compared to other pickup trucks such as the Nissan Navara, the BT-50 comes out as the more expensive option.
All things considered, the Mazda BT-50 is a pickup truck worthy of your consideration. It has strong Japanese underpinnings underneath, comes with a powerful yet frugal engine, has a unique look, and is still one tough truck. It still manages to fit in with the more premium feel and vibe of Mazda's other vehicles while retaining its tough nature as a pickup truck. It's the pickup truck to get if you want a more premium look and feel with your vehicle.
Exterior Photo Gallery
Interior Photo Gallery
---
Specifications
Performance
187 hp @ 3,600 rpm
---
Summary

| | |
| --- | --- |
| Name | Mazda BT-50 3.0 4x4 AT |
| Body Type | Pickup Truck |
| Price | ₱1,790,000 |
| Transmission Type | Automatic |

Engine

| | |
| --- | --- |
| Engine Size | 3.0 L |
| Displacement | 2,999 cc |
| Number of Cylinders | 4 |
| Number of Valves | 16 |
| Transmission Category | 6-Speed automatic |

Performance

| | |
| --- | --- |
| Drivetrain | Four Wheel Drive |
| Max Output (HP) | 187 hp @ 3,600 rpm |
| Max Torque (nm) | 450 Nm @ 1,600 rpm |
| Acceleration Rate | n/a |
| Top Speed | n/a |

Economy & Environment

| | |
| --- | --- |
| Fuel Type | Diesel |
| CO2 Emission | n/a |
| Fuel Capacity | 80 L |
| Fuel Consumption | n/a |
| Range | n/a |

Dimensions

| | |
| --- | --- |
| Length | 5,280 mm |
| Width | 1,870 mm |
| Height | 1,785 mm |
| Wheelbase | 2,830 mm |
| Turning Circle | n/a |
| Ground Clearance | 235 mm |
| Wading Depth | 80 cm |
| Trunk Capacity | n/a |
| Max Cargo | 1,065 L |
| Number of Doors | 4 |
| Number of Seats | 5 |

Safety & Security

| | |
| --- | --- |
| Driver's Airbag | |
| Front Passenger's Airbag | |
| Side Airbags | |
| Curtain Airbags | |
| Knee Airbag | |
| Auto Brake System | |
| Electronic Brake Distribution | |
| Anti-lock Brake System (ABS) | |
| Immobilizer | |
| Security Alarm | |
| Stability Control | |
| Electronic Door Locks | |
| Speed Sensing Door Locks | |
| ISOFIX | |
| Lane Departure Warning System | |
| Blind-Spot Detection System | |

Features

| | |
| --- | --- |
| Cruise Control | |
| Front Parking Sensors | |
| Rear Parking Sensors | |
| Leather Upholstery | |
| Push Start Button | |
| Wheel Size | 17 in |
| Wheels Metal Type | Alloy |
| Airconditioning System | Automatic Air-Conditioning |
| Entertainment System | 9-inch infotainment system with 8-speakers |
| Connectivity | Aux, Bluetooth, USB, Apple CarPlay and Android Auto |
| Navigation Ready | |
| Warranty | 5 Years (150,000 km) |
| Keyless Entry | |
| Roof Rack | |
| Sunroof | |
| Electric Adjustable Seats | |
| Power Steering | |
| Power Windows | |
| Power Outlet | |
| Steering Wheel Audio Control | |

Technology

| | |
| --- | --- |
| Active Park Assist | |
| Hill Start Assist | |
| AWD Modes | n/a |
| Tire Pressure Monitoring | |
| Heads-up Display | |
| Power Liftgate | |
| Start-stop System | |
---
Get the best deal - Choose multiple dealerships to compare offers!
You can compare quotations simultaneously from multiple Mazda dealerships. Select your preferred dealers from the list below.

Compare quotations from multiple dealerships in minutes.
Check vehicle and color availability.
Find info on special offers and promotions.
100% Hassle-free with no obligation to purchase.
Latest Review
The all-new Suzuki Celerio is the most fuel-efficient car in the country. Can that and its other improvements sway buyers?

With Peugeot now under new leadership in the Philippines does its new lineup of models have what it takes to take on the established nameplates?

4.0

/

5

It presents itself as a great compact crossover choice for those who don't want to be overwhelmed by a great amount of tech.

3.9

/

5
View More Articles