We are now close to flipping the next and the last page of the calendar. As such, the most anticipated month is about to come – the Christmas season. It's a month filled with joy, love, and of course, the much-awaited long weekend. During this time is the perfect chance to get away from the busy and stressful life in Metro and treat yourself, the whole family, or your squad to a well-deserved relaxing vacation, and for some it actually means preparing their car for long drives.
Yes, 'tis a season to be jolly but before embarking on an exciting adventure, it's best to plan the trip ahead and make sure that your car is prepared enough to drive you to your destination. Here in AutoDeal, we will share with you some important things that you should do and keep in mind to enjoy your holiday trips to the fullest.
Check your car's condition
Aside from preparing your essentials for the trip, checking your car if it's in a good shape should be your number one priority as it will do most of the work all throughout the journey. To make it easier for drivers to recall, you just have to remember the word 'BLOWBAG' which actually means battery, light, oil, water, brakes, air, and gas. These checklist would be your guide when testing and prepping up your vehicle.
Also, don't forget to take a look at the essential fluids that serve as the life-blood of your car, as well as the tires if each have the right pressure. Bring a spare tire, too. Another thing to consider are the car wipers which play a crucial role in keeping a good visibility while driving. You'll know if it has lost its purpose when the wipers work loud and fail to fully wipe out the windscreen. It's an indication that you to replace them already.
However, if you have no time to check it yourself, you can head onto authorized car service centers to make sure that your car will be handled and inspected by auto mechanic experts.
Overloading the car is a no-no
All car has a limited load capacity. Overloading your car with unnecessary stuff won't do you any good, as it will badly affect the fuel consumption. The heavier the load is, the harder the engine works; the harder the engine, the more fuel it needs to take. Not only that, but too much cargo might also translate to roll over and lose handling.
Carmakers such as Mazda and Ford, among the many, have navigation systems integrated on their vehicles with MZD Connect and SYNC 3, respectively. This technology is a huge help in case you come across places you are unfamiliar with and find faster and easier routes. On the other hand, if your car is not fitted with one. You can use your smartphones to access Google Maps or Waze and let the front passenger take over the navigation device so you can focus on driving and be less distracted.
Pump up the cabin with great entertainment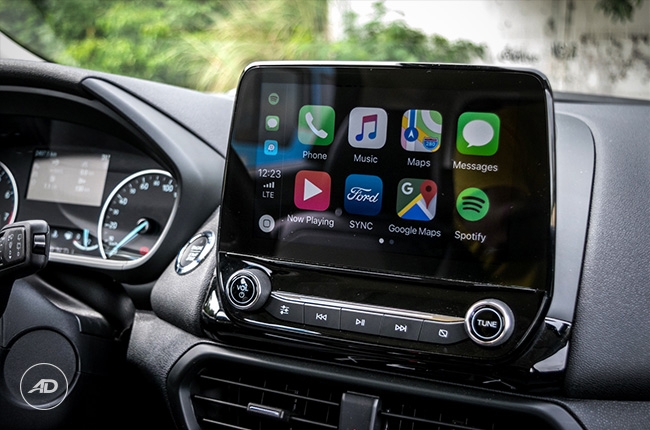 Long drives shouldn't be a boring journey. It would be great if you would make a great playlist that will keep you and the passengers hype up during the road trip. Jamming session on the road sounds fun, right? Speaking of entertainment, there are numerous popular car brands that feature Apple CarPlay including Chevrolet Spark, Honda CR-V, and Nissan Terra so playing music, calling and receiving text, and navigation system are bundled up in one package for a more convenient driving.
Always bring with you these three important kits
Incidents may happen anytime so make sure to always pack inside your car the tool kit, first-aid kit, and emergency kit. During the planning period of the trip, it's also a good thing to list down emergency hotlines, research, and plot the hospitals, convenience stores, and gas station that you will pass by, so you'll know when to go in case of emergency. Better be prepared than sorry, yes?
Additional tip and advice: Don't forget to bring your driver's license, insurance, and OR/CR (registration documents), and make sure they're not expired. Happy safe driving!
Get the best deal - Choose multiple dealerships to compare offers!
You can compare quotations simultaneously from multiple Nissan dealerships. Select your preferred dealers from the list below.

Compare quotations from multiple dealerships in minutes.
Check vehicle and color availability.
Find info on special offers and promotions.
100% Hassle-free with no obligation to purchase.
Latest Features
The Nissan LEAF presents the perfect price, technology, and practicality for your first EV purchase and experience.

Will GAC be able to unsettle Honda's ever-present Civic RS? Let's dare to compare!

The Suzuki Ertiga Hybrid presents advanced mild-hybrid technology as well as versatility at a very tempting price point.
View More Articles