A new year is about to come in and with it is a wave of cars that are expected to be launched in the Philippines. As such, we list down these vehicles to give you a preview of what we could probably get in 2018.
Mitsubishi Xpander
Mitsubishi Motors Corporation (MMC) is again entering the highly competitive mini-MPV segment with the all-new Xpander. It's a 7-seater that is said to offer roomier interior compared to the current mini-MPVs in the market. It will also come with a 105-hp 1.5L MIVEC gasoline engine paired with either a 5-speed manual transmission or 4-speed slushbox. Will this fair better than the Fusion or the Adventure?
Jeep Wrangler
Jeep has finally updated the iconic Wrangler with an all-new model. This SUV has a go-anywhere look thanks to its massive off-road tires, boxy-design, and its obvious high ground clearance. The Wrangler also has foldable a windshield and a variety of roof-top options that fans of open-air 4x4 adventurers would love.
Suzuki Swift
At last, the Suzuki Swift finally gets a new look. Built on a brand new platform called Heartect, the Japanese brand says the 2018 Swift will be lighter, stiffer, and larger compared to the previous model. It will also have a Sport trim that comes with a bigger, more pronounced grille compared to the regular variants. If the Swift does come here, it's speculated that would-be buyers will have 3 engine options to choose from; a 1.2L Dual Jet engine, a hybrid variant of the former, and a 1.0L turbo engine.
Subaru Legacy
Along with the Impreza and XV, Subaru refreshed its midsize sedan – the Legacy. It received subtle changes to its headlights and body curves but got 2 new bold colors: Magnetite Gray Metallic and Crimson Red Pearl. Inside is where the magic happens as it now comes with a redesigned steering wheel, silver highlights, as well as hand-stitched dash and seats. Noise levels also have been reduced thanks to insulating inner film glass and an ultra-short pitch chain for a quiet, relaxing time inside the car.
Hyundai Accent
Rebuilt from the ground up, the 2018 Hyundai Accent now looks like its big brother – the Elantra – as it bears the brand's 2nd iteration of its Fluidic Sculpture design language and the cascading grille. It's also bigger than the outgoing model, 29mm wider and 15mm longer to be exact. Inside, the new Accent comes with a driver-oriented dashboard highlighted by a 5- or 7-inch infotainment system. Hopefully, diesel variants come with the all-new Accent.
Land Rover Rover Velar
The Land Rover Rover Velar made its launch in Malaysia recently, showcasing its luxurious features such as a pop-out door handle, 4 touchscreen monitors (2 at the center console, 1 in each front headrest), leather upholstered interior, and sunroof. Apart from that, it boasts a powerful range of engines that's worthy of the Land Rover badge. With Jaguar Land Rover having a new distributor locally, we can start dreaming that the Velar will reach the Philippines soon.
Honda Accord
Following the success of the Honda Civic, the Japanese brand may bring another iconic sedan – the 10th generation Accord. Honda says that the revamped midsize sedan will come with a more fuel efficient 1.5L or 2.0L turbocharged engine (the latter with the possibility of being the same mill as the Civic Type R's) that can produce high torque. Apart from that, it will come with an upgraded interior that's headlined by a touchscreen infotainment system, elegant dashboard, and leather trim.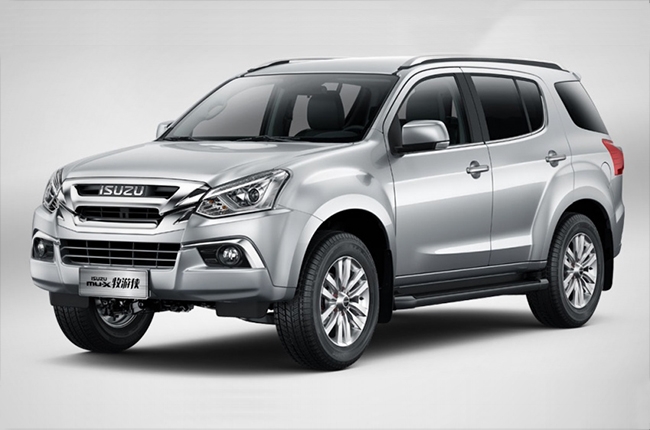 Isuzu mu-X 1.9L Blue Power
Fresh from its Blue Power engine update, the Isuzu will most likely add another engine option for the mu-X and refreshed its interior in the process. The base model of this midsize SUV outside the Philippines gets a 1.9L turbocharged Blue Power diesel engine.
On the other hand, the interior has a new 8-inch infotainment system with an integrated Yamaha sound system capable of connecting to devices via Apple CarPlay and Baidu's CarLife. The engine is said to be brought here in the Philippines by 2018 but the interior upgrades are yet to be confirmed.
Toyota Rush
Last month, Toyota unveiled the Rush in Indonesia. Much like the Honda BR-V, it's a 7-seater "SUV" that's smaller than the Rav4 and is powered by a 1.5L engine. According to reports, the Toyota Rush will come in 2 variants: G and TRD Sportivo. Toyota Motor Philippines (TMP) sure isn't on a rush to bring this model here, but hopefully they do.
Toyota C-HR
Toyota finally has a challenger for the subcompact crossover segment when it launched the C-HR. And like many of its competitors, it, too, has a youthful vibe that will cater to the younger generation. The C-HR also received a 5-star rating at the EURO New Car Assessment Program (NCAP), scoring 95% for adult protection and 77% for children. Will this stir the already tight competition in the subcompact crossover market? We certainly think so.
Ford EcoSport
It's been some time since Ford launched the EcoSport in the Philippines and since then, this subcompact crossover hasn't really seen any significant update. That may all change as the American oval unveiled its successor early this year and we're hoping that they bring the refreshed EcoSport locally. It now has a sleeker fascia and new wheels, as well as an 8-inch touchscreen head unit inside (finally!). It will have 3 gasoline engines: (1) 1.0L EcoBoost, (2) 1.5L, and (3) 2.0L Duratec with all-wheel drive which will be paired to a 6-speed automatic transmission.
Ford Ranger Raptor
Ford recently teased the Ranger Raptor, which is a beefed-up version of the pickup truck, with an adrenaline-filled video. Unfortunately, they kept mum about all its details sans the fact that it will come in the Philippines in 2018.
Are you excited for 2018? With these upcoming cars, we know we are. What are you most hyped-up about?
Latest Features
The Nissan LEAF presents the perfect price, technology, and practicality for your first EV purchase and experience.

Will GAC be able to unsettle Honda's ever-present Civic RS? Let's dare to compare!

The Suzuki Ertiga Hybrid presents advanced mild-hybrid technology as well as versatility at a very tempting price point.
View More Articles