After achieving a 19% increase in their year-over-year sales for the month of September, Ford Philippines isn't slowing down with their aim to sell more vehicles towards the end of the year. Better yet, you choose from 3 different offers for each of their cars — except for the models imported from North America.
With deals that last until December 31, 2017, it looks like owning a blue oval is going to be a lot easier before the upcoming reformed excise taxes.
In case you're eyeing Ford's smaller cars, their 2 hatchbacks are included in the set of promos. The Fiesta Hatchback 1.5 Trend MT is available in either P88,000 all-in downpayment, P50,000 cash discount, or P7,408 low monthly amortization. Similarly, the Focus Hatchback 1.5 Sport AT can be yours with P98,000 all-in downpayment, P70,000 cash discount, or P10,498 low monthly payments.
If you're into vehicles with a bit of a ground clearance, the Ford EcoSport 1.5 Ambiente MT subcompact crossover can be had for only P48,000 all-in downpayment. You can also choose to pay cash and get P35,000 discount or pay a low monthly fee of P7,698.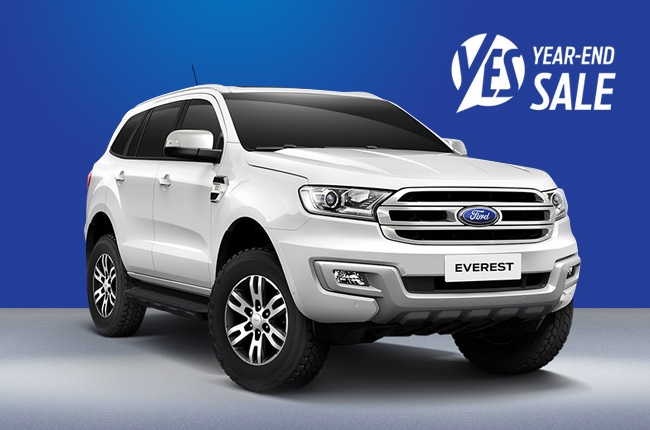 Want something bigger? The Ford Everest 2.2 4x2 Trend AT is available with either P88,000 all-in downpayment or P16,018 low monthly fee. If paid by cash, you get a P50,000 discount for this midsize SUV.
Lastly, Ford's best-selling pickup truck can also be yours with similar promos. The Ranger 2.2 XLT 4x2 MT is available in either P68,000 all-in down payment, P30,000 cash discount, or P11,748 low monthly fees.
Only the all-in downpayment deals come with free 3-year LTO registration, 1-year comprehensive insurance, and chattel mortgage. Both all-in downpayment and low monthly payment promos are subject to credit approval of EastWest Bank. For more information about the cars or to request a free quote of the promos, click on the links above.
Latest Features
Despite its age in the segment, the Kia Forte is still a great sedan to go with as it comes with many features that tick the right boxes.

If you're on a budget and in need of a reliable workhorse for pretty much anything, the Suzuki Ertiga is the perfect choice.

Unsure about the Number Coding scheme in the Philippines? Our complete guide provides comprehensive details on everything from coding days to window hours in all locations affected by the Nu...
View More Articles