Since 2012, BYD has shown strong efforts in building a name in the local car industry. Through its official Philippine distributor, Solar Transport and Automotive Resources Corporation (STAR Corp.), the Chinese automaker now offers a host of products to cater to their customers' different needs.
BYD F0 (P548,000 – P628,000)
To those looking for a small hatchback as their first or additional car, consider the BYD F0. It boasts a competitive price range for its 2 variants: the 1.0 GLX-i MT and 1.0 GL-i AT. Best part is that it comes with neat features to complement the attractive SRP. These include a smart key system with push-button start/stop and single in-dash CD audio. Moreover, the F0's compact figure allows for easier parking or maneuverability in tight city streets.
BYD F3 (P698,000)
BYD also has something for entrepreneurs or corporate fleet accounts. The BYD F3 is a compact sedan with a 1.5L gasoline engine and 5-speed MT. It's a special model within the lineup that's sold for fleet operations. That said, the F3 is prepped with taximeter, "For Hire" sign, and roof light provisions. But this car isn't just limited for taxi use as it can also be fitted with blinkers, sirens, and speakers for law enforcement.
BYD L3 (P788,000 – P828,000)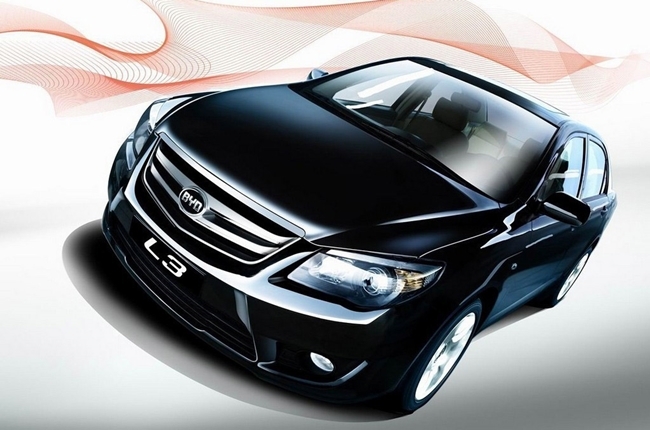 Want the cabin space and performance of the F3 but with much better amenities for the family? Enter the BYD L3. Like the F3, this car offers generous room inside for 5 people and a safe and secure trunk area for their luggage. Similarly, this car carries the same 1.5L gasoline engine and 5-speed MT as the F3.
But the difference is that the L3 adds a 2nd variant with a 6-speed dual-clutch AT. This version also comes with goodies like power sunroof and windows, 6-speaker audio with 7-inch LCD screen, and navigation system.
BYD F5 Suri (P1,288,000)
The F5 Suri is an elegantly-styled compact family sedan with loads of tech features to boot. But things get better once you play with its remote control. Yes, the F5 has an RC feature which adds amusement points to it. But in all seriousness, the feature is quite useful especially when dealing with tight parking spaces. The driver can disembark beforehand and safely guide the car into the slot using the remote.
When throttled down, the F5's 1.5L turbocharged gasoline engine takes action and utilizes its 6-speed dual-clutch AT. Above all these though, it's the F5's reasonable price plus cool features that really shine. You'll surely get your money's worth with this gem.
BYD S6 (P1,168,000 – P1,258,000)
To those who travel often, BYD has this 5-seat crossover called the S6. BYD designed the S6 to look dapper on and off the road. But beneath its sleek body is an interior that offers comfort, versatility, and connectivity. Its got leather-upholstered seats, a bench-type rear seat that folds down for increased luggage space, and dual-zone automatic A/C.
As a go-anywhere vehicle, getting lost won't be a big problem with the S6, for it has GPS navigation via 7-inch LCD infotainment system. Couple that with your smart phone's Bluetooth connectivity, and you're all set to find the right way with your favorite music or TV show to back it up.
BYD Qin (P2,488,000)
For BYD, balancing customer satisfaction and environment conservation matters. That's the purpose of its flagship model called Qin (pronounced as "cheen") plug-in hybrid electric vehicle (PHEV). It's the most luxurious and well-equipped sedan in the brand's lineup. It even has the RC feature that's first seen in the F5 Suri. But its true strength lies under the hood.
It's got a turbocharged 1.5L gasoline engine and an electromotor. Drivers can play with these power plants in 3 modes; HEV-SPORT, HEV-ECO, and Pure EV. HEV-SPORT uses both to generate 300 hp, while HEV-ECO runs with the electromotor first then engages the engine upon reaching 40 km/h to yield a notable fuel efficiency of above 50 km/L. Pure EV, on the other hand, nods to nature with zero emissions and a range of up to 70 km in a single charge.
For more info and specs about these BYD models, visit out the AutoDeal Car Guide.
Latest Features
We created a quick list of cars you can buy today that will give you the most amount of horsepower for the lowest price.

Both are within the same price range but are in many ways different from each other.

The Chevrolet Tracker presents tempting design details and features that should be given much more attention.
View More Articles