Driving is more than just getting from point A to B. It's an adventure that allows you to bond with your car. As such, Mazda continues to make their cars more intuitive to drive by developing design and engineering applications for drivers and passengers to experience a seamless connection with their cars.
Jinba Ittai is a Japanese phrase that translates to "horse-and-rider-as-one." This has been Mazda's philosophy in developing their fleet of vehicles. The horse-and-rider-as-one concept translates to achieving perfect harmony between the driver and his car.
Say hello to Mazda's G-Vectoring Control.
G-Vectoring Control is a technological breakthrough developed by Mazda that reduces engine torque based on throttle and steering input to make turning smoother and more responsive. Developed over a period of 8 years, this was made possible when Mazda integrated the power steering and the engine control computer to work with the SKYACTIV chassis to deliver superb driving dynamics.
These 2 components work together in order to optimize vertical load on each tire and achieve more grip and traction. With that in mind, GVC helps improve cornering response and stability by reducing the driver's steering corrections, which in turn increases the harmony between the driver and the car.
Aside from cornering response, the added grip and traction courtesy of GVC also improves vehicle balance. This reduces jerkiness or body roll when the vehicle is turning.
Moreover, with GVC, passengers will exert less effort to counter the side-to-side movements that occur when the vehicle is turning or when tackling winding roads. Simply put, Mazda's GVC reduces driver and passenger fatigue through a more comfortable and smoother ride.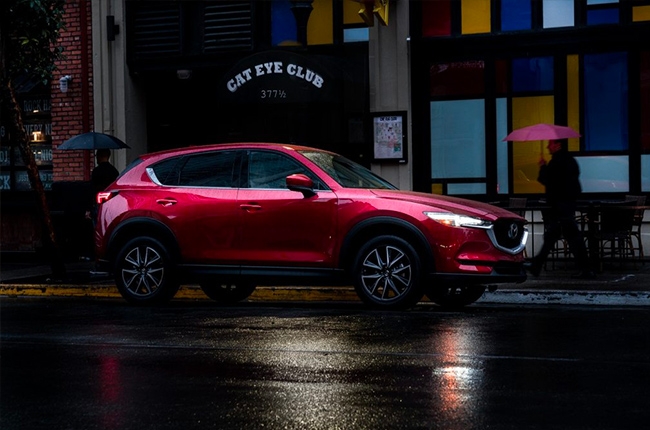 GVC tech also plays a crucial role in keeping the vehicle stable on wet roads. Thanks to its capability to optimize vertical load on each tire, Mazda's fleet of GVC-equipped vehicles can drive through wet roads with confidence and reassurance. The added grip and traction brought upon by GVC will give you peace of mind.
Summing it all up, Mazda's GVC allows its fleet of vehicles to have more precise steering, better passenger comfort, and stability in all driving situations. With this technology, Mazda was able to realize its Jinba Ittai concept by firming up the connection between the driver and his car. More importantly, GVC makes Mazda vehicles safer and more fun to drive.
Latest Features
The Nissan LEAF presents the perfect price, technology, and practicality for your first EV purchase and experience.

Will GAC be able to unsettle Honda's ever-present Civic RS? Let's dare to compare!

The Suzuki Ertiga Hybrid presents advanced mild-hybrid technology as well as versatility at a very tempting price point.
View More Articles