Amongst my peers and in this office, it's not a secret that I've always adored the Suzuki Jimny. Its current and third generation may have sat in the Japense marque's lineup for two decades, but it still has an appeal to me whenever I see it inside Suzuki's showrooms, or just casually rolling on the road.
I don't mind if it only has three doors, or it has limited legroom at the back; and I certainly don't mind the ruggedness of its aging design. I think all of these add up to the overall quirky appeal of this 12-foot-long boxy off-roader – and that's coming from a guy who has always admired modern design and cutting-edge technology. Plus, I'm almost certain that I will always be the one sitting behind the steering wheel so I don't really see a problem with limited rear legroom (wink).
Now, when Suzuki finally released the official images of the Jimny on its global corporate site, my world stopped and I know, deep in my heart, that I will definitely buy the 4th-generation Jimny once it made its way to the local showrooms. I even asked my fiancée's opinion about this future purchase and luckily, she said yes (again).
I know you do, too. In fact, the moment we released the Jimny's official images, our Facebook post has reached thousands of people in a matter of hours. The article itself has been shared more than 10,000 times as of this writing. Clearly, the car has gone viral. And chances are, you're reading this right now to know if the Jimny will indeed be available locally. But, will Suzuki Philippines (SPH) really bring the mini 4x4 here? Let's look at all the signs and answer our own question.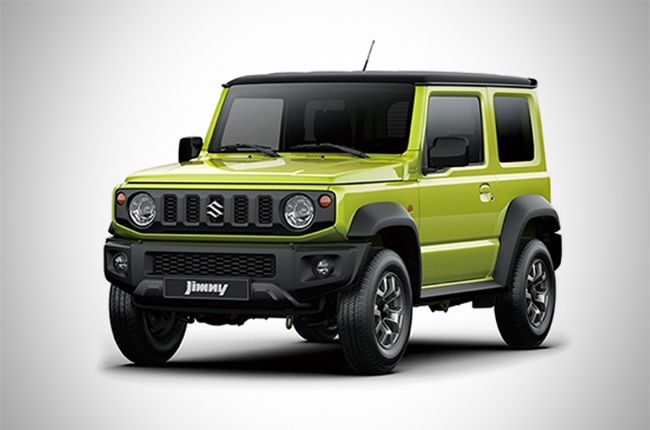 In case you haven't noticed, SPH has been busy with its lineup recently. Q4 of 2017 saw the launch of the revitalized Vitara, which, in its youthful vibe and smaller size, made me think that it just found the fountain of youth and ingested a lot of it. I've had the chance to get my hands on the car for an in-depth review and I can tell you, it's a value-packed crossover and great jump from its Grand predecessor.
The Manila International Auto Show came in by Q2 of 2018, and SPH surprised the motoring media by giving us a preview of the Dzire, while dropping the Swift in its monicker. Guess SPH is fond of trimming the names of its cars. Then, a few months later, SPH invited us to test the Dzire on track; not to race, but to feel the difference of the car's new Auto Gear Shift (AGS) technology, which roughly translates to automated manual transmission. It was a great tech, and it made me realize that SPH really has both hands on deck this year.
That realization has been confirmed further when SPH announced that it will bring the hatchback brother of the Dzire – the Swift hatchback. We actually have the final date of the launch (June 27) and we'll make sure to keep you up to speed with that.
So, the Vitara, Dzire, and Swift. It's a formidable combination that should rattle the small car segment. But, why stop there? Why not bring the Jimny? With all the hype and raves from people, more importantly, car buyers, it's not a long shot to say that the Jimny will sell well in the Philippines. At least that's what we think.
All telltale signs are pointing us to one direction: SPH will likely bring the Jimny here to employ a final boost to its all-new lineup. Its reputation as a pioneer compact car distributor is being cemented inch by inch through time, and the 2019 Jimny will be the finishing touch; the cherry on top of the cake.
Although, don't get your hopes up just yet without the final confirmation from the brand. But if I were you, I will start saving up for the Jimny because when that time comes, I'll make sure that I'll be the first to drive this cute SUV on the road – in Kinetic Yellow with black roof.
The burning question now is when? Right now, your guess is just as good as ours.
Latest Features
Ford Philippines' new managing director wants to automate parts sourcing in order to solve customer service woes.

Taillights should be visible from at least 100 meters, according to the law, and hampering this metric may lead to unwanted consequences.

Read along as we pit the Mitsubishi Xpander and Honda BR-V in a head-to-head comparison.