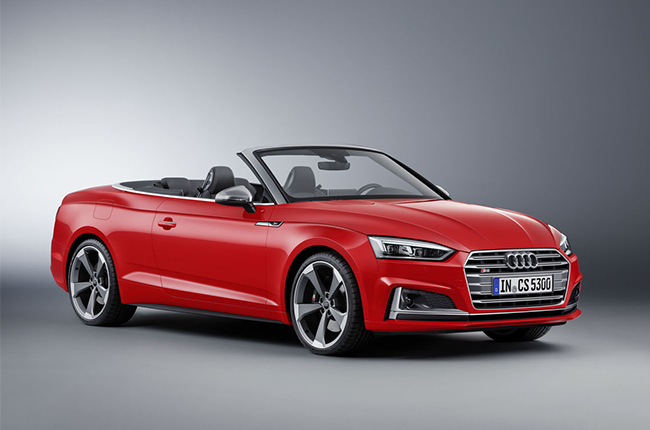 Audi has revealed the 2017 A5 Cabriolet which comes with a bigger yet lighter body. As compared to its predecessor, the new A5 features a restyled exterior and a revamped interior.
The A5 Cabriolet features a fresh styling, said to be based on the sleek lines of the coupe version. In terms of size, the new A5 Cabriolet is 47 mm longer than the outgoing model. In addition, Audi said that the vehicle's overall weight is reduced by up to 40 kg.
Up front, a wider three-dimensional Singleframe grille hides the radiator, while the A5 family's hallmark styling of waved-shape shoulder line gives it more elegance. The vehicle also has a revamped bumper design.
The rear, on the other hand, is equipped with LED taillights and quad exhaust pipes. Moreover, the horizontal lines emphasized the width of the A5 Cabriolet.
Inside, Audi said that the vehicle has an increased shoulder- (26 mm more) and knee-room (18 mm more). This is made possible by designing the seats to be more compact. The wheelbase is also extended giving more room for both the driver and passengers. In addition, the instrument panel's horizontal architecture and continuous air vent strip adds more space.
More so, the classic soft top, which automatically opens even on a 50 km/h drive, is perfectly fitted through effective insulation for outstanding aeroacoustics.
The A5 Cabriolet comes with 3 different engine options: (1) 252 hp 2.0 TFSI, (2) 190 hp 2.0 TDI, and (3) 218 hp 3.0 TDI. All engines are mated to either a 6-speed manual, 7-speed dual-clutch, or 8-speed tiptronic transmission.
Furthermore, Audi said the A5 Cabriolet can be powered by a new six-cylinder 3.0 TFSI turbocharged engine develops 354 hp. It is connected to an 8-speed tiptronic transmission and features an all-wheel drive system.
For safety, the A5 Cabriolet is integrated the adaptive cruise control Stop&Go system including traffic jam assist. This assumes the tasks of braking and accelerating the car, relieving the driver at speeds of 65 km/h. Added to that, a collision avoidance assist intervenes if the car should change course to avoid an obstacle.
While the A5 Cabriolet is scheduled to hit Germany and other European countries in March 2017, its availability in the Philippines could cost us a little more of waiting time.
For more information about Audi and its vehicles, visit the AutoDeal Car Brands page.
Latest News
A Cummins PowerDrive6000 will find itself inside an Isuzu F-Series medium-duty truck.

The new bridge connecting Manila Chinatown and Old Manila looks just about ready to serve.

The MINI Recharged program fits a 122 hp electric motor in your Classic Cooper, and the process is reversible.
View More Articles