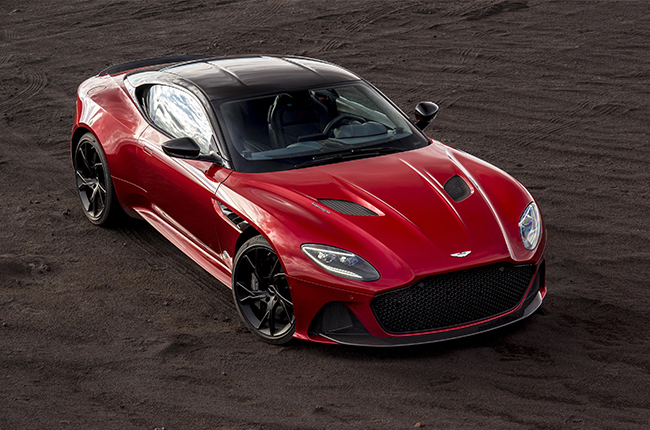 Aston Martin has a knack for creating extremely ambitious and desirable two seater grand tourers, with an emphasis on performance and style. For its latest trick, the engineers and designers from Gaydon, Warwickshire, England, have decided to bring back two iconic nameplates and adorn them on one bonnet. DBS, having first appeared on an Aston in 1967, and famous Italian coachbuilder, Superleggera. What happens when you have two of the most iconic letters to grace Aston's latest toy? You get the DBS Superleggera, a new super GT flagship.
Replacing the Vanquish S, the DBS Superleggera is made of sculpted carbon fiber body panels, creating an individual style which is unmistakably Aston Martin, yet muscular. Combine the low weight with a 5.2-liter twin turbo V12, and you get a 715 hp and 900 Nm torque monster that can reach a top speed of 338 km/h and a 0-100 km/h sprint time in just 3.4 seconds. This potent engine is mated to a rear mounted ZF 8-speed ZF transmission. Featuring also a mechanical limited-slip differential and torque vectoring, the DBS Superleggera's engine is set low and as far back to the chassis as possible to optimize center-of-gravity and weight distribution. Active valves and quad tailpipes create an exciting exhaust note.
DBS Superleggera not only marks the return of a great Aston Martin name, but signals our return to the very pinnacle of the super GT sector. Immaculately styled, obsessively engineered and outrageously potent, the new DBS Superleggera is every inch the Aston Martin flagship.
A combination of advanced aerodynamics taken from the DB11 and Formula 1 have found the way into the DBS Superleggera, such as the aeroblade and double diffuser. This combination creates 180 kg of downforce at top speed with no drag penalty, the highest ever figure ever for a production Aston Martin. The chassis is an evolution of the bonded aluminum structure first seen on the DB11, with forged double wishbones at the front and a sophisticated multi-link system at the rear. Adaptive suspension is fitted as standard, with sensors detecting driving conditions and driver selected modes. Speaking of modes, the DBS Superleggera has a choice of three dynamic settings; GT, Sport and Sport Plus, all of which can be selected by the driver to intensify or relax DBS Superleggera's responses according to the needs of the driver.
There is also a plethora of standard equipment, including keyless entry, tyre pressure monitoring system and a 360-degree camera with parking distance display and park assist. The audio system has Bluetooth audio and phone streaming, iPod, iPhone, and USB playback. There is also an integrated satellite navigation system and wi-fi hub. All the in-car infotainment systems use a central LCD screen, controlled via a central dial.
As with any Aston Martin, and a flagship model in this case, there is a high level of craftsmanship together with an extensive scope for personalization via a generous choice of options. Supple, aromatic leather and Alcantara upholstery come as standard, as do the sports plus performance seats and steering wheel. There are choices of two alloy wheel designs: the standard 'Y' spoke forged wheel and the lightweight twin spoke forged wheel. Both are 21 inches in diameter and fitted with Pirelli tires developed specifically for DBS Superleggera.
Deliveries of this super GT are scheduled to begin by the 3rd quarter of 2018, with initial pricing in the USA at $304,995 (P16,281,000). No news yet on the availability or launching in our local market, but we are extremely excited to see this car in the metal.
Latest News
The 2023 Mazda CX-60 is finally here in the Philippines, with gasoline and diesel engines in the lineup.

Featuring a boxy and classic design, Lexus has finally launched the GX, which is geared for off-road use and luxury.

GAC Philippines sent out an invite for its event on June 20, 2023. As to what it is, we have a few guesses.
View More Articles