The Covenant Car Company, Inc. (TCCCI), the official distributor of Chevrolet in the Philippines, continues to boost its presence in the Northern parts of Luzon with the ground breaking of Chevrolet Ilocos Norte. As one of the fastest economic and commercial growth municipality of Region I, the Ilocos province is expected to be a substantial market for Chevrolet.
Chevrolet Ilocos Norte, owned by the Laus Auto Group, is spearheaded by its Chairman, Mr. Levy Laus. This marks the 3rd dealership under the management of the company, following Chevrolet Pampanga and Chevrolet Dagupan.
"We have witnessed Chevrolet Philippines' remarkable growth over the last 5 years and feel privileged to have been part of the rapidly expanding 'Bowtie' family. With our shared passion for the brand, the Laus Auto Group is one with TCCCI in providing the holistic Chevrolet customer service experience to the residents of the Ilocos region," noted Ms. Carissa Laus-Manalili, Executive Director of the Laus Auto Group Inc.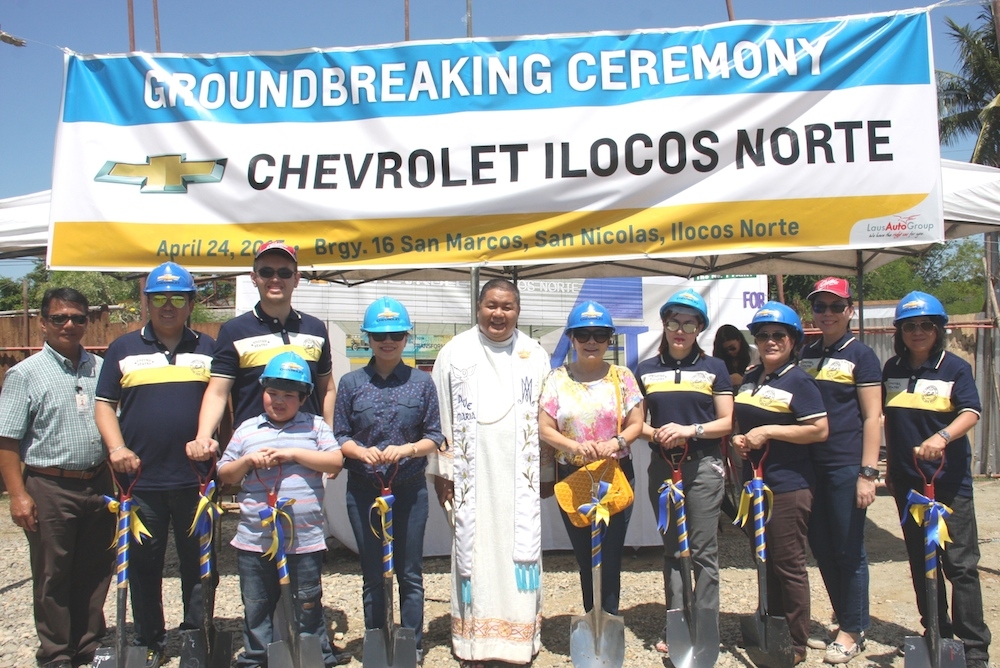 The new dealership will reside on a 1,400 sq. meter lot area with a dealership facility that will cover 1,100 sq. meters. Chevrolet Ilocos Norte will be able to accommodate 4 to 6 car displays, 6 service work bays, and a modern customer-focused lounge. If everything goes according to schedule, the new dealership is set to open towards the last quarter of the year. When that happens, customers in the northwest coast of Luzon and the Cordillera region can begin to shop from Chevrolet's vehicle line-up that includes the Spark, Sonic, Spin, Captiva, Colorado, and Trailblazer.
"Chevrolet Philippines is very pleased that the Laus Auto Group continues to support our goal to grow Chevrolet's clientele base in the country. Expanding our dealer network through Chevrolet Ilocos Norte is a step towards our commitment to reach out to more people in the northern parts of the country and pave the way for an even bigger and stronger Chevy community," said Atty. Albert Arcilla, President and Managing Director of Chevrolet Philippines.
Latest News
Castrol launches its latest line of Castrol Magnatec oils containing DualLock technologies to give you the best lubrication for your engine.

CST launches a new lineup of tires for both passengers cars and 4x4 vehicles.

The LTO is now letting you renew your license ahead of time up to 60 days for those who are going to be out of the country when the expiration date hits.