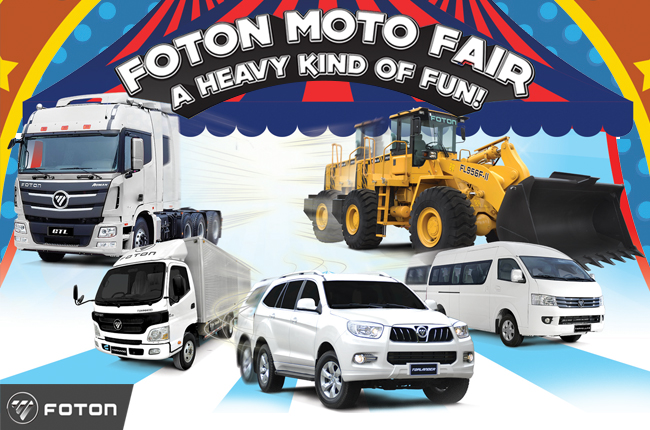 FOTON Philippines' full lineup of passenger vehicles and heavy-duty machineries will occupy the Megatent Events Venue in Libis, Quezon City on June 1-2, 2016.
FOTON Moto Fair is a carnival themed event intended as a thanksgiving celebration for the partners and clients of their Heavy Business Group – the division that handles the trucks and other large-scale machineries.
"We aim for a stronger relationship with our present and future clients…we want them to feel how much we value their trust and commitment to our brand, because definitely, it's what keeps us growing," says FOTON Philippines VP/GM for Heavy Business Group Delia Del Mundo.
Attendees can test drive the brand's passenger vehicles on the dedicated test tracks, and watch as the FOTON Wheel Loader do some stunt performances. Licensed heavy-duty machinery operators can also try out the said equipment.
Special deals, discounts, and approvals are also available on-site. The FOTON Moto Fair is a free event that's open from 9:00am to 7:00pm.
Latest News
From humble carry-all truck to dependable luxury SUV, here's how the Chevrolet Suburban has evolved through the years.

Mazda Philippines brings in refreshed Mazda2 sedan and hatchback with sole variants

Public recognition for the ASEAN branch of the organization that helps with road and crash safety.