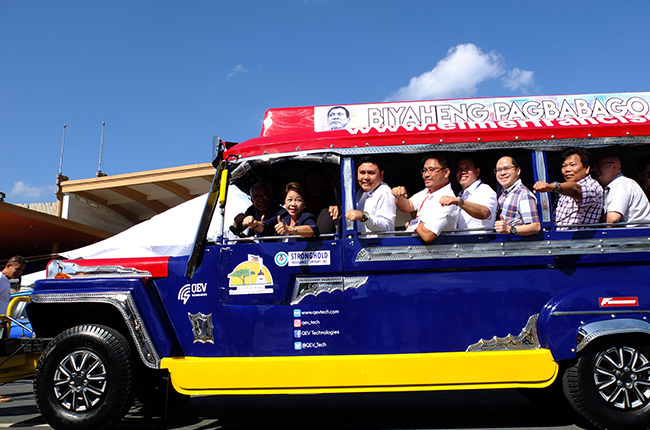 Things are looking up for electric mobility as Francisco Passenger Jeepney (FPJ) and I-Pay MYEG Philippines (MYEG Philippines) have recently announced a joint venture, providing automated fare collection systems specifically designed for electric and Euro IV compliant jeepneys. This is in response to the Philippine government's Public Utility Vehicles Modernization Program (PUVMP).
Jeepneys manufactured by FPJ are mandated to be environmentally friendly and operate for the convenience and safety of the riding public. Wi-Fi connection, CCTV cameras, automated fare collection, air-conditioning (for some units), speed limiters, and the use of an electric or Euro IV powertrain are some of the main features.
Through this partnership, MYEG Philippines will be the exclusive provider of Automated Fare Collection System for all the jeepneys manufactured by Francisco. The integrated ticketing system will utilize multi-payment platforms that allows instant payment for jeepney passengers through e-wallet, NFC cards, and QR payment methods.
We are honored to be part of this historic moment in our country's history. For decades, the Francisco Passenger Jeepney has been an icon in the Philippine transport industry. Our entry into the next generation PUV is our show of commitment that Francisco is here to stay and will continue with our commitment to serve the public with our new line of FPJs.
It is with great pride to be in partnership with Francisco on their journey to the new and modern age of public transport. We are optimistic that this venture will bring both companies to new heights and bigger opportunities.
Headed by the Department of Transportation (DOTr) the government initiated the PUVMP last 2017. The primary goal of the program is to make the country's public transportation system efficient and environmentally friendly by 2020.
Latest News
Kia Philippines clarifies on the capabilities of current battery electric vehicles (BEVs), namely the Kia EV6.

The electrified pickup truck comes with a powerful electric motor, decent range, a great set of features, plus an interesting vehicle and battery warranty.

It's a new application that will help you keep track of your vehicle at all times and help you make sure it is safe.
View More Articles