Road trips are fun, well at least for us here at Autodeal. With the video team constantly out of town in search for beautiful roads, a long drive is almost part of our daily routine here. There is a constant stream of review units going in and out of our parking slots here at the office. No matter what manufacturer is on hand that day, one thing remains constant though, and it is our routine in preparing for a road trip.
A road trip is not measured by the length because traffic can make a short trip last for a quarter of your total life time. Instead, distance is what matters. When you go far away from civilization, far away from the comfort of your own home, a car becomes su casa, or your home in english. Just like your home it is important to do some cleaning and maintenance to it before you leave. Just as important, is to take care of yourself. Going on a road trip entails a lot of effort, even if you're in the comfort of your own cabin, a long drive may put strain on your senses, leaving you exhausted mentally with sensory input. Or you could find yourself stressed and tired behind the wheel, which is not at all ideal.
Plan ahead
Do your thinking before the trip. Don't do things on the fly. There is nothing worse that not knowing the route you are going to take. Plan your exits as well. With rising toll rates, missing your exit on the highway becomes a costlier and costlier mistake as our national highway network keeps expanding.
Use Waze or Google Maps to show you the route going to your destination. Look for stops and space out your trip to include rest stops and meals. Driving on an empty stomach is bad business, even worse is not planning stopovers to account for bathroom breaks. Now that's a different kind of accident you want to avoid entirely.
Stop over
Speaking of stopovers, Honda advises to take a good amount of breaks along the way. Eat at the right times, and look for gas stations on the way to your destination so you can order a meal to fill up your biological tank, so to speak. On top of that, keep your car topped up with fuel as well. Don't be that guy that "knows his car"; when you're far away from home, the worst thing that can happen is getting stranded in the middle of nowhere with your fuel tank on empty.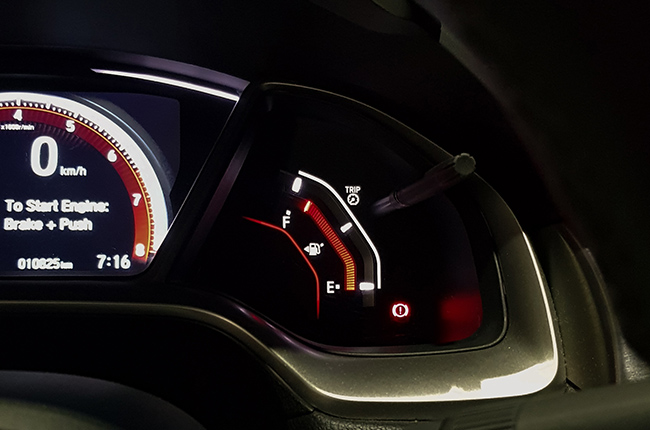 On top of that, rest stops also allow your mind to relax and unwind from the stress of being on the road for a lengthened amount of time. Stopping over can also include taking a quick nap to rejuvenate your senses. It is best to take precautions especially when the road ahead of you is still long. Also head to the restroom and answer the call of nature.
Attention
Whether on a road trip or on your daily commute, possibly the most important piece of advice to keep yourself safe is to be mindful while you drive. Make good decisions by being attentive and omitting bad driving habits. It is important to respect your fellow motorists on the road because they too are just trying to get to their destinations hassle free.
General Maintenance
Check if your vehicle is due for an oil change before you head out on your next road trip. Be sure that your car has a good number of kilometers remaining before its next service. If the road trip is long enough and harsh enough on the car, you might end up needing a service when you get back to civilization.
Other things you should check also include your tires. Check the tire pressure and be certain that you don't have a flat. Make sure your spare is also inflated as well. Cracked or punctured tires are not acceptable. Also ascertain whether your tire's tread is still there. As a rule of thumb you do not want to go long distances on tires with the wear indicator already acting as an element of the tread pattern. Have your tires changed if they're already at this level. Tire tread is also important in displacing water in the likely chance that you will encounter rain on your journey. Hydroplaning is no laughing matter, as it can cause you to lose control of the car if your rubber on the road is balder than the Noynoy Aquino's head, you know, a little on the top but looks worse for wear? Yeah, ok moving on.
Check your mirrors and windshield. Ensure that you can see out of your car. Another bit of equipment that some people tend to overlook are their headlights and tail lights. Especially if you are travelling at night or in the fog, ensuring that your headlights work will enable you to see, and will enable motorists to see you in low visibility conditions. On the note of your tail lights, make sure that the whole cluster works, if not get it repaired, especially your brake lights and signal lights. This will keep other motorists from rear-ending you in case you decide to brake hard. Oh and blinking tail lights? Considering that a highway involves high speed, best to go with the stock configuration and not have the person behind you guess if you're slowing down.
On the topic of slowing down, check your brakes as well. Make sure that your pads still have life in them. Nothing is worse than brake failure when you're going briskly down the highway. Please.
Safety check
Honda wants you to also check the safety features on your car. In case fate decides it is time for an accident, tell fate to take a hike because you're prepared with the latest and greatest safety features in your vehicle. Check your airbags and pay attention to recalls. Trust us, an airbag saves lives. Pay attention to manufacturer recalls as they replace your airbag for free anyway. Check out Honda's new site, they have an airbag recall currently. Check your seatbelts as well. Make sure they aren't fraying and structurally unsound. Bad seatbelts can be as bad as wearing no seatbelts.
Take all of these things into account. It seems like a long list, but this is just things to keep in mind and food for thought. For new drivers planning their first road trip, this list is for you, but for experienced road warriors, it's never a wrong time to gloss over the basics every so often.
Source: Honda Philippines
Latest News
Changan Philippines has just inaugurated and blessed its new national headquarters in Calamba City, Laguna.

The aim of the new payment scheme is to help lessen traffic on the tollways and to cut down the stops that motorists need to do.

Hyundai presents Night Of Lights, now open to the public with an immersive audio-visual drive-through.
View More Articles