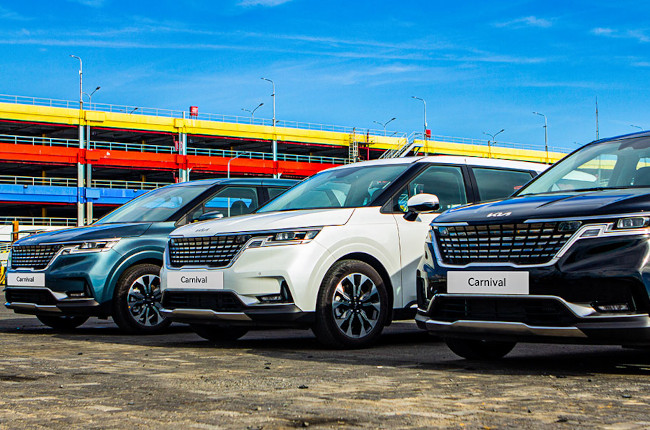 Kia Philippines reveal its very first launch vehicle for the year 2022, the Carnival. The vehicle will be available in dealerships in the first quarter of 2022, and it will be the most innovative and technologically-advanced Carnival to date.
Now in its fourth generation, the Kia Carnival features a stunning body sculpture along with a unique island roof design. It's also got a new C-pillar design along with a subtle diamond pattern reflected throughout its body. Kia designers have called it a "symphonic architecture," with the design of the front giving onlookers a sense of harmony and structural energy. When the model was first unveiled in its global launch, we were awestruck by the elegance exuded by the Carnival. It bears similarities to Kia's midsize crossover, the Kia Sorento, and carries with it a sense of grace whether parking or gliding down the road.
Fans of the Kia Carnival will be quick to catch on to its classy appearance. The outgoing Carnival was getting quite old by today's design standards, and this update is its best version yet. The new model will come with first-class amenities, which include power doors and a power tailgate. The interior is furnished with captains' chairs that also feature an ottoman leg rest, similar to a La-Z-Boy couch, but in a car. On top of that, literally, the power sunroof allows natural light to flood the cabin, creating ambiance and atmosphere. For navigation and multimedia, the infotainment system gets Apple CarPlay and Android Auto, with wireless connectivity.
The local unit's engine specs have not yet been revealed. It is likely that it will come with the same 2.2-liter diesel engine that powers the Kia Sorento given that the Carnival is built on the same platform as the midsize crossover. That being said, the Carnival can be expected to have 197 hp and 441 Nm of torque.
The press release also details that the units are already on Philippine soil. It appears that AC motors have received its first batch of Carnivals at the port, and it's only a matter of time before the model gets an official launch date. We reckon that it will be sometime in late January to early February.
Latest News
Hyundai presents Night Of Lights, now open to the public with an immersive audio-visual drive-through.

This new variant of the Ranger slots over the Wiltrack and just under the Raptor in terms of features and power.

Class 1 vehicles are expected to pay P35, class 2 vehicles are expected to pay P69, and class 3 vehicles are expected to pay P104.
View More Articles