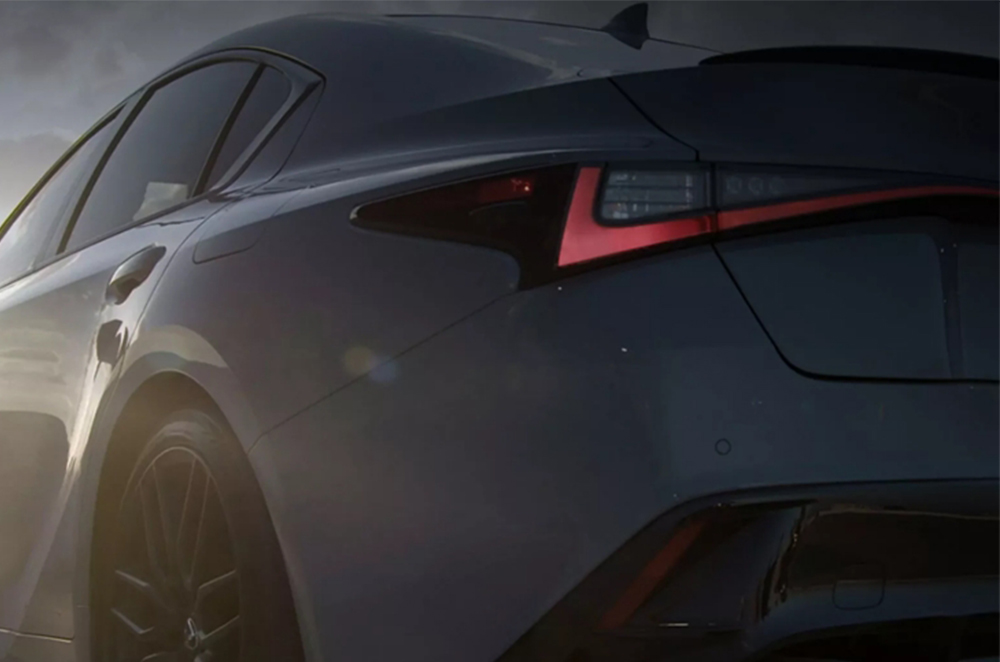 The Lexus IS 500 F Sport Performance initially made its debut for the American market back in February of 2021. A year and some months later, the performance model is now set to make its debut in its home country of Japan. With the arrival of the new performance-oriented variant set to happen on July 21, 2022, it will widen the available model range of the sedan in its home market.
Currently, the Lexus IS is being sold in Japan in three different variations. The first is the IS 300 which comes with a 2.0-liter twin-scroll turbo that makes 238hp and 350 Nm of torque. Next is the IS 350 which comes with a 3.5-liter V6 motor that makes 318hp and 380 Nm of torque, and finally there is the IS 300h which is the more frugal option of the two that comes with a 2.5-liter motor and a hybrid system. It produces 223hp and 350 Nm of torque.
The new IS 500 F Sport Performance will effectively replace the IS 350 as the new top dog within the model range.
Lexus Japan announced the pending launch of the new IS 500 F Sport Performance with a teaser image on Twitter with the words "Coming Soon" accompanied by a photo of the rear of the upcoming performance sedan.
While a good basis for the IS 500 F Sport Performance is its American version, Lexus Japan may change a few things with its local model. The Japanese automaker may tweak a few things such as the exterior, interior, and possibly the powertrain options that will come with the 5.0-liter gasoline engine. The suspension may also be adjusted as well to better address the needs of the Japanese market. Aside from this carbon fiber add-ons may also be included with the sedan to reduce weight and to give the car a more aggressive look.
In the meantime, if you want to keep up to date with all the latest Lexus news, deals, and promos available in the Philippines do visit our website so we can connect you with the best deals.
Get the best deal - Choose multiple dealerships to compare offers!
Select up to 5 dealerships and compare their offers
Over 70% of dealers reply within 1 hour
100% hassle-free with no obligation to purchase
Latest News
Hyundai Motor Philippines Inc. is introducing a wider range of payment options for customers with "Hyundai Finance."

Toyota Motor Thailand has launched the Hilux Champ, the brand's simpler and more affordable alternative to the Hilux.

Toyota confirms it will mass-produce its advanced solid-state EV batteries in 2023 but only enough to power 10,000 EVs.
View More Articles