Mercedes-Benz Philippines officially opened its first state-of-the-art MAR 2020 showroom last July 1, 2020 as made possible through its partner dealer, CATS Motor Inc. The said establishment is located in Bonifacio Global City.
MAR 2020 actually stands for 'Markenauftritt Retail', which translates to 'Brand Appearance Retail'. That's why this is not just a new dealership, rather it embodies a new concept for the Mercedes-Benz brand experience.
The building spans by about 554 square meters, treated with a new contemporary architecture both exterior and interior perspective. Customers will be delighted by its luxurious ambiance as complemented by the ingenious lighting design which provides an atmosphere of excitement, elegance, and peace. This dealership also comes with a number of amenities, including a bar area, allowing customers to have a more casual and convenient discussion.
This facility sports a number of technological appointments which makes the car buying experience of customers quite extraordinary. One of its main highlights is the reinforcement of modern technology that allows integration at the point of sale, and digital assets like LED screens that convey relevant content thoughtfully and clearly.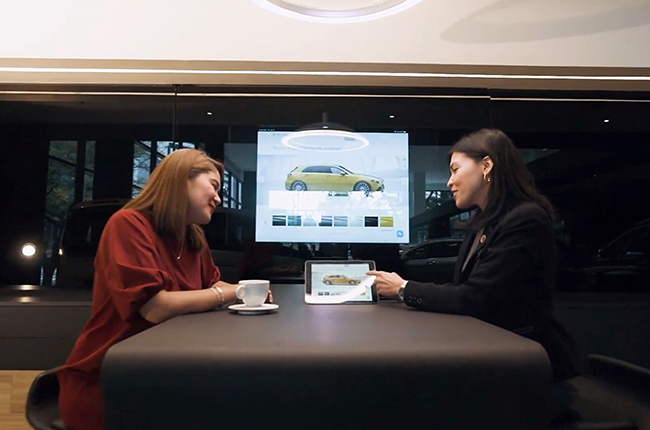 Apart from that, product presentations and visualizations are now displayed on the LED screens in Star walls. There will be a team of product experts to accompany customers mainly to address questions about the technical aspects and provide practical advice on how to make full use of the vehicle's features. Moreover, they can also have a taste of the Mercedes experience through virtual reality.
Customers will then set its final destination towards the new hand-over area where their new Mercedes-Benz will be waiting for them.
Given the pandemic, Mercedes-Benz remains committed to safeguard the health and welfare of its clients, employees, and guests who visit any of its facilities.
The MAR 2020 showroom is located at the corner of 5th Avenue and 24th Avenue, Bonifacio Global City, Taguig with easy access to main roads. The new Mercedes-Benz BGC will serve as a focal point of interest for all Mercedes-Benz customers in the central National Capital Region and neighboring cities.
Latest News
Kia Philippines clarifies on the capabilities of current battery electric vehicles (BEVs), namely the Kia EV6.

The electrified pickup truck comes with a powerful electric motor, decent range, a great set of features, plus an interesting vehicle and battery warranty.

It's a new application that will help you keep track of your vehicle at all times and help you make sure it is safe.
View More Articles