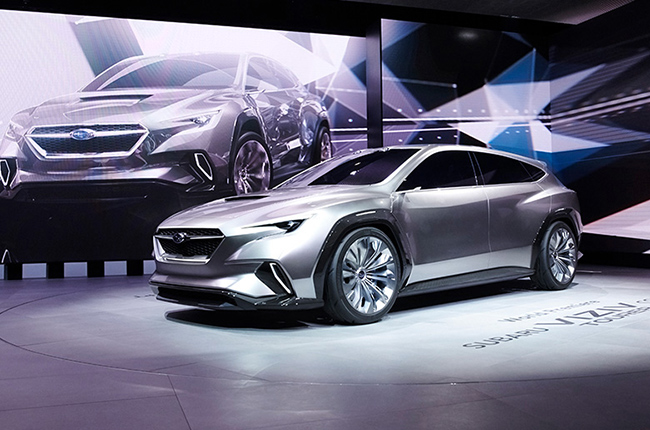 The Philippines is lucky to have been gifted with the Levorg. This sport wagon from Subaru kind of bends the norm of family cars: hood scoops, turbo, and an imposing exterior design that will make you want to bring it on the track. And, I can't be any luckier to have spent a week with it last year.
So, imagine our elation when Subaru showcased the VIZIV Tourer Concept at the 2018 Geneva International Motor Show. This nameplate has been confirmed to be the next-generation WRX, and now, its wagon version looks to be the next Levorg by our calculation.
Yes, we know, Subaru has yet to confirm that but I'm willing to bet one of my limbs on that prediction…unless they are bringing the WRX Wagon back. Okay, bet's off.
Only tidbits of information came with the VIZIV Tourer Concept in the 2018 Geneva Motor Show. As it stands, it comes with the brand's "Dynamic x Solid" design philosophy, which has already landed in the country through the all-new Impreza and XV.
Of course, it has Subaru's boxer engine and symmetrical AWD system, but no engine ratings have been disclosed at the moment. What we have, though, is its size. It has a wheelbase of 2,730mm and an overall dimension of 4,775mm × 1,930mm × 1,435mm (LxWxH). Now, these numbers are much bigger than the Levorg, which tells us something about the wagon's future upsizing.
Another interesting thing that the VIZIV has is the EyeSight technology — Subaru's host of driver-assist technologies that use radar, GPS, and navigation systems to boost the car's safety and add convenience for the driver.
It's only a matter of time before this concept roll into production. If you're just as excited as we are, those years of waiting can feel like decades. That's, if Subaru decides to bring it here. Fingers crossed.
Latest News
Astara Philippines adds the JMC brand alongside GAC and Peugeot to the list of brands it is distributing in the country.

Hyundai Motor Philippines Inc. is introducing a wider range of payment options for customers with "Hyundai Finance."

Toyota Motor Thailand has launched the Hilux Champ, the brand's simpler and more affordable alternative to the Hilux.
View More Articles