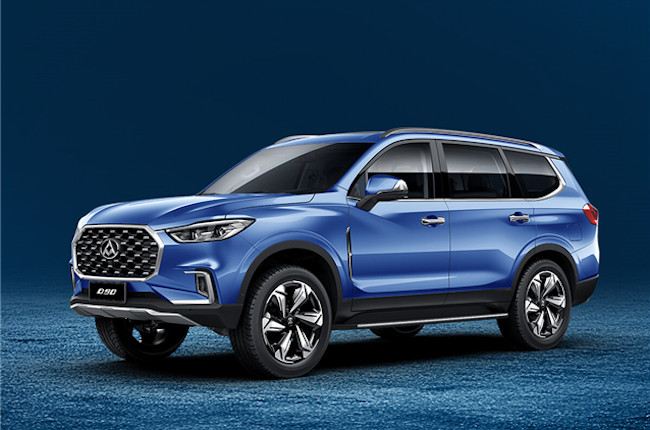 There is a rumor floating around that MG Philippines is bringing in its entry into the 7-seat midsize SUV arena in the form of the MG D90. It's a ladder-frame vehicle with dimensions that are closer to western-style SUVs, which means a 2,950 mm wheelbase, significantly bigger knowing that the Toyota Fortuner sits on a base that is 2,745 mm long. The SUV will be based on the same platform as the brand's soon-to-be-launched Extender pickup truck.
As per a CarGuide.ph report, it states that a 7-seater SUV is in the works for The Covenant Car Company (TCCCI). The report stated that "they're also introducing their very own 7-seater body-on-frame SUV some time this year." which can only mean that a Fortuner, Montero Sport, Everest, Terra, mu-X rival may see the light of day in 2020.
It looks as if MG Philippines is bringing in the MG D90, a diesel-powered ladder-frame SUV that boasts a longer wheelbase than most, and an MG logo on the brand's signature grille like on the ZS. In other countries, MG and Maxus are essentially the same brands, with the grilles and badging being one of the key exterior differences when moving from brand to brand. As interchangeable as they are, MG and Maxus are brought in by two different companies, with TCCCI owning the rights to MG and Ayala Corporation owning the rights to Maxus.
As for specifications, the D90 has a 2.0L turbocharged gasoline engine capable 220 hp and 350 Nm of torque in all of the countries it's sold in. However, it's also possible that the SUV will come with the same diesel motor as in the Extender since they share the same platform. The mounting points in the chassis may be able to accommodate the pickup's 2.0L diesel engine capable of 161 hp with one turbo, and 214 with two. It should just be a matter of making the arrangements with SAIC Motor.
We reached out to MG Philippines for a statement, but the company has not confirmed anything yet at the time of this article's writing. It appears that this rumor is a little known fact for now, or the company wants to keep things quiet. Either way, we'll keep tabs on the matter as it develops.
Latest News
A Cummins PowerDrive6000 will find itself inside an Isuzu F-Series medium-duty truck.

The new bridge connecting Manila Chinatown and Old Manila looks just about ready to serve.

The MINI Recharged program fits a 122 hp electric motor in your Classic Cooper, and the process is reversible.
View More Articles