While the procession has been canceled, the annually celebrated Feast of the Black Nazarene is still going to push through despite the ongoing pandemic. That said, heavy traffic is expected around the Quiapo district, as devotees are expected to gather at the church starting today, January 8, until tomorrow, January 9.
In order to ensure the smooth flow of traffic, the Manila City Government has announced alternate routes and parking areas for Traslacion 2021, plus, selected roads will also be closed during the said event, they even sketched and provided a map showing the affected streets. The following road closures on all illustrations below shall be made effective starting today, January 8, 10 P.M. onwards.
Southbound lane of Quezon Blvd. (Quiapo), from A. Mendoza/Fugoso to Carlos Palanca St.
Northbound Lane of Quezon Blvd. from Carlos Palanca St. to Fugoso St.
Westbound lane of España Boulevard from P. Campa to A Mendoza St.
Stretch of Evangelista St. from P Paterno St. to Recto Ave.
Stretch of Palanca St. from Carriedo/Plaza Lacson to P. Casal St.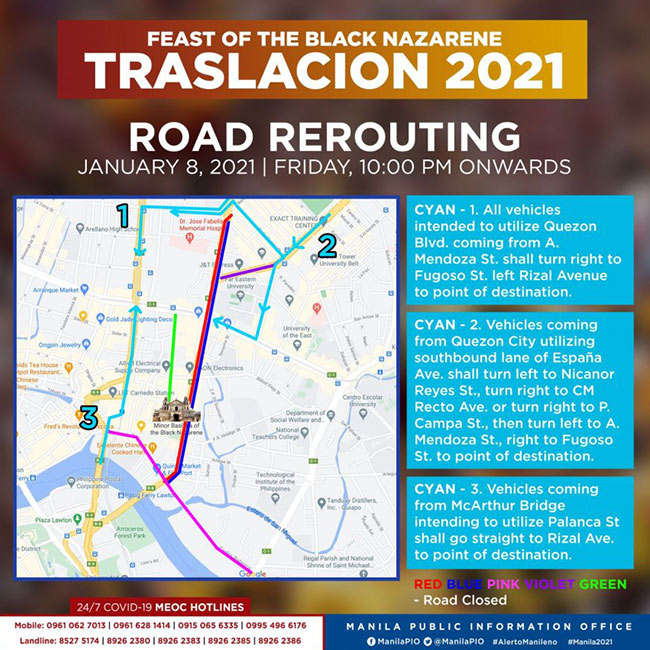 Given that, motorists who will traverse any of the mentioned locations are advised to take alternate routes suggested by the Manila City Government. For those drivers going through the southbound lane of Quezon Blvd. from A. Mendoza must take a right turn to Fugoso St. then left to Rizal Avenue.
Next up, drivers who are traveling to the southbound lane of España Blvd could either turn left to Nicanor Reyes St., or make a right turn to P. Campa St. instead, then turn left to A. Mendoza St., and right to Fugoso St. Lastly, other vehicles must go straight to Rizal Ave., specifically those coming from McArthur Bridge and are then intending to utilize Palanca St.
On the other hand, motorists coming from Ayala Bridge intending to utilize Palanca St. are then advised to go straight to P. Casal St. towards their desired destination.
As for the following vehicles coming from P. Burgos Ave. intending to utilize Quezon Bridge, it is then advised that they go straight to McArthur Bridge or Jones Bridge to point of destination.
As mentioned, the Manila City Government also illustrated a parking plan for those who wish to join the annual religious activity. Like the road closures, the following parking areas shall be made effective January 8, 10 P.M. onwards. The following spots are as follows:
Isetann Recto pay parking
Pay parking area beside Dating Daan Building
Quinta Public Market pay parking
One eastbound lane of Carlos Palanca Street from Palanca Bridge
The following day, January 9, 2020, it is also expected that there will be more road closures to be applied to other areas:
Ronquillo St. from Rizal Ave. to Plaza Sta. Cruz
Bustos St. from Plaza Sta Cruz to Rizal Ave.
That said, the authorities also provided alternate routes which are also illustrated in the image above. First up, Vehicles utilizing the southbound lane of Rizal Ave. going to Ronquillo St. shall turn right to CM. Recto Ave., then turn left to R. Regente St., to J. Luna St., followed by a left turn to Plaza Cervantes to Jones Bridge, or instead, just go straight to Muelle dela Industria to Escolta and towards their destination.
Lastly, motorists who came from the McArthur Bridge intending to utilize Bustos St. shall then go straight to Rizal Ave. up to their point of destination.
Now that the Manila City Government has immediately provided its proposed schemes and plans this Traslacion 2021, it is best for all motorists to stay aware and guided especially those who wish to pass through any of the mentioned locations above.
Latest News
With a turbo motor, a character-filled interior, and a smart look, the Tharu lands in the Philippines breaking new ground for VW Philippines.

Subaru is producing a special edition of the WRX called the WRX TR which is set to be unveiled next month on October 7, 2023.

A report suggests that Mazda has greenlit rear-wheel drive, inline-six sedan, thanks to the CX-60 and CX-90 sales.
View More Articles