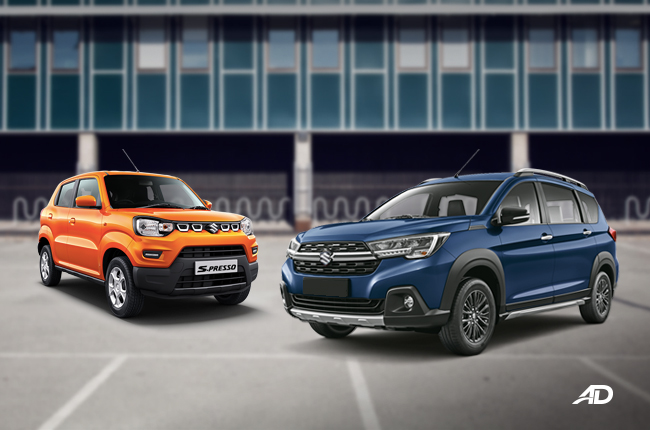 Two of Suzuki Philippine's newest models, the XL7 and S-Presso have been generating a lot of hype for the Japanese brand. They were originally spotted in the port of Batangas as early as February of 2020 but initially had no official launch date. That has changed, however, as Suzuki Philippines has announced that these two new models will be launching together on March 18, 2020. Even before their official launch, the Japanese brand has offered special discounts and promos for both vehicles giving prospective buyers more reasons to purchase a vehicle.
Each of the two new models has something interesting to offer, whether it be in the form of an SUV-Styled seven-seater vehicle or a small yet frugal crossover city round about, these two models have something for you.
Seven seats and SUV-Styling
The Suzuki XL7 one of the two new models being launched offers buyers an SUV-styled vehicle with a seating capacity for seven. Like its MPV brother the Ertiga which it's based on, it shares the same 1.5-liter naturally aspirated engine and transmission options. The familiar K15B engine produces 103hp and 138 Nm of torque and is available on the XL7 with a 4-speed automatic transmission. Pricing for the new vehicle starts at P1,068,000 for the lone variant currently available on the market.
Small and frugal crossover
The other model launching alongside the XL7 is the Suzuki S-Presso. It comes in the form of a small subcompact crossover with seating for five people. The small vehicle comes in tall ride height and a frugal 1.0-liter naturally aspirated gasoline engine which it shares with the Celerio. Its small gasoline engine comes with only one transmission option in the form of a 5-speed manual. There is no official news yet if Suzuki Philippines will bring in an automatic variant later in the year. Pricing for the lone variant of the small subcompact crossover starts at P518,000.
With the addition of these two new vehicles, it not hard to see that Suzuki Philippines is off to a great start for 2020 and will surely have more surprises in store for the rest of the year.
Latest News
The new BMW 4 Series has officially hit the market with new tech, new safety, and a new front face.

Here's a quick look at what Toyota has done to the Hilux to update it for the 2021 model year.

Toyota updates its popular 7-seater SUV the Fortuner for the 2021 model year.