Better late than never, or something to that effect. The Toyota Fortuner has been out for quite some time now. Filipinos were quick to snatch this midsize SUV up when it first launched in 2016. Since its release, the SUV's success has influenced many brands to take a shot and create their own competitors.
So how does the Toyota Fortuner stack up now? Is it still a segment leader? Does it sit rightfully on its perch at the top? Let's review it and find out.
2020 Toyota Fortuner Review
Performance
Engine Output (HP), Acceleration, Transmission, Handling 4.5/5
Design
Exterior & Interior Design, Quality, Fit and Finish, Ergonomics 4.5/5
Ride Comfort
Cabin Comfort, Suspension, NVH Insulation 3.5/5
Safety and Technology
Convenience Technologies, Active and Passive Safety Features 3.5/5
Value for Money
Amount of the vehicle you get for the price, Fuel Efficiency 3.0/5
What You Will Like
Torquey diesel engine
Tasteful looks
Better-than-average interior materials
Headlights are powerful
What You Won't Like
Lacking in safety features
No backup camera
Pricey for what it offers
How We Do Our Reviews
Exterior
It goes without saying, we've covered the Fortuner across many platforms, be it in video comparos or unboxings. Its exterior is one of the safest-looking in its class, and it has a universal appeal that many Filipinos have come to love over the years. It features clean lines, smoothness all around, and slim lights in the front and rear. There are bits of flare sprinkled throughout the vehicle such as the floating roofline, but otherwise, simplicity is the keyword in this regard.
While a bit long in the tooth, the 18-inch wheels are still a good look for the midsize SUV because of its two-tone color and spoke design. The bits of chrome that also populate the exterior is also done tastefully, and the Bi-beam LED lights that are found on this V variant are powerful tools that can illuminate the road ahead with ease. The LED bars on the tail-end of the vehicle are also one of the nameplate's simple, but recognizable features.
To hammer my point home, the design is no cause for alarm. It's a safe approach that has mass-appeal. Comparing to the previous generation, though, this generation is much more focused and a lot more concentrated.
Interior
Just like other Toyota vehicles, plastics and interior fittings are done well. The V variant also gets some faux wood trim that might not be everyone's cup of tea but blends with the chocolate brown leather upholstery fairly well. The dashboard adopts a darker motif overall, and there are multiple soft touches that make the rounded shape of the dashboard look friendlier and more welcoming. It looks good, and the soft-touch materials also make for a pleasant look and feel. The dashboard does sit a bit high, so it may pose a visibility challenge.
The middle and third rows' vents overhead can cool or warm passengers. Two USB charging ports are also present in the middle row for passengers to plug into, while the third row gets no such thing. Legroom is good in the second row since I can cross my legs comfortably at 5 feet 8 inches tall. The third row is cramped as always. Only a few SUVs can boast a third row that caters to adults, sadly, the Fortuner isn't one of them.
Storage space is fair for a vehicle of this class, and since it's a midsize SUV, it has the potential for a lot of space. It is too bad that Toyota has opted for a third-row setup that folds up and to the sides, and not down into the floor pan. This hampers the cargo area's width, limiting what you can carry if your items are on the wider side. The floor is lower than most midsize SUVs however, which makes for a deep space down below. That being said, the Fortuner can carry 200L worth of cargo volume with the third row up, and up to 1,080 L with the second row out of the way.
Comfort
Here is a touchy topic for most Fortuner owners and fans. Many were quick to lament the ride comfort in previous generations of Fortuner, stating it was pretty bad; would-be buyers and last-gen owners clamored for a more comfortable ride because of this. I may be overdramatizing the situation, but we had a first-generation Fortuner back in the day, and the first thing my non-car-enthusiast father did was swap the shocks for a softer set.
This time around, it's alright. It's not class-leading, but it doesn't ride as harshly as it did. NVH suppression has also improved and the chassis now feels more solid than it did years prior. It's still not the best-riding SUV in town because it is hampered by its solid rear axle, and it won't approach crossover levels of comfort and refinement. In a sentence, it's civilized jostling.
Technology
For the 2020 models of the Fortuner, the unit will come with Apple CarPlay and Android Auto connectivity. 2019 models will come with the AVT unit that every Toyota unit comes with, provided it has a touchscreen infotainment system on its spec sheet. The unit featured here is not up to par with the rest of the industry. The response is a bit slow, and pairing via Bluetooth is quite cumbersome; also the 6-speaker sound system sounds fair.
The gauge cluster on offer in the Fortuner is a 2-dial display with a screen down the middle. This panel displays multiple bits of information as well as your trip and odometer reading. Its design is like that of an art-deco style, which makes for good legibility. The V variant also gets a power tailgate with parking sensors. One omission that the SUV is famous for is the lack of a backup camera on even the top-end model. The ultrasonic sensors do get an external display though.
Safety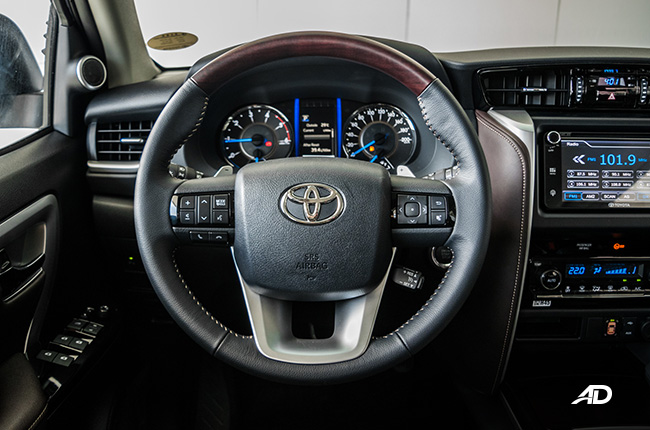 Since this is a Toyota, the full array of airbags is available for the top-spec. With a total of 7 bags, the Fortuner has some of the best coverage in the industry currently. It has ABS with EBD, which can be found on most other cars, and for a car of its size weight and torque, traction control is a welcome presence to keep occupants safe from any unwanted wheel-spin. That's about it for safety systems. It's a rather basic loadout, a list that is as long as a mid-range offering from the competition.
Driving and Handling
The power and torque of the Fortuner come from a 2.8L diesel engine that produces 174 hp and 450 Nm of torque, and I have to say, it's beefy for its class. It excels once the boost builds and there is a rush of power that lurches the SUV forward. It's not brutal, however, and the gear changes are not the quickest, but a quick stab at the accelerator allows the SUV to shift its weight to the back with ease. Speaking of the transmission, the 6-speed automatic comes with a set of paddle shifters that feel substantial to pull. It's rather pointless on an SUV, but it's an addition that doesn't substantially improve or worsen the driving experience, so it's nice to have.
As a PPV, it handles with a bit of body roll, which is expected. Cornering is not unsettling given good driving habits, and the steering is heavy but the turning radius could use some more angle. The brakes lack a bit of feel but are easy to modulate. The monobloc calipers in the front do the job smoothly once you get the hang of it. New models will have disc brakes all around, but the difference between this and the drum set is marginal since the front pair do most of the work anyway.
Fuel Economy
There are factors that make the Fortuner a better driver, one of those is fuel efficiency. The downsized engine from its predecessor is also a plus especially in traffic, netting us an average of 7-8 km/L in traffic, 10-11 km/L zipping in the city and around 15 km/L on the highway cruising at 90km/h with some slowdowns.
Verdict
So is it the king of its segment? Yes and no. People have long trusted the Toyota brand to deliver performance and reliability. The company has a big seller in the SUV body style, and that's the venerable Land Cruiser series of products. One of the main draws of the Fortuner nameplate is the fact that consumers associate Toyota with hard-wearing and long-lasting SUVs. Surely that DNA is also ingrained into the Fortuner somehow.
Indeed it is. The engineering done to the Fortuner is remarkable, and the improvements made over prior generations are a sign of the times since SUVs now dominate the urban jungles of the Philippines. Consumers now demand a refined experience from rugged rigs, and that's alright, because if it means that the Fortuner inches closer to the Land Cruiser, then it can only be a good thing.
Alas, the Toyota midsize SUV does have flaws with regard to its tech, but that was rectified with the addition of Apple CarPlay and Android Auto for 2020 models. We would have liked to see a backup camera instead of just sensors, and at P2,260,000, we should be getting more for the price we have to pay, active safety features are also rather basic, but these systems hail from 2016. The price tag is still what it is, a little too expensive. If you don't mind the Toyota tax, then you're in for a vehicle from a reliable manufacturer. Though it is not the most feature-packed SUV of the bunch. It may have the throne in terms of sales figures, but not in terms of features. Our rating is "adjusted for inflation" meaning it's a review considering the stiff competition that the nameplate now faces. Perhaps a facelift is in order for the king to regain his glory?
Exterior Photo Gallery
Interior Photo Gallery
---
Specifications
Performance
174 hp @ 3,400 rpm
---
Summary

| | |
| --- | --- |
| Name | Toyota Fortuner 2.8 V Diesel 4x4 AT |
| Body Type | SUV |
| Price | ₱2,301,000 |
| Transmission Type | Automatic |

Engine

| | |
| --- | --- |
| Engine Size | 2.8 L |
| Displacement | 2,755 cc |
| Number of Cylinders | 4 |
| Number of Valves | 16 |
| Transmission Category | 6-Speed Automatic with Sequential Control |

Performance

| | |
| --- | --- |
| Drivetrain | All-Wheel Drive |
| Max Output (HP) | 174 hp @ 3,400 rpm |
| Max Torque (nm) | 450 Nm @ 2,400 rpm |
| Acceleration Rate | n/a |
| Top Speed | n/a |

Economy & Environment

| | |
| --- | --- |
| Fuel Type | Diesel |
| CO2 Emission | n/a |
| Fuel Capacity | 80 L |
| Fuel Consumption | n/a |
| Range | n/a |

Dimensions

| | |
| --- | --- |
| Length | 4,795 mm |
| Width | 1,855 mm |
| Height | 1,835 mm |
| Wheelbase | 2,745 mm |
| Turning Circle | 11.6 m |
| Ground Clearance | 193 mm |
| Wading Depth | 70 cm |
| Trunk Capacity | 200 L |
| Max Cargo | 1,080 L |
| Number of Doors | 5 |
| Number of Seats | 7 |

Safety & Security

Driver's Airbag
Front Passenger's Airbag
Side Airbags
Curtain Airbags
Knee Airbag
Auto Brake System
Electronic Brake Distribution
Anti-lock Brake System (ABS)

with Electronic Brakeforce Distribution and Brake Assist

Immobilizer
Security Alarm
Stability Control
Electronic Door Locks
Speed Sensing Door Locks
ISOFIX
Lane Departure Warning System
Blind-Spot Detection System

Features

| | |
| --- | --- |
| Cruise Control | |
| Front Parking Sensors | |
| Rear Parking Sensors | |
| Leather Upholstery | |
| Push Start Button | |
| Wheel Size | 18 in |
| Wheels Metal Type | Alloy |
| Airconditioning System | Auto Climate Control Front and Rear |
| Entertainment System | 6.5-inch Capacitive Screen with DVD, CD, Tuner, Call Function and Audio Streaming via 6 Speakers |
| Connectivity | AUX, USB, Bluetooth, iPod, Apple CarPlay, Android Auto |
| Navigation Ready | |
| Warranty | 3 Years (100,000 km) |
| Keyless Entry | |
| Roof Rack | |
| Sunroof | |
| Electric Adjustable Seats | |
| Power Steering | |
| Power Windows | |
| Power Outlet | |
| Steering Wheel Audio Control | |

Technology

| | |
| --- | --- |
| Active Park Assist | |
| Hill Start Assist | |
| AWD Modes | n/a |
| Tire Pressure Monitoring | |
| Heads-up Display | |
| Power Liftgate | |
| Start-stop System | |
---
Get the best deal - Choose multiple dealerships to compare offers!
You can compare quotations simultaneously from multiple Toyota dealerships. Select your preferred dealers from the list below.

Compare quotations from multiple dealerships in minutes.
Check vehicle and color availability.
Find info on special offers and promotions.
100% Hassle-free with no obligation to purchase.
Latest Review
While the turbo model is the one to get for a better driving experience, the 1.2 G offers you a better value-for-money proposition for what it offers.

3.8

/

5

It's Nissan's entry into the hybrid segment but with a twist that helps separate it from the rest of its competitors.

4.3

/

5

The Mazda CX-5 2.5 AWD Turbo is the newest variant in the model lineup, but does it have what it takes to impress? Find out with our review of the crossover.

4.4

/

5
View More Articles