The 7-seater midsize SUV segment is one of the top choices of Filipino online car-buyers. In fact, it's the 2nd most bought vehicle type in AutoDeal last November and in the first half of 2017, next only to the much cheaper subcompacts.
But what will you exactly get in an SUV? Comfort? Power? Off-road capability? Driving pleasure? To answer all these questions, we get inside Ford Philippines' entry to this segment — AutoDeal Buyers' Choice: SUV of the Year awardee, the Ford Everest.
They gave us the keys to a 2.2 Titanium+ 4x2 AT Premium Package. It's the peak choice if you want full options included for a smaller engine, non-4x4 Everest.
Ford Everest 2.2 Titanium+ 4x2 AT Premium Review
Performance
Engine Output (HP), Acceleration, Transmission, Handling 3.5/5
Design
Exterior & Interior Design, Quality, Fit and Finish, Ergonomics 4.5/5
Ride Comfort
Cabin Comfort, Suspension, NVH Insulation 4.0/5
Safety and Technology
Convenience Technologies, Active and Passive Safety Features 4.5/5
Value for Money
Amount of the vehicle you get for the price, Fuel Efficiency 4.0/5
What You Will Like
Spacious and comfy cabin.
Well-executed exterior design.
Price is justified by high-tech safety features.
What You Won't Like
Gauge cluster's a bit cluttered.
Ingress/egress from 3rd row is difficult.
A-pillars produce blind spots.
How We Do Our Reviews
The Everest is a mish-mash of beefiness, immense size, and classiness. It's like Chris Hemsworth on tuxedo — buffed up but still looking classy. I personally think that chrome accents don't necessarily mean premium, but Ford did it right with the Everest Titanium. Plus, the hexagonal grille exhumes sturdiness, while the variant-exclusive Meteor Grey color that comes with our unit complements the plush aura of the midsize SUV.
When viewed from the side, I like how the Everest has balanced front and rear overhangs. The wheel arches are also prominent and the 225mm space from the ground tells you that it's ready to go anywhere.
The C-shaped LED taillights at the rear looks really good especially at night. The beefiness is apparent whether you view the car from up front, at the sides, or behind. To put icing on the cake, the design of its 6-spoke 20-inch rims is a perfect match to the SUV's overall demeanor.
When compared to its competitors like the Mitsubishi Montero Sport, Toyota Fortuner, and Isuzu mu-X, the Everest is the biggest in almost all areas. This tells a lot about its interior space, which we'll also discuss below.
The plush appeal of the exterior is also present inside the Everest's dark-themed cabin. There are only few hard plastics inside and most accents are leather with contrasting stitches. This is a great touch to its appeal, along with the screaming Everest nameplate on the dashboard panel, ambient lighting at night, and panoramic sunroof.
What I also like about the Everest is how intuitive the controls are. All the buttons and knobs have great feedback while the 8-inch touchscreen infotainment system is idiot-free. More importantly, its SYNC 3 software has functional voice control and easy to pair up with smartphones. The clarity of sound from the 10-speaker system is also a welcome feat.
What I can complain, though, is the Everest's gauge clusters. Sure, it contains essential driving info and more but its left part is a bit cluttered, having to display lots of stuff like the fuel meter, tachometer, fuel economy (the one I used), graphic lane guidance, and mileage. With this, the RPM is sometimes hard to read and can be distracting if you're the type who's conscious about it.
As for the seats, the Everest feels like home even during long drives. The leather is soft to the touch and the perfect position for the driver and front passenger is easy to find with its 8-way power adjusters. There's also lumbar support for your lower back. Plus, the automatic headlights and rain-sensing wipers are great addition for the driver's convenience.
The Everest's ride comfort is also highly notable. Suspension's not too soft so the ride isn't that bouncy, yet it's also not too stiff so you can tackle dilapidated roads with ease. There's body roll, of course, but that's understandable considering the SUV's ride height.
Space is abundant even at the 2nd and 3rd rows. 3 people can fit snugly in the middle, while 2 adults can seat comfortably at the last row. I'm 5'6" and my knees aren't touching the 2nd row backrests while seated in the back.
The dual-zone automatic air conditioning of the Everest works well up to the rear, thanks largely to the individual air vents with separate control. And in this age of technology, the Everest has many power sources: 2 USB ports and 2 12-V outlet in the front; 1 230V inverter and 1 12-V outlet in the middle. It's really tempting to cook rice inside this SUV if not for my strict no-rice diet.
As for the trunk, the power tailgate is convenient and space is enough to fit my guitar case inside without folding the 3rd row backrests (which by the way fold with a touch of a button too). You can further maximize that by folding the seats flat. But if I had to nitpick, ingress and egress from the 3rd row could have been easier if the 'tip & fold' 2nd row can be stumbled instead.
Inside the Everest's bonnet was a 4-cylinder 2.2L TDCi turbo diesel engine that produced 160 hp and 385 Nm of torque. With its size, you might think that this SUV was under-powered especially when compared to the mentioned competitors. Granted, it's a bit of a letdown when it comes to numbers, but my drive on the road weren't. The power it produced was just right even with 5 passengers and their stuff on board.
On inclines, the Everest's power was right in the middle — not effortless but it wasn't painful as well. Good thing it's equipped with Hill Launch Assist. Moreover, its 6-speed automatic transmission has a manual mode so you can downshift when needed; although there's a bit of a delay sometimes when you do the manual shifting.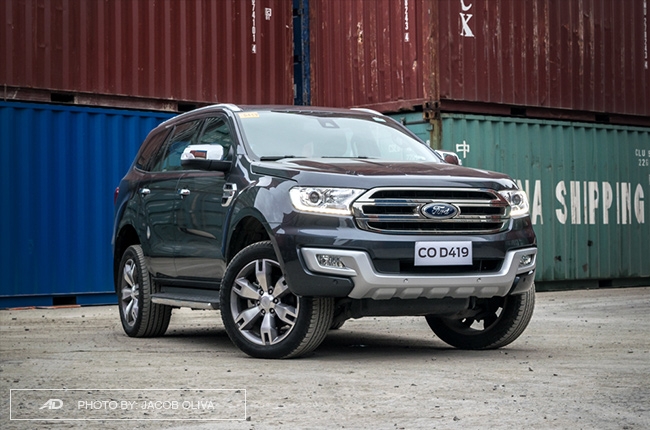 Even with this midsize SUV's height and size, the Everest was relatively easy to maneuver thanks to its electronic power assisted steering (EPAS). It felt really light on slow drives around the city and as I went faster, it tightened which was a good thing as it made the car composed and stable on high-speed pace.
Driving visibility was also abundant with the Everest, although I have a bit of a problem with its wide A-pillars as they produced a frontal blind spot when turning. Nevertheless, this was just a small setback with this car's safety systems.
Since what we had was the Premium Package, it came with all the safety features that Ford can think of, and that includes 7 airbags, all-around proximity sensors, rear cameras, blind spot monitors, rear-cross traffic alert, lane keep assist, pre-collision mitigation, speed limiter, and adaptive cruise control.
The latter was my favorite as it made the Everest brake and accelerate with the traffic's varying speed. It was pretty convenient on the highway; I was even able to go across South Luzon Expressway (SLEX) without having to step on the gas or brake pedals. It also came with Active Park Assist, which literally took over the car and made parallel parking as easy as pie.
As for fuel consumption, the Everest wasn't a diesel guzzler. Snail-paced EDSA drive at 15 km/h read 7.8 km/l, while faster pace at 60 km/h registered 13.5 km/l. On the other hand, highway runs at 90 km/h consumed 18.2 km/l. Not bad for an SUV. Not bad at all.
The Ford Everest Titanium+ is priced at P1,989,000. Now, this amount might look too much for a midsize SUV, especially when compared to the mentioned rivals. However, with all the convenience features that come with this Premium Package and its relatively frugal diesel engine, that price tag is well justified. Plus, its plethora of active and passive safety features make riding this SUV a pleasurable and safe experience — and that, for me, is the perfect recipe for a family car.
---
---
Get the best deal - Choose multiple dealerships to compare offers!
You can compare quotations simultaneously from multiple Ford dealerships. Select your preferred dealers from the list below.

Compare quotations from multiple dealerships in minutes.
Check vehicle and color availability.
Find info on special offers and promotions.
100% Hassle-free with no obligation to purchase.
Latest Review
The GAC GS8 in both 2WD and 4WD variants is a spacious and luxurious SUV that commands everybody's attention.

Competence can only do so much so does the Creta have an X-factor that can help it compete?

3.9

/

5

Brave or foolish? GWM's more bold than anything when it introduced the Jolion to the market.

4.0

/

5
View More Articles