Looks can be deceiving. If there's any cliche that best describes the Kia Soul, this is probably it. And, yes, that other adage about judging a book.
Honestly, my initial expectations weren't high when Kia Philippines lent its SL mid-variant to us for an in-depth review. The car is boxy and relatively tall, which aren't really the best words to describe a fast vehicle.
Review: 2017 Kia Soul SL VGT CRDi DCT
Performance
Max Output (HP), Max Torque, Acceleration & Top Speed 4.5/5
Design
Exterior & Interior Design Quality & Visual Appearance 3.5/5
Ride Comfort
Car Handling & Cabin Comfort 4.0/5
Safety and Technology
Airbags, Brakes & Safety Technology 3.5/5
Value for Money
Amount of Car You Get for the Price 4.0/5
What You Will Like
Diesel engine is powerful yet frugal.
Abundant interior space.
Notable ride comfort.
What You Won't Like
DCT takes some time to get used to.
Non-touchscreen head unit.
Missing speed-sensing door locks.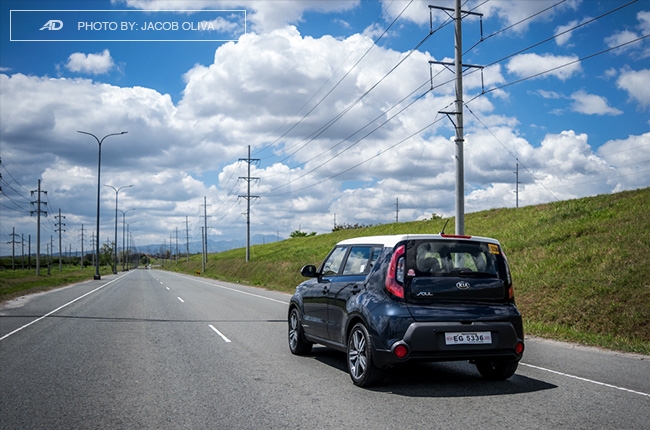 However, this South Korean subcompact crossover has things on its spec sheet that caught my attention: a 1.6L common rail direct injection (CRDi) diesel engine, a 7-speed dual clutch transmission (DCT), and a variable geometric turbocharger (VGT). The shower of acronyms was enough to fuel my excitement — and boy, I wasn't disappointed.
It may not look like it but this boxy-looking crossover has the soul of a famished wolf on a hunt for the night's dinner. Seems like an exaggeration? Let me explain.
As mentioned, the Kia Soul SL has a 1.6L CRDi engine, a VGT, and a 7-speed DCT. You know what else has these three? The Hyundai Accent Hatchback, which I regarded to be a fast daily driver that doesn't really consume that much fuel. Though they don't have the exact same engine, the subcompact crossover behaved almost as aggressively — it's quick, responsive, and reacts instantaneously to every step on the accelerator.
Just like how Caco put it in one of his videos, this car is like a fat kid in a party who's high on sugar, bouncing around like there's no tomorrow. Also, make sure to brace yourself when the turbo kicks in at around 2,000 rpm.
Good thing the front and rear disc brakes give the braking power that this fast car needs.
The frugality of the said Hyundai hatchback is also reflected on the Kia Soul. Highway runs at 90 km/h registered a notable 22.2 km/l fuel consumption, while crawling pace on EDSA at an average speed of 15 km/h clocked in 6.4 km/l. Rare chances of faster drives at 60 km/h read 12.7 km/l.
With these numbers, I never felt the need to use its Active Eco button to save up on diesel.
What behaved differently, though, was the Soul's 7-speed DCT. It shifted precisely and quickly, typical of the transmission type. However, it wasn't much of a performer at lower speeds. It shuffled the gear sometimes, most often when moving from standstill and when slowing down.
In other words, the Soul's DCT needs some getting used to, especially when your previous car has a traditional automatic transmission. But when you get the hang of it, you'll actually enjoy the drive with the car. It's like your best sibling who you hate the most when you were young, but now is the first person you look for almost every time.
Handling the Soul is also on-point and a cakewalk. It has a changeable steering feel wherein you can choose from Comfort, Normal, and Sporty. I personally prefer its Normal mode as it's not too tight for effortless city maneuvers and not too loose for planted highway cruises. Driving visibility is good, but the side mirror is a bit inadequate for me because of its curvy design. Well, Kia must have chosen design over function on this part.
What I also like about the Soul is its ride comfort. Since it's a crossover, it has the ground clearance to be able to traverse most road imperfections, without having to settle for annoying body rolls and super dampened suspensions. That's the beauty of this segment — you get the best of both worlds.
Adding to the Soul's overall comfort is its ample space in the front cabin and at the rear seats. Because of the car's boxy shape, there's massive headroom for people that stands at 5'10" and below. Well, just make sure that not all passengers are that tall as you will need a lot of legroom.
The abundance of space is apparent at the trunk as well, which we reckon can fit even a small washing machine or some appliances. We didn't try doing so but by the looks of it, it sure can. Even better, you can maximize the space by folding the rear seats. If only the boot can be lipless, so loading and unloading would be easier.
The Soul's dashboard is full of circles, reminiscent of a Mini Cooper Countryman. The materials used are average, and can go head-to-head with the other nameplates in its class. There are plastic used, yes, but they're not cheap-looking. What can tick some people off, though, is the dashboard integrated non-colored display head unit. Its saving grace are its quick pairing with smartphones via USB, the steering wheel buttons, and the decent-sounding speakers.
With my keen eye for details, I personally like the yellow stitches that are found throughout the cabin. They really look good, especially when combined with the intricate seat design. It gives the car's cabin a refreshing look. If only Kia can take away some quirky parts of the dashboard such as the circular shapes at the center that have no use at all.
Speaking of quirkiness, the Kia Soul is packaged in an exterior design that not everyone would really appreciate. I, for one, isn't really a fan of it's boxy rear end, which I think could have been better if it was softened a little bit with curves. Its fascia is another story, which is a pretty thing to look at, really.
Nevertheless, it has its own appeal to its patrons, which I think why Kia has never drastically changed its design from almost 10 years ago. If it works for them, then let it be. Although, admittedly, I like this media unit's contrasting roof color. I think the boring blue hue combined with white roof and side mirrors is a great touch.
The Kia Soul is indeed different than most cars — it's a speed-hungry machine packaged in an unconventional styling with a lot of youthfulness flowing through its veins. Because of this, it can be easily judged as a slow vehicle, but as we proved, it's definitely not. Although it has its rough edges (pun intended), the P1,198,000 price tag of the SL DCT mid-variant is pretty competitive within the budding subcompact crossover segment.
Now, we just wish Kia can throw in a better head unit and speed-sensing door locks, too, for added convenience.
---
Specifications
Performance
136 hp @ 4,000 rpm
---
Summary

| | |
| --- | --- |
| Name | Kia Soul 1.6L SL VGT CRDi DCT |
| Body Type | Crossover |
| Price | ₱ 1,198,000 |
| Transmission Type | Automatic |

Engine

| | |
| --- | --- |
| Engine Size | 1.6 L |
| Displacement | 1,582 cc |
| Number of Cylinders | 4 |
| Number of Valves | 16 |
| Transmission Category | 7-speed Dual Clutch Automatic with Shiftlock |

Performance

| | |
| --- | --- |
| Power Train | Front-Wheel Drive |
| Max Output (HP) | 136 hp @ 4,000 rpm |
| Max Torque (nm) | 300 Nm @ 1,750 rpm |
| Acceleration Rate | n/a |
| Top Speed | n/a |

Economy & Environment

| | |
| --- | --- |
| Fuel Type | Diesel |
| CO2 Emission | n/a |
| Fuel Capacity | 54 L |
| Fuel Consumption | n/a |
| Range | n/a |

Dimensions

| | |
| --- | --- |
| Length | 4,140 mm |
| Width | 1,800 mm |
| Height | 1,600 mm |
| Wheelbase | 2,570 mm |
| Turning Circle | 10.6 m |
| Ground Clearance | 150 mm |
| Wading Depth | n/a |
| Trunk Capacity | 685 L |
| Max Cargo | n/a |
| Number of Doors | 5 |
| Number of Seats | 5 |

Safety & Security

Driver's Airbag
Front Passenger's Airbag
Side Airbag
Curtain Airbag
Knee Airbag
Electronic Brake Distribution
ABS

With Brake Assist

Immobilizer
Security Alarm
Stability Control
Electronic Door Locks
Speed Sensing Door Locks
ISOFIX
Lane Departure Warning System
Blind-Spot Detection System

Features

| | |
| --- | --- |
| Cruise Control | |
| Front Parking Sensors | |
| Rear Parking Sensors | |
| Leather Upholstery | |
| Push Start Button | |
| Wheel Size | 18 in |
| Wheels Metal Type | Alloy |
| Airconditioning System | Manual Air Conditioning |
| Entertainment System | Radio/MP3 with 6 speakers |
| Connectivity | Aux, iPod, USB |
| Navigation Ready | |
| Warranty | 5 Years (160,000 km) |
| Keyless Entry | |
| Roof Rack | |
| Sunroof | |
| Electric Adjustable Seats | |
| Power Steering | |
| Power Windows | |
| Power Outlet | |
| Steering Wheel Audio Control | |

Technology

| | |
| --- | --- |
| Active Park Assist | |
| Hill Start Assist | |
| AWD Modes | n/a |
| Tire Pressure Monitoring | |
| Heads-up Display | |
| Power Liftgate | |
| Start-stop System | |
Request More Information about the Kia Soul 1.6L SL VGT CRDi DCT.
Find out more info, request a brochure, or request a quote by sending an inquiry below
Latest Review
We got the all-new Toyota Camry for a week and here are our thoughts.

4.0

/

5

Compact crossovers have become a niche market, but the GS4 is here to change the game.

4.1

/

5

The Hyundai Kona is the brand's third entry to the Philippine subcompact crossover segment.

3.9

/

5