Time flies when you're having fun – this whole adage holds true for the Ford Ranger Raptor. A nameplate made for anyone to have fun with, the Ranger Raptor was brought into the Philippine market exactly one year ago.
Wait, seriously? Time does really fly, doesn't it? And so is the Ranger Raptor when it was launched and when Caco had fun, err, tested the performance pickup truck.
Now, many of you might know a lot about the additions on the Ranger Raptor, such as its reinforced chassis and Fox long-travel shock absorbers. But, what about its powertrain?
Here's a quick trivia about the Ford Ranger Raptor powertrain for you to get to know its beating heart better.
Sequential. Biturbo. Diesel.
A 2.0-Liter engine in a hefty pickup truck might sound absurd for some, but Ford's global Ranger Raptor team didn't hesitate to develop the EcoBlue diesel engine and add two turbos that work sequentially. This setup covers both top-end and low-end torque seamlessly.
Total output is rated at 210 horsepower and 500 Nm of torque, easily accessible via the 10-speed automatic transmission.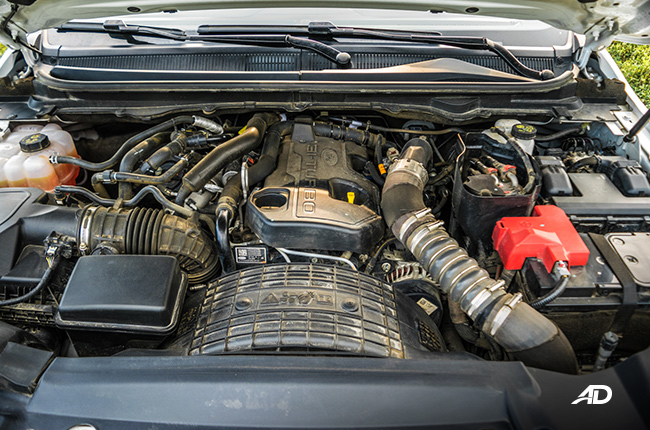 Manifold Crack Tested
Many people question the durability of the Ranger Raptor's powertrain setup, mainly because of its relatively small size compared to the car's heft. However, Ford guarantees its longevity by subjecting the powertrain though manifold crack test.
Here, the 2.0L biturbo engine powertrain setup ran until the turbochargers were heated to 860 degrees centigrade and were glowing red hot on the dyno, then rapidly cool them down. Cycling through this continuously over a period of two weeks, the Ranger Raptor's engine passed with flying colors.
F-150's 10-speed transmission
The Ranger Raptor's 10-speed transmission is part of a joint venture between Ford and General Motors. Ford designed the 10-speed tranny as part of this collaboration, made with steel and aluminum for a stronger, lighter, and more compact construction than its cast-iron predecessors. Also, the transmission has a large spread of close ratios, which is beneficial for both power and efficiency.
Ford utilizes the 10-speed AT in several of its global vehicle lineup, including the F-150 full-size truck, the Mustang, and of course, the Ranger Raptor.
Ford Ranger Raptor Exterior Photo Gallery
Ford Ranger Raptor Interior Photo Gallery
Latest Features
Despite its age in the segment, the Kia Forte is still a great sedan to go with as it comes with many features that tick the right boxes.

If you're on a budget and in need of a reliable workhorse for pretty much anything, the Suzuki Ertiga is the perfect choice.

Unsure about the Number Coding scheme in the Philippines? Our complete guide provides comprehensive details on everything from coding days to window hours in all locations affected by the Nu...
View More Articles