It's hard to believe that it's been almost a year since we first got behind the wheel of Nissan's newest midsize SUV at the foothills of Mt. Pinatubo. Back then in May of 2018, we sampled the impressive qualities of the Nissan Terra on stretches of highway, a few surface roads, and the more exciting off-road portions near the volcano. That was all within a few hours of driving. The thing with media drives is that manufacturers usually compress many hours of driving and extra activities in a span of a few days, resulting in much more time to experience the vehicle, and have a bit of that feeling of the ownership experience.
While we extensively covered the Nissan Terra with full-on reviews and features before we got an invite to Nissan's latest Terra drive in Albay, Bicol, this was another good opportunity to actually sample what the Terra could do beyond the norms of most owners – more adventure, less roads. We eagerly boarded our morning flight for a three day, two night adventure in the shadows of the volcano with the world's most perfect cone.
As we landed at Legazpi Domestic Airport, we deplaned and were immediately greeted by the famous Mayon Volcano and its perfect cone. A quick walk on the tarmac to the terminal made for some epic shots on a clear day. We rounded up and walked toward a full convoy of 12 Nissan Terras of different trim levels and a full range of colors, including the limited Fiery Red spec. The AutoDeal team, which consisted of myself, Caco, and Vincent, were assigned cars – Vincent taking a ride with the lead car and photographer's vehicles, and Caco and myself taking car number two, a brown top spec 4x2 model.
The first stop was for lunch at Casa Soriano off of the main road going to Naga. It would be a two hour and thirty minute drive there through high speed, national roads; a perfect test of the family vehicle credentials for road trips. The morning drive was divided into three driver changes, over the course of almost 90 kilometers, allowing everyone in each car to experience the on road capabilities of the Nissan Terra. Traffic was slightly slow going, especially once we hit the small towns and branagays dotting the province. Overtaking opportunities presented themselves nicely, however, as multiple lanes and good sight lines were aplenty. The power from the 2.5L turbocharged diesel engine was a willing companion, ready to commit when needed; 190 hp and 450 Nm is nothing to scoff at, after all. Once we got to the destination, a small restaurant with a simple driveway and a few parking spaces, we were eager to fill our bellies and quench our thirst before heading back to Legazpi, albeit through a more scenic route.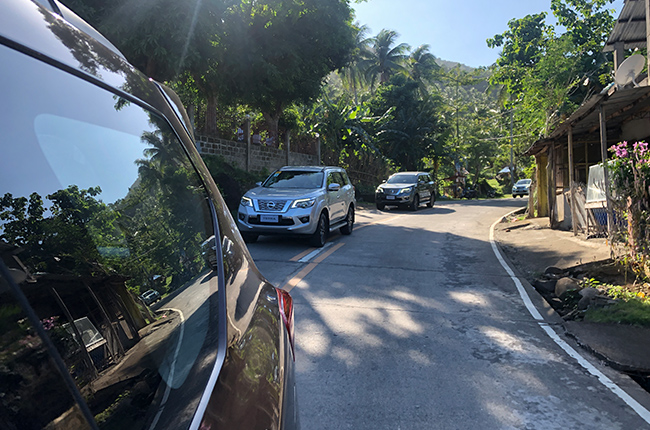 After spending most of the morning driving, Caco took over driving duties throughout the rest of the afternoon. Taking off from Casa Soriano, we would backtrack just a little bit before veering off into a more twisty and technical route. Midsize SUVs doing canyon carving? Why not, right? We had to pass through quite a handful of towns and were at the mercy of traffic once more, but Nissan's signature climate control kept us all cool and collected, and the infotainment was a cinch to set up, allowing us to switch playlists with ease. Nothing like a little driving music to keep us entertained. Past the major towns, the roads narrowed but the horizon opened up, breaks in the treeline revealing that we were passing a coastal road. The pacific ocean was to our left as we passed dormant volcanoes and steep mountainsides to our right. It would be another 90 to 100 kilometers of exciting sweeping corners before we reached our picnic spot for our dinner, Quituinan Hills, a scenic hilltop that offers views of the city of Legazpi and Mayon Volcano.
We arrived at dusk, with the lights of the quaint Nissan tents and LED fixtures to add some ambiance. We had a dining area and a lounging spot, complete with weaved matting and throw pillows for maximum relaxation. On display was the limited Fiery Red Nissan Terra, of which only 100 units will be sold, and each came with a special black interior. A quick program revealed that, according to Nissan Philippines President Ramesh Narasimhan, they've changed one important feature that we cited and criticized in our written and video reviews – the around view monitor can now be seen in your main infotainment screen. Nissan heard the pleas, and they were listening intently to feedback from customers and reviewers alike. Now, you have access to your around view monitor through the smart rearview mirror and your bigger, and clearer, infotainment screen. Very nice, indeed. The end of the night saw us being shuttled back to Oriental Hotel to cap off a pretty exciting day.
Day two had even more in store for us, and we were stoked to see that off-road driving and ATV tours were in the itinerary. A quick drive to the ATV rental place near the edge of the lava wall from Mayon, and we were separated into two batches, one for the off-road driving experience, and the other for the Mayon ATV tour. Our batch had the driving experience first, and, just like what we experienced during the Terra's launch in Clark, Pampanga, Nissan's midsize SUV would plow through anything in its way. The combination of tougher singletrack trails allowed us to play around with the revamped camera system for maximum visibility, and the water crossings and river wading were of little effort. Even the softer lahar areas proved to be of little challenge, even in rear-wheel drive mode. Either we weren't listening to instructions or the Nissan Terra was just as capable without the fancy 4x4 settings. You know what, let's just stick to the latter.
After the off-road driving experience, we were asked to choose our ATVs for the afternoon. A guided tour up to Mayon Volcano was on the agenda, and the easiest way to get there was with our trusty quads. It was a good hour or two of riding before we got as close as we could (because there was a permanent fence) to Mayon, and we were a mere three to four kilometers from it. On the way there, we battled fine sand, huge rocks, and a lot of descents and uphill trails, testing out both our bravery and ability to read the terrain for maximum traction. Needless to say, there were times when a few of us got stuck in the lahar portions; our rear wheels digging into the sand, struggling for traction. Overall, it was a fun and definitely unique experience, and a great way to cap off a tiring but incredibly rewarding day of adventure.
From one volcano to another, the Nissan Terra has conquered the north and south, leaving its mark and making short work of the volcanic trails of Pinatubo and Mayon. This is how a midsize SUV should be driven and should be used; maximizing its potential to provide exciting experiences to create amazing memories. The midsize SUV segment will always be a battleground for manufacturers showing off their best products to consumers who, now, more than ever, understand what they want and how to get it. The Nissan Terra is the youngest in the segment, and the chance for us to once again stretch its legs has shown us that it's ready to tackle anything and go anywhere. If you want an SUV that can do it all, and then some, then definitely give the Nissan Terra a go. You won't be disappointed, on and off the road.
Get the best deal - Choose multiple dealerships to compare offers!
Select up to 5 dealerships and compare their offers
Over 70% of dealers reply within 1 hour
100% hassle-free with no obligation to purchase
Latest Features
Battery banks that can jump-start your car. Here are the top five best we've seen available online.

We list down the most fuel-efficient sedans for city drives in the Philippines, ranging from small to mid-size models.

When it comes to all-electric crossovers, BYD knows their stuff. They know what it takes to make electric great.
View More Articles