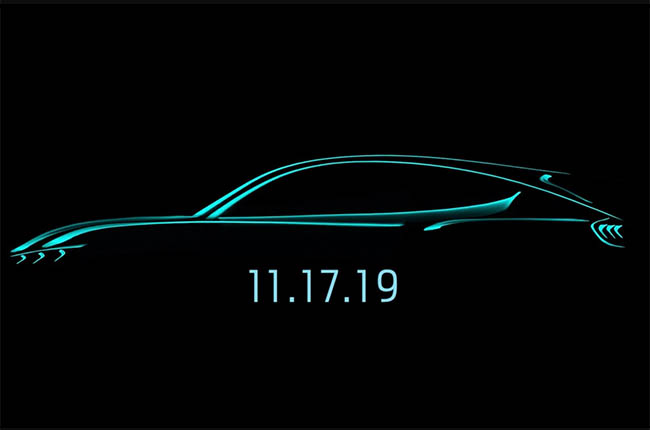 Straight from the Blue Oval, Ford will be unveiling a "Mustang Inspired" all-electric SUV this coming November 19. The new SUV marks the resurrection of the company's efforts for zero-emission vehicles. This is also due to auto industry trends going for investments in emerging technologies. Reports state that the vehicle will be called the Mach-E.
The Mach-E is said to be a "Performance SUV" according to the Blue Oval. It will be available in the U.S and European dealerships in the last quarter of 2020. The American automaker said that the reservations and ordering for the crossover will start with a private unveiling event on Nov 17. The private event will be a couple of days ahead of its supposed public debut at the Los Angeles Auto Show.
The new all-electric crossover is part of Ford's initial new offerings of all-electric vehicles under its plan to invest $11.5 billion (P589 trillion) in all-electric and hybrid vehicles through 2022. This push for cleaner and hybrid technology comes with an $11-billion (P563-trillion) restructuring plan which was announced by the company's CEO Jim Hackett in July 2018.
The push for cars with hybrid and alternative energy drivetrains comes almost a decade after the Blue Oval introduced an all-electric version of the Focus. The all-electric sedan was not able to garner enough sales at the time and was viewed as a vehicle to meet California mandates. California currently has one of the strictest regulations for emissions in the U.S.
Prior to the debut of the Mach-E crossover, the company started an education campaign that stated the performance benefits of all-electric vehicles, among other benefits, including instantaneous acceleration and handling due to a lower center of gravity. Similar to Tesla, the company has also set up more than 12,000 public charging stations in North America. When the charging stations go live the public will be able to use it to charge their hybrid and electric vehicles.
An exciting concept to consider as charging infrastructures are one of the largest issues holding back the progress of all-electric vehicles in the Philippines. We're currently entering the hybrid era with recent additions such as the Toyota Corolla Altis Hybrid, Hyundai Ioniq, and the Kona Hybrid into the market. However, we're yet to proceed with the plans of going full electric – an interesting development we all have our eyes on.
Just One More Step To Get Your Quote
Find out more info, request a brochure, or request a quote by sending an inquiry below
Latest News
Toyota might be upgrading its Land Cruiser Prado for the upcoming model year.

A new 8-seater MPV is set to join the Maxus Philippines local lineup.

If you thought that the all-new Hyundai Elantra was sporty wait till you see this.
View More Articles