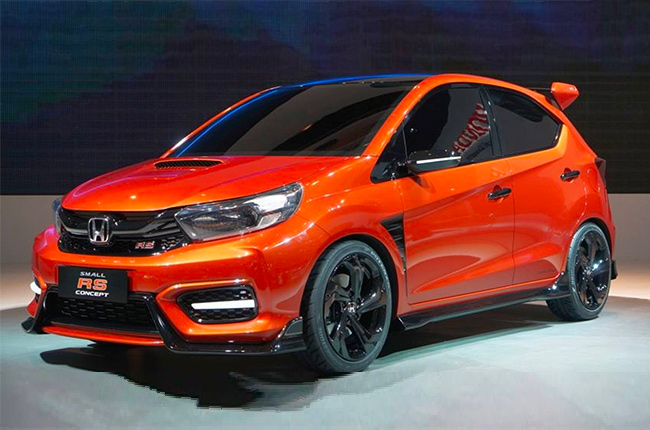 The 2018 Indonesia International Auto Show is the birthplace of the upcoming Honda Brio RS — or at least that's what we think the Small RS Concept is.
Yes, the small hatchback's name was barely mentioned in its official press release, but the concept's similarities with the all-new Indian-born Brio Amaze sedan is a concrete proof, if not an obvious gist.
The Small RS Concept bears similarities with the aggressive cues from the Mobilio RS and Jazz RS — glossy black grille, black rims, black side mirrors, and mad bumpers, albeit tinier. However, The concept's decrement in size somehow made the car look sportier than its road-sailing brothers. Guess that's what being a hot-hatch is all about.
What made the future Brio RS stand out are the presence of hood scoop and massive rear wing. They might be polarizing for some, but we're leaning towards liking them. We really can't help but stare and ponder at the fact that a pumped up Brio would look this good.
Aside from showcasing the hot-looking hatch, there are no details as to what engine or what features will the upcoming Brio will come with. But, we really think it will have the same interior layout as what the other small Hondas have.
We know that we declared the Kia Picanto GT Line as the hottest-looking small hatchback in the Philippines today. However, if the Small RS Concept goes into production as the Brio RS, and eventually reaches the local showrooms, well, we definitely have a new winner.
Want to find out more about the Honda Brio
Find out more info, request a brochure, or request a quote by sending an inquiry below
Latest News
An auction in the US just sold a 2002 BMW M5 in six figures.

Henrik Fisker told The Verge his company is just months away from developing the first EV solid-state battery.